Kisumu seeks to ban burying dead at home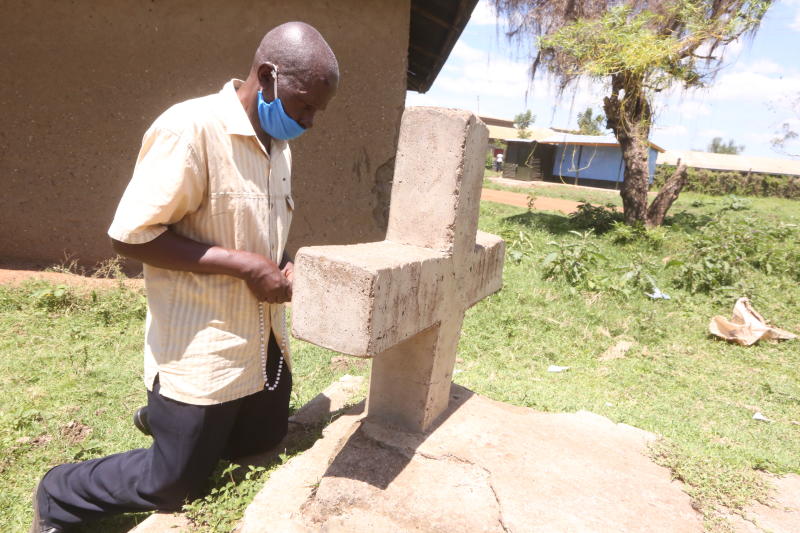 Patrick Adongo kneels while facing his mother's grave. He bows his head while holding a rosary and murmurs a few intimate words.
This is a ritual Mr Adongo has been undertaking regularly since 1978 when his mother, Christina Otieno, died and was buried at her home in Kokelo village, now called Manyatta B Estate.
Adongo says there is much he needs to tell his late mother and that is why he occasionally kneels on her grave.
However, intimate moments such as Adongo's, where people seek the company of their dead loved ones could soon be a thing of the past after the Kisumu County Government proposed laws that would bar home burials within areas classified as city suburbs.
All bodies will be buried at a gazetted cemetery. Kano, Kajulu and Kisumo clans, which occupy rural parts of Kisumu East and Kisumu West stand to be affected by the new regulations.
According to the acting City Manager Abala Wanga, a sensitization process on the regulations is currently going on and plans are underway to upgrade the cemetery and fence it off.
"We want people to bury their dead in the cemetery and not in slums or estates within the town," said Mr Wanga. "If you cannot trace your ancestors to go and bury at home, you have an option of burying at the cemetery."
The move is however likely to face strong opposition if responses from a number of residents who spoke to The Standard are anything to go by.
Despite being a staunch Christian, and a member of Magadi Catholic Church, Adongo's adherence to the Luo culture has never been in question.
He is a member of the Kanyakwar Chapter of the Luo Council of Elders. He says cemeteries are meant for people whose homes cannot be traced.
"The Luo culture is clear on how burials should be conducted. When I die, I want my body to rest on the right side of my house, just like the way my parents have been laid," he said
Adongo also noted that Luos believe death is a transition from one life to another, and therefore the dead should not be "thrown away and abandoned."
"That is the reason why we ferry our dead from all over the world to come and bury them at their ancestral homes. We celebrate death as a rite of passage," he said.
Kisumu West MP Olago Aluoch, whose constituency partly falls within the city boundaries, has opposed the regulations.
Mr Olago said the proposal should only be applicable in slums close to the Central Business District.
"City plans cover areas classified as freehold, where people live in their ancestral homes. Those people should be allowed to bury their loved ones in their homes," said Olago.
Olago's sentiments were echoed by former Nyalenda MCA Jacktone Onunga who said the proposed regulations would interfere with local people's culture.
"Such a Bill is misplaced. People have a strong attachment to their dead and that is why they bury them in their ancestral homes. Pushing them to throw their loved ones in cemeteries will be a hard nut to crack," he said.
Wanga however noted that residents should not worry about infrastructural development in the areas classified under city status, adding that the county government had an elaborate plan to provide amenities.
"We are going to redesign roads and sewer lines and provide all that a city needs," said Wanga. "We however ask our people to support the initiative since this is only meant to increase the land value in the areas near the city in order to attract investors."
He noted that the dead bring dreams to their loved ones, and also provide visions that are helpful to society; a good reason to have them buried within their homes.
But Wanga insisted that for Kisumu to meet the standards of other cities across the globe, the administration must make hard decisions that could go against cultural traditions.