Governor Obado: ODM plotting my ouster before court ruling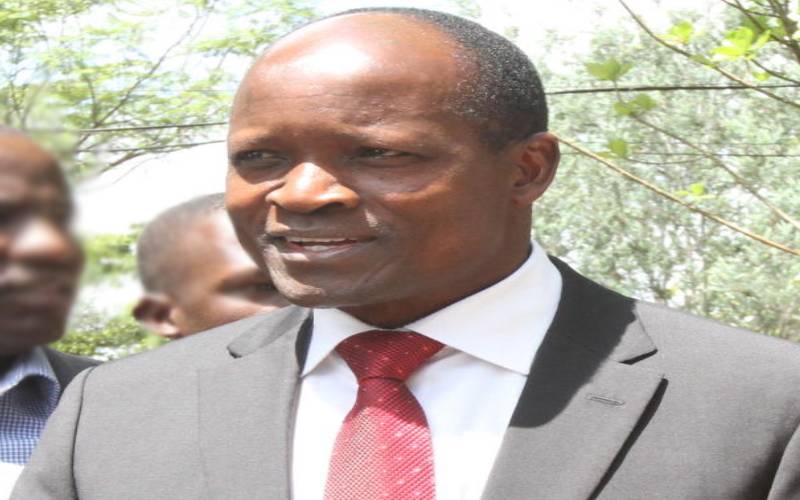 Moments after being released on bail by the anti-graft court, Migori Governor Okoth Obado has hit out at ODM for plotting to impeach him before the case in which he and some of his family members are accused of misuse of public funds is heard and determined.
Speaking to Standard Digital on phone on Monday, Obado (pictured) said he is aware of a meeting that took place between ODM top leadership and a number of MPs from Migori to plot for his ouster.
"There are meetings taking place behind my back to plan for my ouster yet our case is still live before the court, it is unfortunate, to say the least," he told Standard Digital.
He accused the party leadership f inciting MCAs to prepare an impeachment motion against him in the coming days.
Sources intimated to Standard Digital that the MPs met some top party officials on Sunday at a City hotel with all MPs except Kuria West MP Mathias Robi attending.
According to a source privy to the discussions, the MPs were directed to whip their MCAs to impeach the governor over the ongoing graft cases in which he (Obado) and some of his family members are accused of embezzling Sh73 million public cash.
Obado said another meeting is set to take place on Tuesday where MCAs have been summoned at Chungwa House with the agenda being his ouster.
He said the activities taking place could be a wider scheme to influence the verdict of the cases against him, wondering why the party was in a hurry to impeach him.
"We have never seen where a father of a sick son buys a coffin before he is dead, even if he is critically ill, is there someone who already has the ruling before we even exhaust all the legal avenues at our disposal?" he posed.
Obado also claimed there has been a scheme to stop him from speaking to the media to tell them whatever is going on behind the scene.
He said the security around him during his trial have been anti-media, something the governor thinks is suspicious.
MCAs summoned
In a letter seen by Standard Digital, all ODM MCAs in Migori have been summoned to Nairobi on Tuesday with the main item on the agenda being Obado's impeachment.
"Dear Honourable Members of ODM Party, Migori County Assembly, you have been invited to attend a Consultative Meeting tomorrow the Tuesday 1st of September, 2020 at 1.00 pm. The venue at the Party's Headquarters, Chungwa House…," read the letter sent to MCAs by Majority Whip Kevin Keke.
Speaking to Standard Digital on phone, Keke, however, denied reports that MCAs are plotting to oust the governor, adding that the agenda of the meeting will be set during the meeting.
Keke said consultative party meeting's agenda is set by those in attendance and that is why they are called so.
"I was directed by party executive director Oduor Ongwen to whip the MCAs for the meeting, I am not aware of any scheme against Governor Obado or anyone. That is a rumour," said Keke.
He urged the media to relax until the Tuesday meeting is over that is when the outcome will be made public.
"Why do you want to put words into my mouth, when I am directed by the party leadership to whip members to attend a consultative meeting, that is I do as a majority whip," Keke said.
Released
Governor Obado, his children and co-accused were today released on bail with a raft of strict terms to prevent them from interfering with the graft case facing them.
Anti-Corruption Court Magistrate Lawrence Mugambi of Milimani released the governor on a Sh8.75 million bail or Sh20 million bond.
His co-accused have also been slapped with various hefty bail terms as follows: Scarlet Susan will pay Sh3m bail or Sh6 million bond, Zachary Okoth Sh2m or Sh4 million bond, Everlyne Adhiambo Sh2 million or Sh4 million bond, Jared Kwaga Sh8.25 million bail, Christine Ochola Sh3 million or Sh6 million bond, Joram Otieno Sh5.5 million or Sh10 million bond, Patroba Otieno Sh6 million or Sh10 million bond, Penina Auma Sh2 million or Sh4 million bond and Carolyne Ochola Sh2 million or Sh4 million bond.
The Magistrate gave strict bail terms which he described as the measures to preserve the integrity of the trial.
He ordered that all state officers charged in the case be escorted by the investigating officers to the Migori County offices to pick their personal belonging and be barred from making entry into the offices thereafter.
All the suspects to deposit their passports at the court and those without the passports to swear affidavits on the same.
Those with expired passports to deposit them at the courts alongside sworn affidavits. Names and identity card numbers of the suspects to be deposited at the department of immigration to ensure that no one escapes from the country.
Suspects were also warned against interfering with the case in any way