For flood victims, it's a long wait for 'normalcy'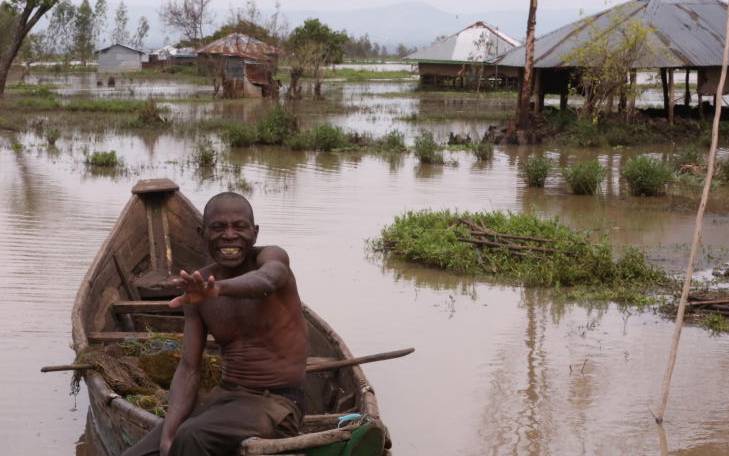 When floods started driving dozens of families living on the shores of Lake Victoria out of their homes, many did not anticipate that the situation would turn around their lives.
However, residents in several villages across the region have now been forced to adjust to the new reality after swelling waters turned their villages into islands.
Residents of Ombaka, Kasiwindi, Kasambura, Kamahawa and Kaloo villages have been forced to use boats to access their homes.
The situation has compelled some to camp at schools even as their hope of rebuilding their lives slowly fade away. When The Standard visited the villages on Tuesday, residents who claim they have adapted to the new life, were busy going on with their activities.
The situation has turned into a blessing for boat operators who now charge locals up to Sh100 to access their homes.
For four months, Seline Achieng would wake up early in the morning to attend to her domestic animals and weed her small kale and maize farm before taking care of her two children at Kasiwindi Village in Ombaka sub-location in Nyando, Kisumu County.
However, when we visited, Achieng, a widow, was trying to comfort her shivering three-month-old baby in one of the makeshift tents at Ombaka Primary School evacuation centre.
Sitting on a mattress, she struggles to breastfeed her crying baby who has known the camp as the only home for the past three months.
Gave birth
Achieng, who gave birth to her third child at the camp with the help of community health volunteers, is clocking her 14th week at the centre after her mud walled hut was brought down by Lake Victoria's rising waters in March.
She is among 280 households from Kasiwindi village held up at Ombaka Primary School due to the floods caused by the Lake Victoria backflow, leaving behind submerged homes brimming with dirty water, clogged toilets, hippos and snakes.
It has always been business as usual, with residents going about their agricultural activities and businessmen running their shops and hotels as children throng the numerous village playgrounds to play football, hide and seek and jump ropes.
"It's a dog's life here. People scramble and beg for food and clean water. We have no place to go or get basic needs," Achieng said.
Without a job or money, Achieng said they rely on community health workers to get medical care and assistance for their ailing children and elderly people.
"I cannot afford to go to hospital. But we are lucky that community health workers have been assisting us," said the 30-year-old mother.
The camp is congested, with inadequate supply of food, clean water, drugs, mosquito nets, clothes, bedding and shelter.
With little chance of returning to rebuild their submerged homes, hundreds of families are now faced with a daunting task of finding a new home.
Janet Atieno, 65, lost six chickens and six goats to the floods. She now relies on relief aid and donations for survival in the camp.
"I live with my three grandchildren at the camp. Everything I owned was washed away; I could only rescue my grandchildren," Atieno, another widow, said.
James Omondi returned home last week to restart his life but says life is unbearable with the only means of transport being a boat.
"Before March, I could walk or take a motorcycle home from work, That has become stressful since at time the boats are nowhere to be seen and we are forced to wade through the muddy waters to reach the highlands," said the 34-year-old father of two. He said his wife and children stay at the camp.
Kakola-Ombaka assistant chief Jacob Ongudi, who also lives at the camp, said conditions at the camp were deplorable and asked for help from the government and well-wishers.
Nyando MP Jared Okello, who distributed government relief food to various camps across the constituency, said he was talking with villagers in higher grounds to integrate the affected families into their homes.