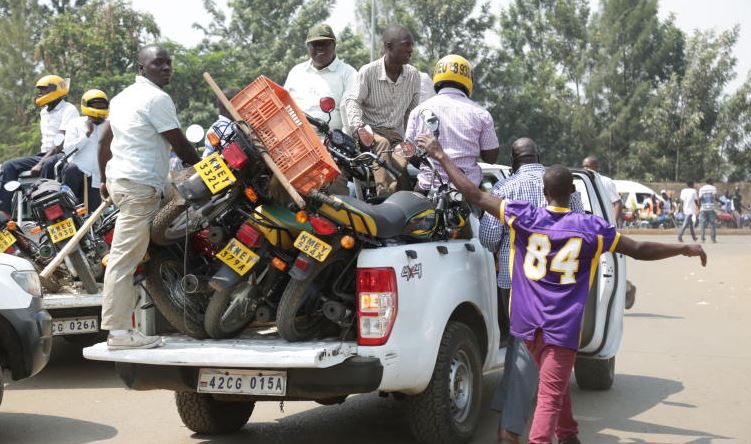 When he joined boda boda business, Nelson Odire was in dire straits - he only needed a way to fend for himself and young family.
But five years ago after a visit to Rwanda where they learnt a few tricks on professionalising the trade, his life changed.
In Rwanda, professionally-run Savings and Credit Societies (Saccos) were the order of the day, offering financial services for the less privileged sector.
"We were shown a number of development initiatives undertaken by boda boda operators, many of them through funding of the Saccos," he said.
And when they returned to Kenya, they followed in the footsteps of their Rwanda counterparts, forming Kisumu City Bodaboda Sacco, which through their savings, they have managed to ensure every member owns a motorcycle.
"Our members can now pay school fees for their children with ease and some have invested in plots, and even built homes," he added.
But this fire was dimmed after two warring boda boda groups engaged in a bloody fight which saw two people killed and five seriously injured.
Kisumu Governor Anyang' Nyong'o in a notice to the national and county government departments regulating the sector, directed that registration of the associations be revoked, and registration certificates invalidated.
The move has affected at least 40 boda boda Saccos and up to 60 Community Based Organisations (CBOs) with a membership of about 300,000 members.
"Two days ago, the county woke up to sad and disturbing news of senseless murders of two people, perpetrated by criminals masquerading as members of Kisumu County Boda Boda CBO. There is clear indication that the boda boda sector has been hijacked by external forces to carry out criminal activities," stated Nyongó in the notice.
The governor directed the County Director of Social Development to deregister all the Boda Boda CBOs, Saccos and Associations within the County with immediate effect.
He also sought for the freezing of all bank accounts held in the names of those Saccos, CBOs and associations until a new structure of the sector is organized.
"The County Security Committee together with the County political leadership has agreed that the County Government formulates a new structure for the sector and organise and foresee the attendant elections of the new sector structure in accordance with County Transport Act," he stated.
However, the boda boda operators have protested the move, arguing that not all the associations were involved in the said criminal act, and that only those associations involved in the incident should have been punished.
According to Kisumu boda boda Riders Union, an umbrella organization bringing together 17 Saccos, Nyongo's move would deal a death blow to the Saccos which have advanced loans worth millions of shillings to members.
Union Chairman Willis Oketch yesterday said they have not received any formal communication from the Governor, adding that they would not return their certificates.
He said the recent incident in which three people killed was a criminal act which needed police intervention, and did not warrant the clamping down of Saccos.
However, County Director of Communication Aloice Ager clarified that the move was taken after wide consultations, with the aim of securing broader wellbeing of Kisumu residents.