Kisumu county on alert as two die of rabies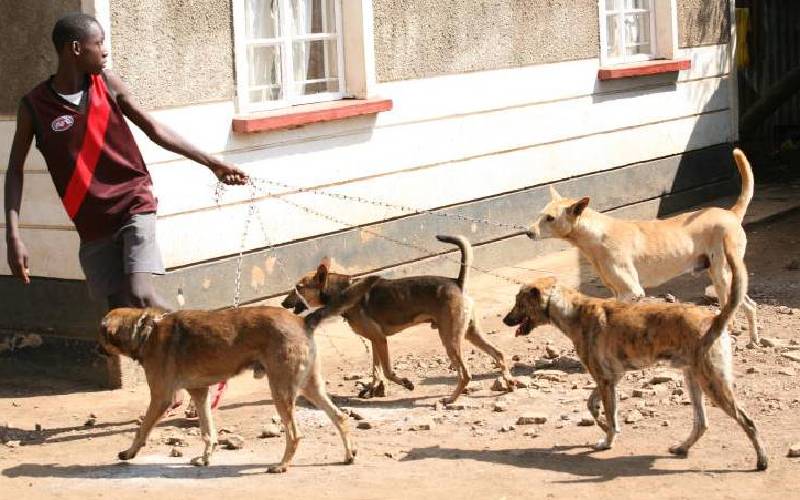 Kisumu County Government has declared an outbreak of rabies after two children died of dog bites with several other cases being reported in Seme Sub County.
County Director of Health Services Dr Dickens Onyango has confirmed the outbreak but said health officials were working to stop the spread through timely treatment and sensitisation.
In a letter dated June 27, 2019, and addressed to medical superintendents manning all public hospitals, Dr Onyango ordered all hospitals to stock anti-rabies vaccines and ensure those bitten by dogs are treated immediately.
"This is to notify you that there is a confirmed rabies outbreak in Kisumu County," Dr Onyango said in a letter signed on his behalf by Dr A. Ng'ong'a.
The confirmation came as a family on Thursday buried one of the children bitten by a stray dog in Seme last week.
As George Otieno buried his 10-year-old daughter in Seme, yesterday, his other son was fighting for his life at a local hospital.
The two children were bitten by stray dogs within two weeks.
In the first incident, Beldin Awino was taking a nap on a Sunday afternoon when a stray dog attacked him at their home.
When she woke up to scare it away, the dog jumped on her, biting her on the right side of her cheeks.
She was rushed to Kombewa Sub County Hospital, but the family could not raise money to buy the anti-rabies drug.
"We were not able to raise the money and opted to take my child to an herbalist," said Otieno.
The herbalist administered some drugs and gave her some to drink, but her health deteriorated.
After three days, Otieno rushed her child to a neighbouring dispensary which referred her to the Kisumu County Referral hospital.
"It was too late when we arrive at the facility, it did not take long before the doctors confirmed that my daughter had passed," said the emotional Otieno.
In the second incident, his son was attacked by a stray dog while in the garden.
Medical superintendent at Kombewa hospital David Okeyo, however said by the time Beldin was taken to the hospital, the facility was out of stock for the anti-rabies drugs.
Dr Okeyo said the medics advised the parents to buy the vaccine at a nearby chemist at Sh1,500 per dose, but they never returned.
In same week, another case was brought at the facility and was advised to buy the vaccine, adding that the two succumbed.
"They did not buy the drugs as advised neither did they bring back the patients, there was nothing we could do without the vaccine," said Okeyo.
Okeyo confirmed there was a high prevalence of dog bites in the area, saying that over the weekend, six cases were reported and administered with the vaccine.
"As per now we have a stock of the vaccine, but due to high demand the stock runs out fast," noted Okeyo.
The county director veterinary services Dr. Evans Odhiambo confirmed the recent deaths related to dog bites in sub-county.