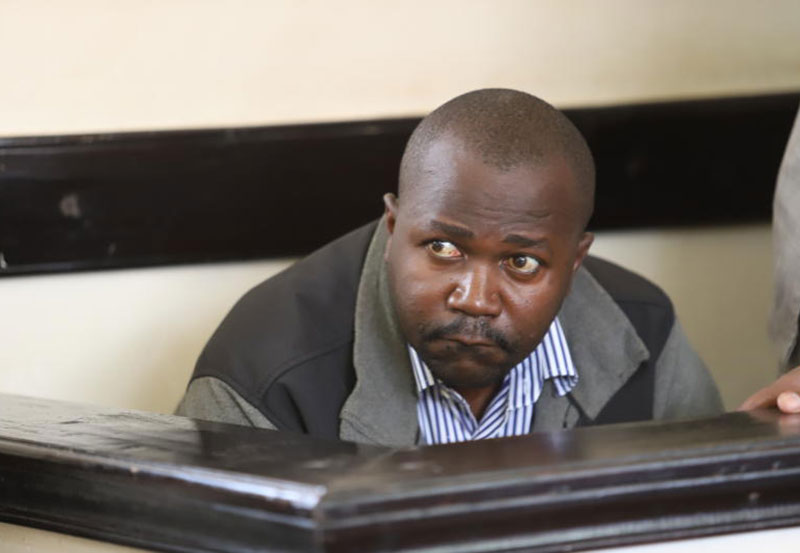 A suspect in the murder of university student Sharon Otieno will be charged in a Homa Bay court today.
Yesterday, Senior Resident Magistrate Lester Simiyu ordered that Michael Oyamo be detained for 24 hours to allow the prosecution to conclude its investigations.
The prosecution had asked the court to detain him for 10 more days to give them time to wind up their probe.
Earlier, residents tried to force their way into the courtroom to get a glimpse of the suspect.
Dressed in a black jacket and a striped shirt, Mr Oyamo - who is Migori Governor Okoth Obado's personal assistant - was led to the courtroom by a contingent of about 10 policemen.
He tried to hide his face as journalists scrambled to take pictures. When the proceedings started, the prosecutor, Tom Imbali, sought to show the court why the investigators need 10 more days.
"We have collected many electronic gadgets and we need more time to download information that will enable us to pursue this matter more effectively. Kindly give investigators more time to continue probing him," said Mr Imbali. He noted that more time was needed to arrest and interrogate more suspects.
But Oyamo, through lawyers Neville Amollo, June Ashioya and Rogers Abisayi, fought back, claiming his rights would be violated.
The lawyers said the fresh application was inappropriate since the prosecution had the whole of last week to investigate.
Mr Amollo told the court that Oyamo's rights had been violated during the period he was held by the police.
"He was not allowed access to his advocates and the detectives also removed him from the cells and went with him to Oyugis," said Amollo. Sharon's body was found in Oyugis.
He also claimed that the investigators took samples of Oyamo's DNA without his consent.
The prosecutor was put to task to explain to the court whether Oyamo was removed from the cells last Friday.
But Imbali maintained that Oyamo's rights had not been violated, adding that his lawyers were allowed to see him for one hour.
The lawyers claimed that the prosecution did not have enough evidence to charge Oyamo and asked the court to grant him reasonable bail terms.
"If they do not have enough evidence to charge him then he should be released on bail," said Ms Ashioya.
The advocates also argued that the court lacked jurisdiction to handle the prosecution's application.
"Why didn't the prosecution lodge the application before the High Court because this court does not have the jurisdiction to handle this case?" asked Ashioya, adding that the application was bound to violate Oyamo's rights.
In her ruling, the magistrate declined to grant the prosecution orders to continue holding Oyamo for 10 more days.
Simiyu said she did not want to violate Oyamo's rights by allowing police to continue holding him.
"We do not want to violate the rights of a suspect by holding him for long in police custody. I order that the accused be arraigned in High Court tomorrow (today) or he be released from police custody," said Simiyu. The magistrate also ordered that only his advocates and one member of his family be allowed access to him.