Malik's wife denied chance to greet Obama as Rasanga scuffles with security officers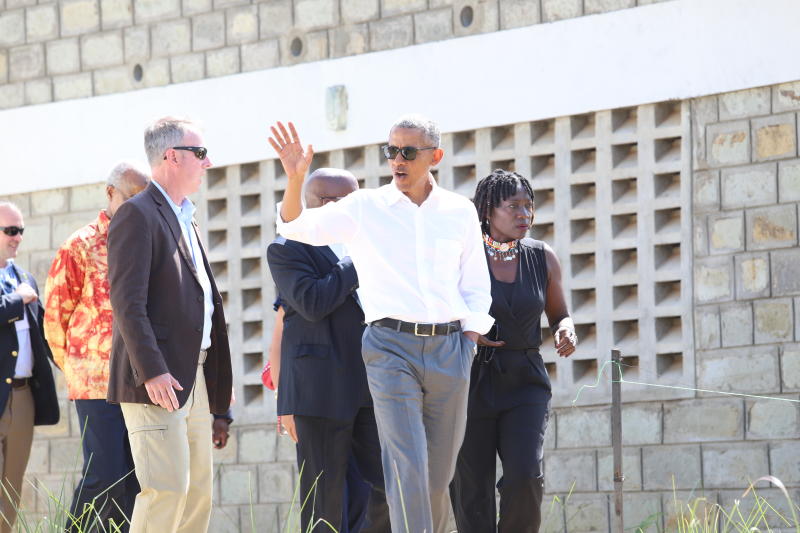 Former US President Barack Obama's homecoming visit to his fatherland in Kogelo was marked by drama.
Police struggled to control hundreds of villagers jostling and demanding to see 'their son'.
There were moments of anxiety as Siaya Governor Cornell Rasanga declined to be searched by security personnel at Mama Sarah Obama's home and Sauti Kuu Vocational Centre.
Mr Rasanga, dressed in a dark suit, walked to Mama Sarah's home shortly after 9am, but was stopped at the gate by security personnel, who asked him to identify himself. They wanted to search him too.
The governor protested, saying he was surprised that the officers did not know him. "My friend, I'm the host here. I don't need to be searched," he protested, as an agitated crowd surged in. Rasanga was finally allowed in after officers retreated and consulted their seniors.
But the governor was later to suffer the same problem, again, as he tried to enter the Sauti Kuu compound shortly before Obama arrived.
He, again, refused to be searched, protesting that the security officers were being unfair to him. They allowed him in, but his bodyguards were frisked.
It was, however, the predicament of a woman claiming to be Malik's wife that exhibited the level of security that came with Obama's visit. Despite being identified by one of the officers as Malik's wife, police blocked her from accessing the venue, saying she has arrived late.
And the woman, accompanied by her four children, did not want this told to the world. "I don't want to talk to the media. Please do not write this or broadcast it anywhere. It is so embarrassing. I only wanted to see and greet my brother-in-law," she told The Standard.
Malik, who has publicly differed in opinion with his brother on a lot of issues, was yesterday missing. He had earlier declined to speak to the media about Obama's latest visit.
At Mama Sarah's home, only family members and dignitaries were allowed in. Not even journalists were allowed into her compound.
The family was waiting to be joined by the former President for breakfast before they could go to the Sauti Kuu Vocational Centre function.
County leaders, led by Rasanga, Alego Usonga MP Sam Atandi, Gem MP Elisha Odhiambo and South East Alego MCA Joseph Mboha attended the brief breakfast meeting.
Although Mama Sara had prepared Obama tilapia and brown ugali, the former President only took tea. "Mama cooked food but there was very little time, so he only took a cup of tea and had a small chat with the family members," said a relative who sought anonymity.
Roads leading to Mama Sarah's home were cordoned off and several residents and motorists not allowed near the residence.
There was excitement and disappointment at the same time, as Obama's convoy snaked its way from Mama Sarah's home to Sauti Kuu Vocational Centre, with residents demanding that he stops to address them.
"He should not go back without our views. We want him to address us," said Julius Okello, a resident of Kogelo. "We are happy he came, but angry that they have not allowed us to access the venue," said Kennedy Owino, another local.
To fight drought, involve communities
According to the latest information from the Meteorological Department, rainfall will be poorly distributed in April, May and June, and this will have a serious impact on agriculture