Kenya is headed in the right direction, says Obama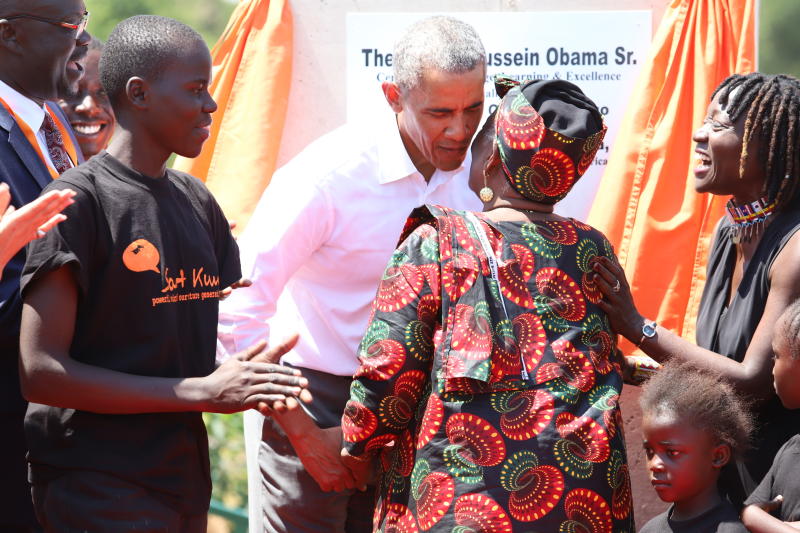 Former US President Barack Obama yesterday wound up his two-day visit to Kenya with a message of hope to the country.
Obama, who was speaking at Kogelo village in Siaya County, said Kenya was headed for better days following a political truce between President Uhuru Kenyatta and Opposition leader Raila Odinga.
The former US president said Kenya had made great strides in setting up governance structures that would help it handle challenges that had dogged it in the past. But he cautioned that to achieve real progress, more needed to be done, especially in the fight against corruption.
He also cautioned against negative ethnicity, and called for promotion of economic growth and equality in education, noting that "a nation in which boys and girls are given same opportunities is more likely to succeed".
Recent handshake
He described the recent handshake between Uhuru and Raila as great, coming at a time when the country had just come from a troubled election.
Obama was in Kogelo where his father, the late Barack Obama Sr, was born to inaugurate Sauti Kuu Vocational Centre founded by his half-sister Dr Auma Obama.
He said Kenya, like other African countries, still faced challenges, which could only be resolved if the youth were involved in pursuit for good governance.
"We now have a new Constitution. We also have a president and a major opposition leader who have pledged to build bridges and have made specific commitments to work together. So what we see in Kenya is a part of an emergent more confident and more self-reliant Africa," said Obama.
In his speech to the crowd in Kogelo, Obama compared the state of the country's infrastructure, especially in the countryside, during his first visit in 1987 and now.
"Today, a young Kenyan doesn't have to do what my grandfather did, that is serve a foreign master, nor what my father did, that is to leave home in order to get education (abroad)," he said.
He said the progress had put the country in the best position to achieve economic growth and earn the country a place on the world map.
And on the truce between President Uhuru and Raila, Obama said the sky is the limit.
But even after his exit from the world's most powerful position, Obama noted that his dream of nurturing future leaders remains alive.
Obama said empowering the youth to be self-reliant had a direct positive impact in the communities as it makes them productive, able to determine their future and reduces dependency. This, he said, was the main goal of Sauti Kuu Foundation.
The facility aims at tapping talent among young people and providing them with opportunities for training in order to be self-reliant.
Dr Auma described the youth as an untapped resource, which has been neglected hence seen as a challenge to the society.
"People worry about having so many young people in Africa, joblessness. These people are opportunities and not problems. All we need is to create an opportunity for them," she said.
She said her project, through Sauti Kuu, was aimed at providing opportunities for the youth in the rural areas.
Present at the event were Siaya Governor Cornel Rasanga, his Kisumu counterpart Anyang' Nyong'o, Baringo Senator Gideon Moi and a host of political and religious leaders.
Stole show
The leaders were, however, not given an opportunity to address the gathering, except former Karachuonyo MP Pheobe Asiyo who stole the show, spoke partly in Dholuo and English.
She asked Obama to help the region rid Lake Victoria of water hyacinth which is slowly paralysing the region's economy.
The plane carrying Obama touched down at Kisumu International Airport at 8.17am, stirring the lakeside city.
The former US president was accompanied by Auma. Ready to receive Obama was Prof Nyong'o and his deputy Mathews Owili who accessed the airport minutes before 7am.
Activities at the airport were, for close to 20 minutes, brought to a standstill as hawk-eyed security personnel ensured Obama's entourage was not disrupted.
Outside the airport, pockets of residents chanted Obama praises, with hopes that he would stop to address them.
The media was kept at bay, with the airport management saying no coverage was allowed.
And at about 8.42am, Nyong'o's convoy left the airport for Kogelo, with Obama's convoy following three minutes later.
Residents were, however, left disappointed after Obama failed to make a stop to respond to their waving and chanting.
"We expected him to wave from the roof of his car, if not stopping to greet us," said Samwel Ochieng, a resident who had accessed the airport.
Residents thronged the airport vicinity as early as 6am after reports that Obama would arrive in Kisumu in the morning.
Even workers at the airport were kept at a distance. Like everyone else, they craned their necks to catch a glimpse of the convoy as it snaked its way out of the airport onto Busia road.
To fight drought, involve communities
According to the latest information from the Meteorological Department, rainfall will be poorly distributed in April, May and June, and this will have a serious impact on agriculture