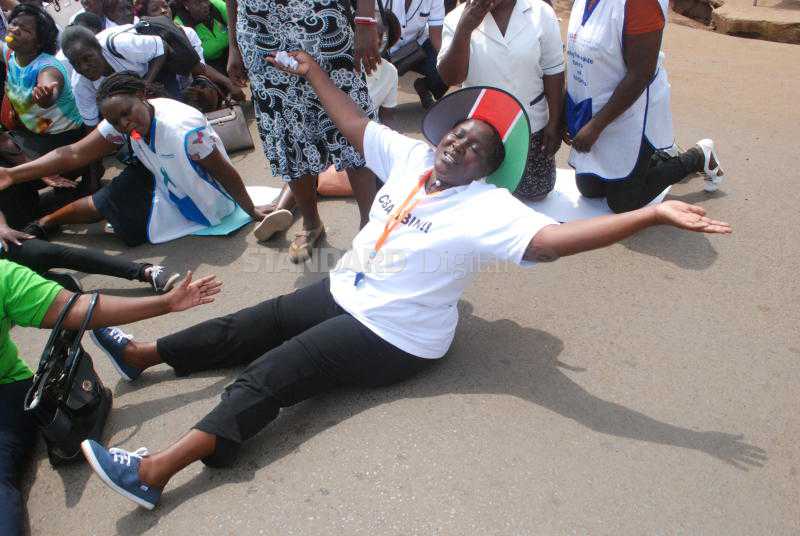 A meeting between the county government and the nurses' union over salary arrears ended in disarray yesterday.
Kenya National Union of Nurses members had planned a major demonstration over unpaid salaries but as soon as they arrived at the county headquarters, County Secretary Dave Anyona invited them in for a meeting.
After 30 minutes, Sylvester Nganda, secretary of the union's county branch, walked out and announced that they were officially on a go-slow.
Mr Nganda said the union members were tired of unfulfilled promises.
"I think you have all noticed I was the first to walk out. I have told the county secretary and other officials in that office that I will not sit down with them and continue discussing the same things," he said.
According to Nganda, nurses have not received their salaries for two months.
The more than 500 nurses claim the county government owes them more than Sh420 million.
January bills
"Today is February 20 and we are yet to pay our January bills. We are unable to feed our families yet the county government is telling us about the exchequer. They expect us to sit in a meeting to be given promises. Let the county sort out its house and call us for a meeting when they have solutions," said Nganda.
He said it was absurd for county government officials to ask the nurses for suggestions on how they wanted to be paid.
"Why are they asking us to work if they have no idea how to handle us? This question is asked every other time. We are going to release all the patients admitted in the hospitals and go back to our homes until we are paid," he said.
But Mr Anyona denied claims of non-payment for two months, saying the county government owed nurses only their January salaries. He attributed the delay in payments to failure by the exchequer to release money to the county.