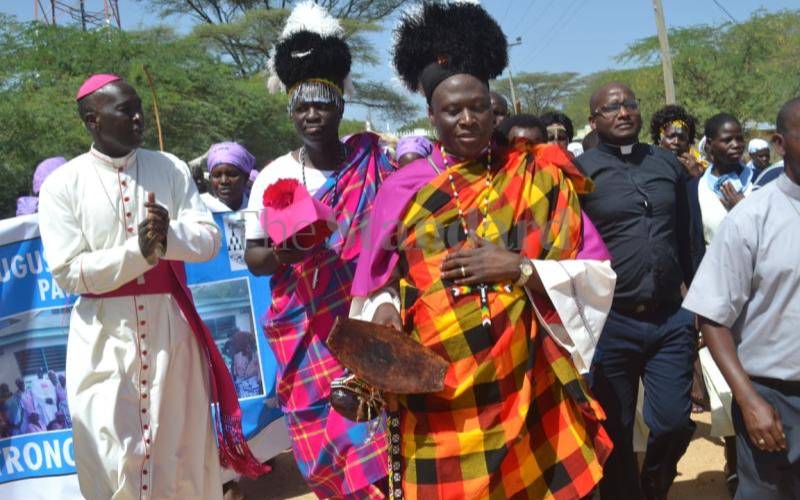 Catholic Diocese of Lodwar now has a substantive Bishop after the installation of Rev Father John Mbinda in a colourful ceremony yesterday.
Bishop Mbinda was ordained at Ekales Centre in Lodwar, Turkana County, where the Kenya Conference of Catholic Bishops (KCCB) called for peaceful elections.
Bishop Mbinda who was working as an Assistant Parish Priest at St. Edward Parish in Chiswick, Catholic Archdiocese of Westminster Archdiocese in the United Kingdom, said he was humbled by Pope Francis' appointment. He was appointed Bishop of the Diocese of Lodwar on April 4 this year.
"I thank Bishop Kimengich for running Catholic Diocese of Eldoret and Lodwar at the same time. I also appreciate his warm welcome to Lodwar and we shall continue working closely. I will pick up from where he has left," said Bishop Mbinda.
Several bishops from South Sudan and Uganda also attended the installation event of Bishop Mbinda.
Bishop Martin Kivuva of Mombasa urged Bishop Mbinda to work closely with church partners and called on the church to promote peace during the election period.
In a message read by Provincial Superior of the Holy Ghost, Dominic Gathuru, Pope Francis urged the new Bishop to give special attention to the poor.
Pope Francis described Bishop Mbinda's experience in different ministries of the church as 'admirable'.