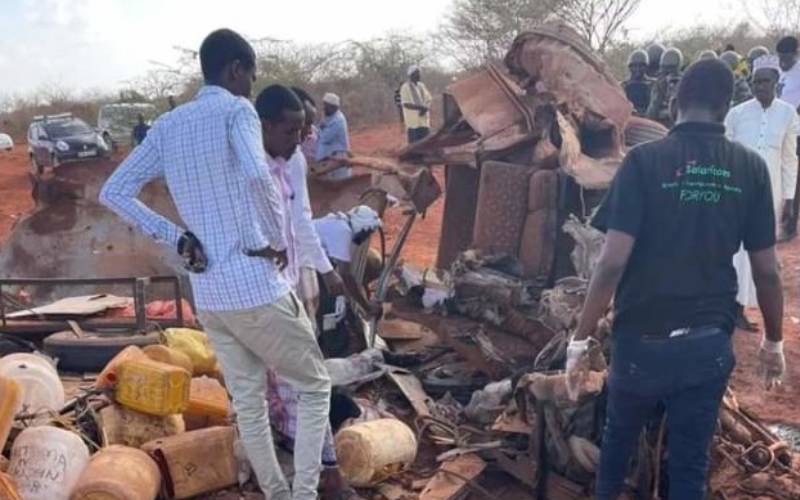 Police yesterday arrested one suspect in connection with the Mandera landmine attack where seven people were killed and 13 injured.
The arrest was confirmed by the Directorate of Criminal Investigations (DCI), Nairobi.
The injured have been hospitalised at the Mandera County Hospital. The seven killed included one woman.
The improvised explosive device (IED) exploded after a minibus ran over it in Hagasu, about 10km from Mandera town. Reports indicated that it was the same place where a bus was blown up by an IED last year.
County authorities told The Standard that the vehicle was headed to Mandera town when the incident happened.
Witnesses at the scene said the incident took place in the early hours of the morning.
"Everything moved so fast, we heard a bhang and when we got here we saw smoke all over," said Mohammed Abdi, a resident.
Over the weekend, the US Embassy issued a terror alert on Kenya, urging vigilance in public places.
That was hours after the government had announced heightened security to forestall possible terror threats.
Prior to that, the embassies and consulates of Germany, France, the United Kingdom and Netherlands issued similar warnings on Thursday last week.
"There is the potential for increased crime and acts of violent extremism in Kenya this time of year," the Embassy said on its official website on Friday.
"The US Embassy reminds the public of the continued need for sustained vigilance in public locations such as shopping malls, hotels, airports, clubs, restaurants, transportation hubs, schools, places of worship and other areas frequented by tourists."
"Public events, such as demonstrations and celebratory gatherings are also at a higher risk for violence," said the embassy.
To reduce the risk of exposure, the US advised its citizens to "exercise vigilance at events, places of worship, and locations with large crowds; review personal security plans and monitor local media for updates."
After the British, Dutch, German and French embassies in Kenya issued terror alerts on Thursday, Kenya's National Police Service on Friday said it had heightened security surveillance across the country.