Locusts invade parts of Mandera, day after Kenya declared free of them
Desert locusts have invaded about 2,000 hectares of land in Rhamudimtu ward in Mandera North, area Governor Ali Roba has said.
This, just a day after Kenya was declared locust-free by the United Nations Food and Agricultural Organisation (FAO).
Governor Roba said a swarm of locusts invaded the region last evening, moving in from Ethiopia.
"The report by our local technical team as of yesterday reveals that approximately 2,000 hectares are under invasion by the destructive insects within the ward," Roba said on Tuesday.
The county government has called on the national government to act swiftly to rid of the insects before spreading into other areas. They want government to contain the destructive insects by aerial spraying.
"The locusts have affected the region which is reeling from drought and is feared may destroy pasture for the pastoralists living in the area," the governor said in a press conference.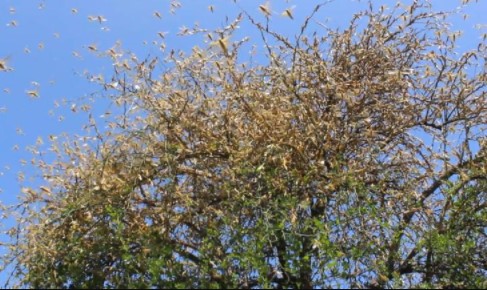 Just last week, the government also confirmed the country locust-free.
Prof. Hamadi Boga, Principal Secretary State Department for Crop Development and Agricultural Research said the war on locusts was won with minimal damage to crops, pasture, and even the environment, a collaborative effort of various partners, especially the Food and Agriculture Organization of the United Nations (FAO).
"The partnership saw to it that we had enough chemicals, equipment, and skilled personnel and developed a collaborative relationship with counties to make sure the menace of desert locusts was controlled," he said.
The first wave of locusts invaded Kenya in November 2020, and a second in February this year.