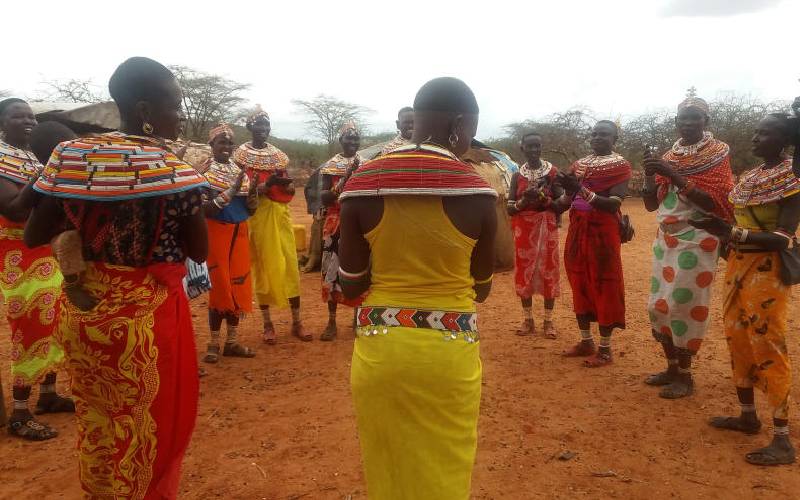 Along the Isiolo-Marsabit Road, Samburu County lies the Kalama Conservancy, an income-generation initiative of the local Samburu Community.
Established in 1988 by a group ranch that owns the land, the expansive grassland was registered in 2002 to conserve wildlife and earn revenue through tourism.
The local community, with the help of the Northern Rangelands Trust (NRT), a non-profit conservation organization, worked to set it up.
With an income of over Sh7 million every year, locals view it as one of the major income earners other than livestock. This income comes mainly from gate charges as well as fees from lodges set up within the conservancy, which have to pay a percentage of their income.
The 16,000-hectare conservancy is part of a 50,000-hectare expanse of land owned by the Gir Gir Group Ranch.
Kenya's Wildlife Act defines a conservancy as "land designated by a community, private individual, group of owners or company for purposes of wildlife conservation and other compatible land uses."
"The locals came up with a land use policy and demarcated areas for settlement, grazing and conservation; the group ranch had a committee to run its affairs while the conservancy also had its own committee," explains Tom Lolosoli, the Kalama Community Conservancy Manager.
Kalama Conservancy is currently constructing a Sh60 million complex office blocks at Archer's Post Town for leasing out as part of the larger sustainability plan that is ultimately meant to deepen its autonomy.
It employs 36 rangers and 24 other staff while the lodge within it employs another 39 people directly. Nine out of every 10 of these workers are from the local community.
The conservancy model has been touted as an effective form of income generation and wildlife conservation for communities living in Kenya's vast rangelands – a relatively novel idea in Kenya.
Samburu County has been lauded as a perfect example of success in this model due to the relatively stable conservancies therein.
Currently, there are 10 NRT-member community conservancies in Samburu County - Kalama, Westgate, Nkoteiya, Ltungai, Namunyak, Sera, Kalepo, Ngilai, Nalewoun and Meibae.
Samburu was the first county to pass a Community Conservancies Fund Act (CCF) to commit to funding of community conservancies within its borders.
A 'shot across the bow'
The story has not been so rosy in neighbouring Isiolo, where livestock rearing remains the largest economic activity in the vast rangelands where conservancies are being set up, resulting in human-wildlife conflicts. Some of the counties currently facing similar challenges include Isiolo, Marsabit and Garissa.
In an article published in the Elephant, Abdulahi Boru Halakhe, a security analyst on the Horn of Africa argued, "The establishment of wildlife conservancies in Isiolo is a warning shot for counties such as Marsabit. If they are not stopped, we could be walking into land-related conflicts with our eyes wide open."
A year ago, community elders in Isiolo wrote to the county government seeking to have all conservation activities and actors stopped as well as have all land deals past and present between the Northern Rangelands Trust (NRT) and local communities within the county scrapped.
The Community Land Act of 2016 notes that county governments will be in charge of such land and communities reserve rights to use these areas for farming, settlement, community conservation, cultural activities, and urban development among other functions.
But critics argue that real decision-making does not involve the communities on whose land the conservancies sit.
NRT responded to the issues the elders had raised, which ranged from influencing the local community to reneging on promises it had made.
"Neither NRT or the community conservancies have the authority to move people or settlements anywhere, or deny any community access to natural resources. In Northern Kenya, wildlife, people and livestock continue to be nomadic across the landscape as they have done for centuries, and community conservancies will never put up fences to stop nomadism…" NRT said.
Daniel Letoiye, the Sustainability Director with NRT blames the stalemate on the land tenure system. He says that this is the reason Isiolo County seems to be so reluctant in accepting the conservancy model despite its successes in Samburu.
"In Isiolo, there has been a lot of suspicion over land ownership; while in Samburu land is owned by the community, in Isiolo land is mainly owned by the government, which makes locals jittery as they view conservancies as a form of land alienation," explains Letoiye.
Making a case for conservancies
For a country whose wildlife sector faces untold pressure from poaching, land degradation and human development, conservancies have stepped in to play a critical role.
Wildlife is the main pillar of tourism in Kenya with Kenya earning Sh160 billion as revenue annually.
Kenya Wildlife Service (KWS) records show that protected wildlife conservation areas cover about eight per cent of Kenya's landmass.
These are comprised of 28 national parks, 28 national reserves, four marine national parks and six marine national reserves. Wildlife living in unprotected areas remain largely under threat and in need of protection, argue experts.
NRT identifies five intertwined factors in making a case for conservancies. These are: insecurity, poverty, social exclusion, depletion of natural resources, population growth and climate change which it says necessitates a new approach toward conservation.
Proponents of the conservancy model also point to the decline in wildlife. A report by the World Bank notes that Kenya was ranked fifth in terms of the number of threatened species within its borders between 1977 and 2016.
It notes that 19 counties once rich in wildlife have seen a tremendous decline, with West Pokot County being one of the worst hit, at 99 per cent loss.
A 2016 study published in the journal PLOS One found that an increase in the number of livestock was met by diminishing numbers of wildlife over the years.
"The most salient features of the trends were a striking increase in numbers of sheep and goats and camels and concurrent extreme declines in numbers of 14 of the 18 common wildlife species throughout Kenya's rangelands between 1977 and 2016," read the research titled, "Extreme Wildlife Declines and Concurrent Increase in Livestock Numbers in Kenya: What Are the Causes?"
Laikipia experienced the lowest loss of wildlife at seven per cent. Narok which is also dependent on tourism, saw a 70 per cent decline, Kajiado lost 60 per cent while Taita Taveta lost 40 per cent.
The expansion of human settlements and activities into these are mainly to blame for this decline, eliciting calls for a change of tack in conservation – conservancies are being touted as the solution.
Pat Awori, the Director of Pan-African Wildlife Conservation Network, weighs in that where human development is in close proximity to protected areas, the solution to help them co-exist is a conservancy.
In 2013 the concept of conservancies was anchored in law in The Wildlife Conservation and Management Act, which states: Any person or community who own land on which wildlife inhabits may individually or collectively establish a wildlife conservancy or sanctuary in accordance with the provisions of this Act.
Kenya's 160 conservancies cover 10 percent of the country's land area, employ about 3,000 rangers and assist over 700,000 households.
In 2015, NRT invested Sh257 million in community development projects in areas where it operates while Sh71 million was invested in community projects in the Mara between 2011 and 2015.
From 2015 to 2019, NRT through its Conservancy Livelihoods Fund (CLF) spent more than Sh300 million in 126 projects across all its member conservancies benefitting close to 70,000 people.
"Conservancies contributed about 1.3 percent of the 75 per cent of safari tourism in Kenya," said Dickson Kaelo, the CEO of KWCA.
An unfair deal
But Dr. Mordecai Ogada, a conservationist, holds a contrary opinion over the place of conservancies in Kenya. He argues that a conservancy must not only rely on tourism, citing the adverse impacts when tourism falls, as is the case now when Covid-19 has crippled the sector.
"We are hearing of communities that depended on livestock being given relief food, something that would not have happened if there were alternative sources of income other than tourism," he states.
He states that the overarching factor is the interest in the large tracts of rangelands for funding purposes due to global commercial interests.
Ogada states, "Some of the agreements are so skewed and not easily accessible even to the owners of the land with some going for as long as 25 years and this denies community members who might want to put their land into alternative use in a fix."
He points out that a lease agreement should not exceed 10 years, adding that children born at the start of the lease end up as adults when it ends which could leave them disenfranchised.
Kaelo proposes incentivizing local communities to see the benefits of wildlife would to make them more drawn to invest in conservation.
-This story has been done with the support of Internews Earth Journalism Network.