All set for annual Turkana cultural festival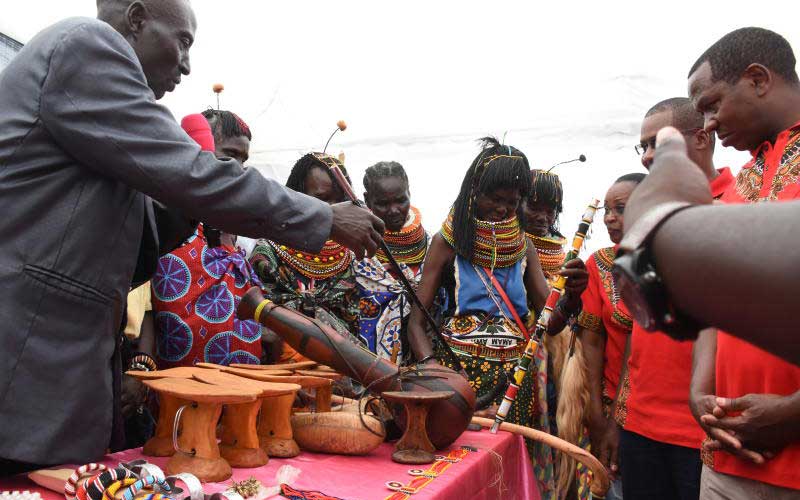 Residents of Lodwar are preparing for this year's edition of Turkana cultural festival, popularly known as Tobong'u Lore.
Guests have already started streaming in for the annual cultural fete that begins on Wednesday and runs until Saturday.
The event attracts thousands of domestic and foreign tourists.
During the annual event, touted as one of the largest cultural festival in the country, the Turkana showcase a variety of their cultural heritage; ranging from songs and dances, artefacts, food, costumes and rituals.
Businesses in the transport and hospitality industries as well as shops are booming from an influx of visitors.
According to the county's chamber of commerce chairman Charles Lorogoi, hotels in Lodwar are fully booked ahead of the event, with some ingenuous traders putting up tents to offer accommodation for those who fail to secure rooms.
Guests from the neighbouring Uganda, South Sudan and Ethiopia whose culture has striking similarities with the Turkana are also expected to attend.
Preparations for the festival are being spearheaded by the county's department of culture and heritage in collaboration with the ward administrators.
"This year's songs and dances will be aligned with the theme of celebrating cultural heritage for tourism, peace and regional development," said Titus Lokorikeju, an adjudicator.
He said this year's festival will focus on protection of wildlife, peace and culture.
"The festival is about showcasing Turkana cultural heritage through its people, nature and archeological artefacts. We seek to promote and open up Turkana as a preferred tourist destination and its potential for investment," said Philip Lokaala, the county's deputy director of culture and heritage.