Port Reitz Hospital to become internship training centre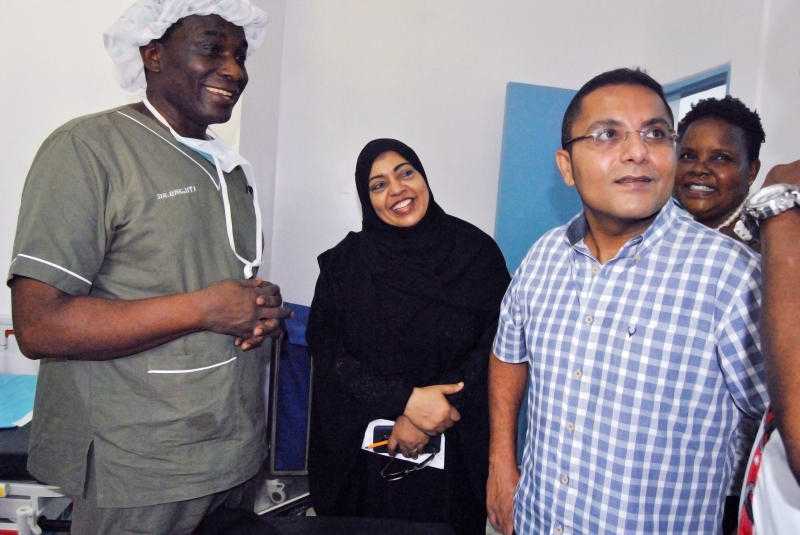 Mombasa County's second largest public hospital Port Reitz District Hospital is set to become an internship training centre.
County Health chief officer Dr Khadija Shikely said they have written to the Kenya Medical Practitioners and Dentist Board (KMPDB) for consent before the institution can acquire the added status.
''Port Reitz District Hospital has undergone massive upgrades and has all the specialists to make it an internship training centre to take in clinical officers and nurses,'' she said.
She said that the hospital that has continued to serve a much larger community with most of those who seek treatment drawn from the populous Changamwe, Mikindani and Jomvu areas of Mombasa mainland North .
'' The hospital receives patients from as far as Kinango, Mazeras, Kaloleni, Rabai as well as Taita Taveta County,'' she added.
Dr Shikelly spoke on the sidelines of a week-long free medical camp organised by the Help A Child Face Tommorow (HCFT), a humanitarian medical organization based in Africa that seeks to improve the health and lives of people living in the last mile of extreme poverty and without access to essential as well as specialist medical services by according them these services for free.
Prof (Dr) Meshack Onguti, founder and team leader of a team of surgeons and medical personnel are carrying out a cleft lip and fistula surgical camp in collaboration with the County Government of Mombasa, Kenya Progressive Nurses Association (KPNA) and Women and Health Alliance (WAHA) International.
Pride Inn Group of Hotels, Jacky Joka Apartments, Mombasa Serena Beach Hotel and Azura Magarita Hotels have contributed towards providing free accomodation to teams of medical specialists from Nairobi.
Pride Inn Group Managing Director Mr Hasnain Noorani pledged continued support to health experts.
''We value your contribution into saving lives and we do not take this for granted,'' Noorani who was flanked by Pride Group Hotels (Coast) Regional Manager, Mr Victor Shitakah and hotelier Janet Chamia.
Dr Shikely lauded the hotel fraternity for coming to the aid of the exercise which ends today.
''We are greatful to hotels that have actually seen it better to give up rooms at this particular time of the year to accomodate our team of specials involved in this exercise,'' she said.
Prof Onguti said they are screening patients, carry out consultations, surgical intervention as well as carry out reconstructive surgeries.
In the course of the camp, there will be the transfer of skills to the local medical practitioner as they work with the team brought in for the camp.
The team has 50 personnel comprising of Specialist doctors, anesthetists and a nursing team who come from all over the country.
WAMA coordinator, Mr Boris Wambua said that the camp is also being used to create public awareness on the Cleft condition as well as Fistula and enable the patients to access specialist services that they would otherwise be unable to.
''Obstetric fistula affects the poorest, most dis-empowered women, in society, who in most cases do not get the necessary services,'' he said.
Approximately 2.2 per 1,000 women in their early of reproductive age in rural regions suffer from this condition, with around 9,000 new cases each year.
Dr Shikely added that these women suffer multiple social economic challenges as well as stigmatization in the society.
As such, there is the need to intervene and elevate them from the physical and social effects that accompany this condition.
Similarly, in cleft lip and palate, one in every 700 live births, a child will be born with this facial deformity.
They suffer the same fate of being marginalized in society as they cannot be able to function normally for instance; talk, eat, breath and hear properly.