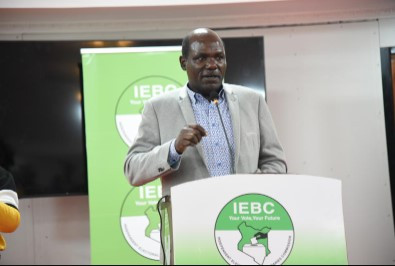 The Independent Electoral and Boundaries Commission (IEBC) now says it will use the manual register to complement the electronic register in next week's polls, following court's judgment yesterday.
"In compliance with High Court's ruling, we shall deploy the printed register of voters at the polling stations when names of voters shall be crossed out using Kiems kits," the commission's Chairperson Wafula Chebukati said.
The commission says it will adhere to the rule of the law.
"The commission commits to adhere to the rule of law and will facilitate the realization of the political rights of Kenyans."
On Thursday, August 4, High Court Judge Thande Mugure ruled it was unconstitutional for IEBC to only rely on the electronic voter register, as that risked locking out voters whose details can't be retrieved from the digital repository.
"What happens to a registered voter whose details cannot be picked by the KIEMs kit for fault or failure of technology? If this decision remains unchallenged, there is no doubt that voters' constitutional rights to vote will be violated," said Justice Mugure.
The electronic voter register, Chebukati says, has already been printed out and will be available for use at every polling station. It includes full details of all registered voters, excluding their biometrics.
The manual (printed) register will be used as complementary should the Kiems kits fail.
The electoral agency also says there is no cause for alarm over the KPMG audit report, adding that issues were addressed and forwarded to the Director of Public Prosecution (DPP) for action.
IEBC Chief Executive Marjan Hussein reassured that both the identification system and results transmission system are secure.
"We had another independent technology audit and given the assurance that our systems are secure," said Marjan.
Five IEBC officials who were implicated in the transfer of voters were already suspended.
This comes as Kenya prepares to head to the ballot on Tuesday, August 9.
The official campaign period ends tomorrow, with parties in a scramble to woo voters to their camps with only few hours remaining.