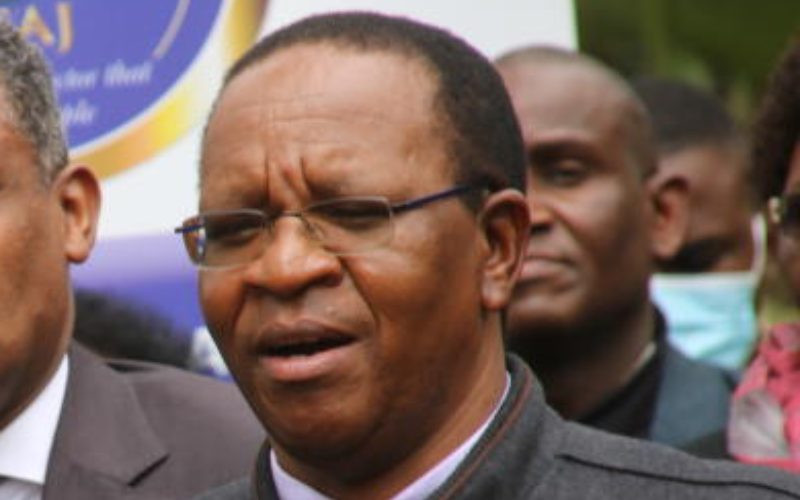 Interior and coordination of National Government PS Karanja Kibicho says Kisumu is not on the security officials' watch list.
This comes hours after Kenyans online reacted to the US Embassy advisory to its citizens, warning them of a high probability of election-related protests in the Nyanza-based city.
"It was a mistake from the US embassy and we have corrected that," Kibicho said.
Speaking during an interview on KTN News on Wednesday night, PS Kibicho said that the US embassy had withdrawn the advisory sent on Tuesday.
"The US embassy withdrew the advisory. When we reached out to them over the issue, they responded that the advisory was automatically generated. There is nothing they know that we don't," Kibicho said.
"We evaluate our security often and Kisumu is not one of our worries. We have a list and Kisumu is not one of them. It is a safe place and we have no reason to think that Kisumu is a hotspot. The political response in the four counties (Kisumu, Migori, Homabay and Siaya) are identical. It is the home to one of our presidential candidates,"
However, the US Embassy in Kenya said the advisory to Kisumu wasn't meant to profile the area as violent.
"Election-related demonstrations and rallies regularly take place in the run-up to the election and are likely to continue, at times blocking key intersections and causing traffic jams," the embassy spokesperson said on Wednesday about the "nature" of Kenya's elections.
"Demonstrations may occasionally be violent, requiring police intervention. Strikes and other protest activities related to economic conditions occur regularly," added the spokesperson.
The uproar as a result of the advisory forced the embassy to withdraw the advisory.
On the other hand, when the PS was asked to respond to Ruto's remarks alleging that Azimio presidential candidate Raila Odinga had made it difficult, he said "This is politics, and in politics, you will be received warmly in some places and coldly in others,"
PS Kibicho argued that both Raila and Ruto had been stoned in Eldoret and Kondele respectively, and security officials took action on the culprits.
"We took swift action by investigating arresting and arraigning the suspects in both cases. Raila has gone back to Eldoret and nothing happened. One incident cannot make you generalise. Ruto can visit any part of the country," Kibicho explained.
Moreover, Kibicho has advised all presidential candidates to inform the police if they feel unsafe.
"There is no given time a presidential candidate has asked us for security coverage and we failed," he added.