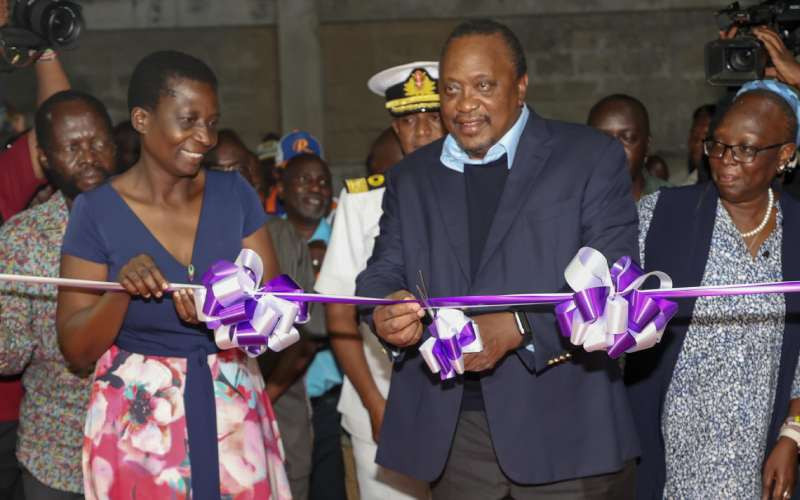 President Uhuru Kenyatta has revealed how he convinced a Kisumu-based woman to ditch the mitumba trade for new clothes in an effort to support the local textile industry.
The president made the remarks in Kisumu County on Tuesday, August 2, when he commissioned the rehabilitated MV Uhuru II and the upgraded Kisumu shipyard.
Kenyatta said he was passionate about reviving and supporting the local industries, including the textile industry which faces unrelenting competition from the second-hand clothes (mitumba) trade.
"Let me tell you a short story," said the president, before narrating how his passion for the local textile industry pushed him into convincing a Kisumu-based trader to ditch the mitumba trade.
"Last night (Monday, August 1), [Industrialisation] Cabinet Secretary Betty Maina accompanied me to a newly-built factory here in Kisumu. The factory is owned by a Kenyan lady.
"I met her sometime back. She was part of a group of young people who we persuaded to ditch the mitumba trade and embrace selling locally-made outfits. At the start of her local textile business, she had three employees. A month or so later, she had employed 150 people. She tells me she is targeting to hire 3,000 people by December [2022]," said Kenyatta.
The president said he was happy to have convinced the Kisumu entrepreneur that she could make more money by supporting the local textile industry than by importing second-hand clothes from foreign nations.
"Imagine how wonderful it would be wearing clothes made and sourced from Kenya," he said.
Kenyatta urged Kenyans to go the Kisumu businesswoman route, saying a well-planned business venture has the potential of growing and creating tens, or even hundreds, of employment opportunities.
"The Kisumu-based trader was employing casuals a few months ago, now she is employing people on permanent and pensionable terms. With the stable jobs, her employees can now apply for mortgages. This means that her workers can now be homeowners as opposed to renters," said Kenyatta.
The Head of State encouraged fair remuneration of workers sourced locally.
Despite the push to revive the local textile industry, Mitumba Association of Kenya chairperson Teresia Wairimu has, on previous occasions, advised the government against banning mitumba trade in favour of locally-manufactured clothing items.
She said the mitumba sector had employed more than two million people and was responsible for remitting Sh15 billion to the exchequer annually in tax.
"To ban mitumba in promotion of the textile industry is to give with one hand and take from the other. Mitumba does not undermine local textile production. The narrative that it does, is not factual. Both can co-exist," said Wairimu.