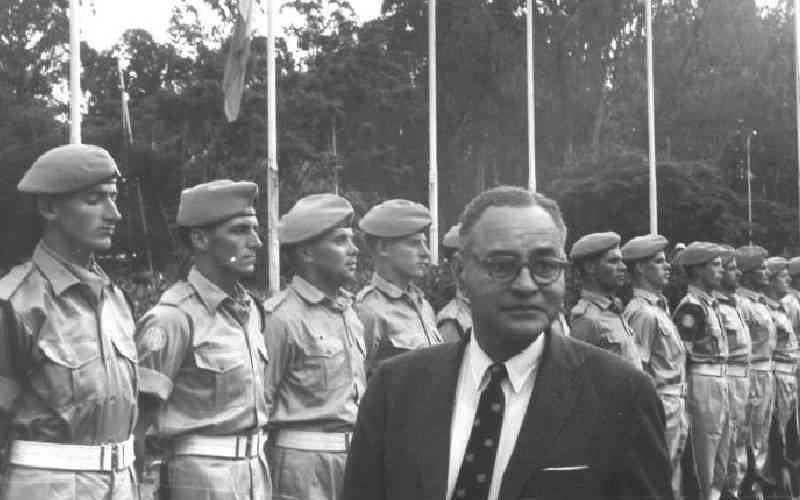 Running through Nairobi's Milimani area and joining State House and Ngong roads is an avenue with a curious name: Ralph Bunche.
While those driving through the road may not give much thought to the African-American behind the name, Bunche was a good friend of Kenya's founding president, Mzee Jomo Kenyatta.
The two had cemented their friendship in London, where Kenyatta was an anthropology student of Prof Bronisław Malinowski at the London School of Economics. The two men also had common ideals; fighting white domination in their respective countries. Bunche had arrived in London on February 5, 1937, where he soon made friends with Kenyatta, Peter Koinange and Trinidad-born journalist George Padmore (the latter two also have city roads named after them).
Bunche would learn much of what he knew of Pan-Africanism and Kenya's special customs from Kenyatta. Kenyatta, on the other hand, offered to teach Bunche Kiswahili lessons at a fee. The lessons would come in handy when Bunche visited Kenya in 1938. In London, though, Bunche was more than just a friend to Kenyatta. He was also a mediator.
It was Bunche, a political scientist, who would offer to reconcile Kenyatta with other students, especially over the rights of research materials. Kenyatta, due to his not-so-perfect English, was always on the receiving end of white students.
One such student had hurled curses at Kenyatta, called him a swindler and physically threatened him should he report the matter. Bunche intervened though it later emerged that a "mutual girlfriend might have been at the root of the matter."
Arranged by Kenyatta and supported by the Kikuyu Central Association, Bunche's visit to Kenya in 1938 was eventful. Senior Chief Koinange, Peter Mbiyu's father was Bunche's host in Kiambu. Here, the Kiswahili lessons he learnt from Kenyatta came in handy as he gave an eloquent speech.
At Tigoni, Koinange arranged for a big feast where they named Bunche 'Kariuki' or 'the resurrected one.' For a cultural experience, the host arranged for Bunche to witness a circumcision ceremony. Charles P. Henry in his book, Ralph Bunche: Model Negro Or American Other, quoted Bunche as saying "the four-and-a-half hour ceremony was the most gruesome, bloody spectacle I've ever seen." Still, Bunche filmed the entire ceremony, as part of his intense recording consisting of 12,000 still photographs and 14,000 feet of film.
After a tour of East Africa, Bunche returned to Kenya for "another week of storytelling with Chief Koinange." He returned home on April 19 and helped draft the charter that created the United Nations. He went on to receive the 1950 Nobel Peace Prize for resolving the Arab-Israeli conflict in Palestine. He died in December 1971.