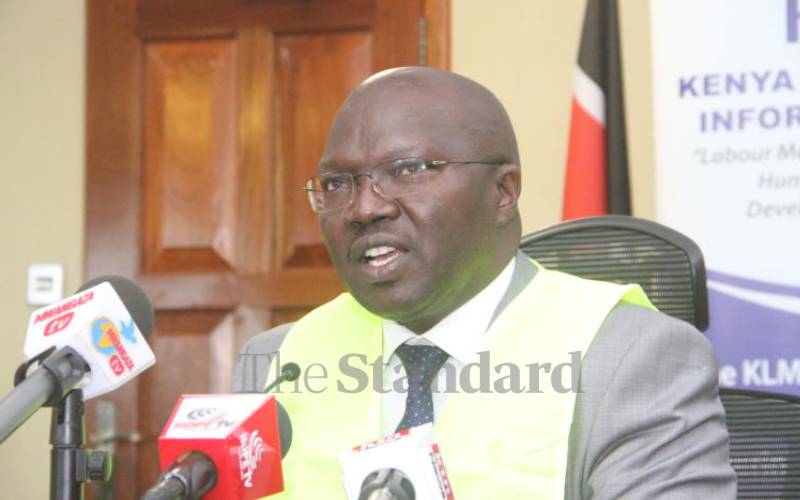 The government will build safe houses for rescuing and accommodating migrant workers in distress in foreign countries.
Labour CS Simon Chelugui said Parliament approved the allocation of Sh304 million for rescue centres in different countries.
"This will go a long way to securing the safety and welfare of migrant workers. This will ensure no Kenyan will be living in the streets in foreign countries," CS Chelugui said.
He spoke during the commissioning of a 30-day Employer Skill and Occupational Survey to collect key data in 21 economic sectors across the country to inform decision making.
However, the safe houses will only accommodate migrant workers who travelled to foreign countries through legal channels.
"We want to urge all those who are migrating in search of labour to follow the right channels to travel. We will not accept any Kenyans in our safe homes if they left the country illegally. We need to register you through licensed travel agencies," the CS said.
Further, the migrant workers will need to register with Kenya's foreign missions for easy rescue and accommodation in case of distress.
Kenyans in the Middle East form the majority of migrant workers who frequently complain about mistreatment. Many cite long working hours, harassment, torture, lack of payment, imprisonment, deportation and even death.
There have been cases of domestic workers ending up on the streets as a result of hostility from employers. Some engage in prostitution to survive in foreign lands.
"We have started discussions on the Unemployment Insurance Fund which was also approved. We are working with the International Labour Organisation (ILO) to set up the migrant workers fund."