Why domestic workers run to the Gulf despite reports of abuse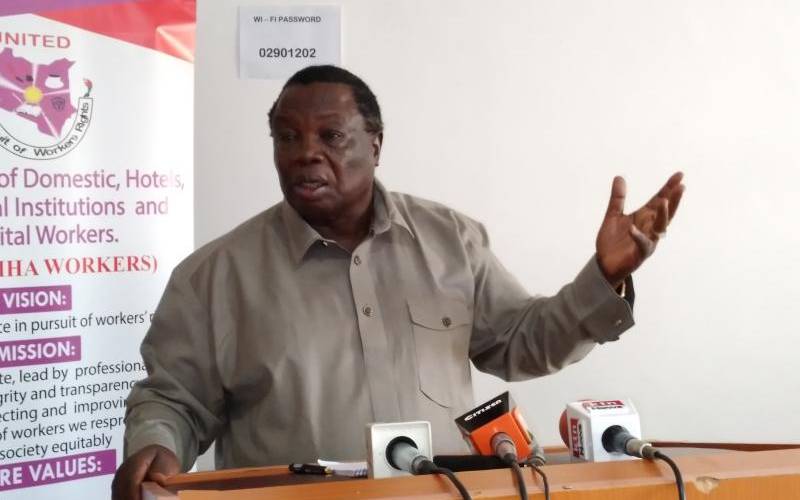 When Mirriam Gichure resolved to join the thousands of Kenyans moving to the Middle East in 2017 for greener pastures, she hoped for a financial breakthrough.
After all a job offering abroad is irresistible. Like those who dared venture abroad, Ms Gichure followed suit, leaving behind her two children, parents and sister's children.
The 40-year-old landed in Qatar for a house help job. But her unpleasant experience of sexual harassment by the employer, working for long hours and mistreatment resonates with tales of distraught Kenyans trapped in the Gulf.
"They can use any word to insult you. They would call me a monkey because of my skin colour and I could do nothing about it," she recalled.
Ms Gichure tearfully narrated how she would be tricked by the employer before being subjected to sexual harassment whenever the wife was away.
"Most of those homes are under CCTV surveillance and the man of the house would trick me to get him something from the car or their bedroom then he would follow me and harass me sexually. Sadly, I could not report such incidents to the wife because they could turn it against me," she said.
She was narrating her ordeal during a meeting of a labour organisation in Nairobi.
Ms Gichure from Nakuru said her resilience to work in the Middle East was majorly motivated by the Sh27,000 monthly pay that helped her pay her children's school fees and those of her sick sister, and her parents' rent.
"Migrant workers in the domestic management are treated like slaves. I was eating the leftover food and working more than 12 hours every day. The woman would carelessly leave dirty innerwear and soiled sanitary pads in the house for me to collect and clean," she said.
Eventually, Ms Gichure managed to run away at night and was deported back to the country.
Many Kenyans have trodden the unbeaten path to the Middle East, inspired by tales of abundance, only to be returned home in caskets. Others end up in foreign jails for allegedly violating labour laws.
This is evidenced by the increasing media reports of abuse and killings of migrant domestic workers in the Gulf. However, migrant recruitment firms continue to be swarmed with applications of desperate women seeking to travel to the countries for greener pastures.
The minimal requirements and good paychecks are some of the traps ensnaring the growing numbers of women travelling for domestic work in Saudi Arabia, Lebanon, Bahrain, Iraq, Qatar, Jordan, and the United Arab Emirates.
Domestic workers' salaries in the Middle East range between Sh20,000 and Sh65,000 depending on the duties.
Before travelling, they are only required to have the basic knowledge to operate home appliances, a valid passport, and a medical report.
Ms Gichure blamed unemployment in Kenya for increasing mistreatment of Kenyan migrant workers in the Gulf.
During the meeting convened by Cotu, it emerged that high demand for Kenyans' skilled and semi-skilled labour coupled with lack of proper policies to facilitate and regulate labour migration contribute to the tribulations.
"We need seriousness in addressing this menace and establishing policies that can create opportunities for our people is a solution to this challenge. Establishing industrial parks and formalising informal sectors can help in job creation," said Cotu Secretary General Francis Atwoli.
He called for legislation to allow transnational trade union representation so that the migrant workers can be represented by their domestic trade unions to stop labour exploitation.
A research report presented by the International Trade Union Confederation (ITUC) titled Analysis of Recruitment reviews from Migrant Workers shows that recruitment processes are marred by fraud, extortion and exploitation.
"In fact, desperation to migrate abroad for employment on the premises of higher salaries and poor government oversight over recruitment practices and the activities of the private employment agencies make aspiring migrants vulnerable in the hands of labour recruiters, intermediaries and traffickers," reads the report.
The report also says a majority of Kenyans do not use recruitment agencies to migrate. Instead, they use friends and brokers, hence exposing themselves to illegal and unethical recruitment practices and treatment by agents and employers.
Confiscation of migrant workers' passports and other personal documents by their employers was reported to be a rampant form of slavery on the workers and a high level of the contravention of labour laws.
Ideally, migrant workers should be allowed to possess their passports and other personal documents and provide copies of the same to their employers.
The report recommends continuous labour inspection in workplaces of migrant workers to ensure they have their passports and other relevant documents.
"Majority of the migrant workers were not issued with written contracts of employment as required by law and the few who received could not understand because they were written in foreign languages. The contents of such contracts were minimal and partially included the salaries, the job locations and the accommodation," adds report.