Costly poop: Caregivers' struggles to provide basic needs for disabled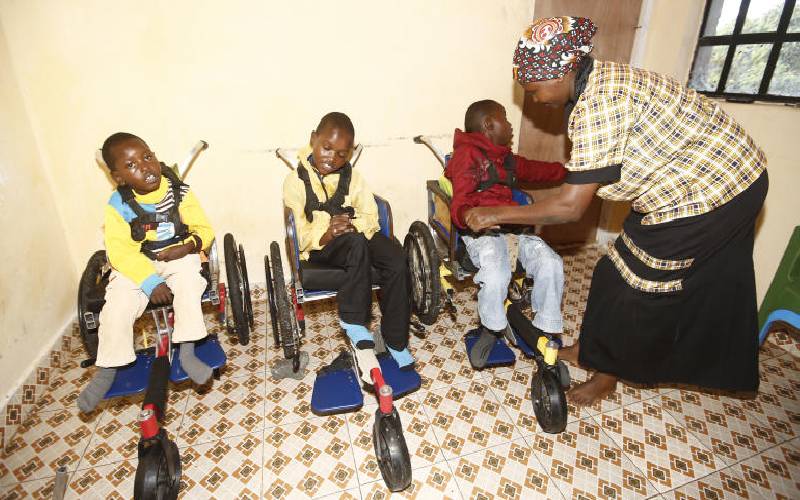 Just how costly is the call of nature? While it is a natural and painless process for many, a majority of people living with a disability would prefer to skip a meal to save for adult diapers.
For Ms Wambui*, parenting three teenagers living with muscular dystrophy that causes progressive weakness and loss of muscle mass has not been easy, especially when handling toilet visits.
"The cheapest packet of diapers ranges between Sh1,000 and Sh1,200 and contains 10 pieces. To avoid sores, each has to be changed three times a day," Ms Wambui said.
Accessing diapers for people living with a disability can be challenging. Disabilities such as spinal cord injury, cerebral palsy, and autism may result in the inability of an individual to control their bowels or bladder, thus requiring diapers.
The situation is also worsened by the high cases of unemployment among people living with disabilities.
"Many might never understand how much of a basic need adult diapers are. Only people who use them or those close to those who use them understand. When someone gifts me diapers, my heart glows and you can see it." She spoke during a diaper donation event spearheaded by Safaricom Foundation and Strong Spine, an organisation that promotes the inclusion and equality of disabled people.
Brian Muchiri, the founder of Strong Spine and a road accident survivor, says while adult diapers are costly, they are a basic need for those who need them.
"Adult diapers are important items that are not widely talked about yet they remain expensive and inaccessible. Diapers mean comfort, confidence and self-esteem."
The situation, he says, is even dire among users who are dependent on relatives and parents for support since a majority are jobless.
"It is not easy for people living with a disability to secure and keep jobs yet their needs are much more than they can afford. Even accessing services from public offices proves a big challenge," he added.
Running an institution with numerous learners in need of adult diapers on a daily basis presents a bigger challenge.
According to Ms Lucy Kihato, the head teacher at Nakuru Hills Special School, most of the learners who require diapers have multiple disabilities. The learners need to use the diapers and have to constantly be changed.
"Most parents whose children use diapers cannot afford it yet the learners need to be comfortable too," Ms Kihato said.
She added that while going to the toilet is one of the topics learners with special needs have to be taught, it becomes difficult in a situation where a learner lacks the basic commodity and might not be able to communicate.
"Being a public school for children with special needs, the school has other challenges. We mostly depend on well-wishers because a majority of the parents are also struggling with other needs.
"If these diapers could have been cheaper, it may make a big difference for people who entirely depend on them."
Speaking while donating the adult diapers at the school, Nakuru County Safaricom manager Reuben Macharia said: "There are people who really need this in their daily life. It becomes even harder when one is a learner and cannot afford it. We want to make sure the learners are comfortable and healthy."