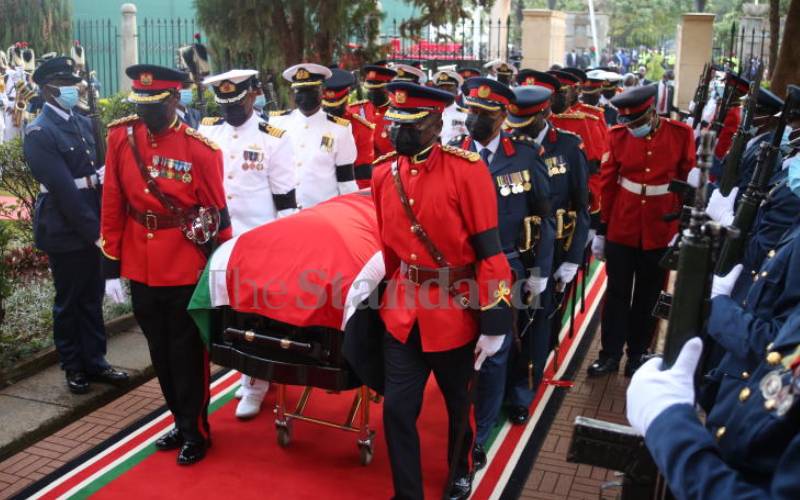 Far from the norm in Parliament chambers and of journalists interviewing MPs, yesterday morning was characterised with gloom and grief.
Sadness written all over their faces, President Uhuru Kenyatta, his deputy William Ruto, Chief Justice Martha Koome, her deputy Philomena Mwilu, National Assembly Speaker Justin Muturi, his Senate counterpart Ken Lusaka and other dignitaries gathered to pay their last respects to the late former President Mwai Kibaki.
Lying in state, reminding the onlookers of the memory of a man they respected and cherished, was the body of the former president.
In the large space, decorated with the colours of the Kenyan flag, Mr Kibaki's body lay on a white decorated catafalque with yellow on the side, while military personnel stood on all four corners with their backs turned to the body.
One by one, with President Kenyatta and First Lady Margret Kenyatta taking the lead, they made their way to the catafalque, took a short moment to pay their respects, bowed and moved on. All was done in silence.
In an event run by the military, the space in Parliament was dotted with security personnel from the military police, National Police Service and National Youth Service (NYS); all working to guarantee security thousands of Kenyans lined up to view the body of the late president.
A checkpoint was erected before the Parliament gates, forcing everyone who passed through it to unbuckle and remove their belts.
For Kayamba Africa band members Moses Ekirapa and Richard Muo, their coming to Parliament Buildings was personal. According to Mr Muo, President Kibaki's tenure allowed them to flourish as musicians with an abundance of gigs, including those commissioned by State House.
The two also credit the late president for the economic prosperity experienced in the country during his term in office.
"We benefited a lot because most times when he had functions, Kayamba would be in the house and we felt honoured," said Mr Ekirapa.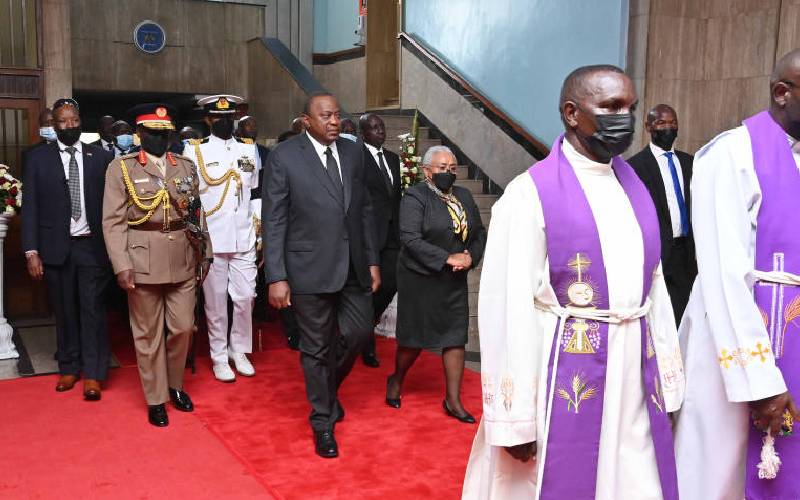 Mr Muo recalled how at one time when they were invited to perform for President Kibaki a security aide warned them not to sing while the president was eating, only for him to come over to them and complain why there was no music.
"He came to us and asked mnaanza saa ngapi (what time are you going to start singing?). We were ordered to go to stage and sing. We felt honoured that mzee appreciated what we did as artistes," he said.
Makueni Senator Mutual Kilonzo Jnr said Mr Kibaki's death is a huge loss for Kenya. "Anytime we talked about the economy and infrastructure we always link it to the late president. He will always be a model leader," said Mr Kilonzo.
The late president's aide de camp, Col (Rtd) Geoffrey King'ang'i, remembered President Kibaki as a man who loved his country and when in high spirits would always talk about Kenya and the country's forefathers who fought for independence and established the foundation for self-rule.
Col King'ang'i, who is now Mbeere South MP, credits the former head of state for shaping his political career.
"It is through him that I joined politics. I never saw myself as a politician but through him, I realised that a person doesn't need to be loud and rowdy to be a politician," he said.
The late president will be lying in state until tomorrow to allow the public to view the body and pay their last respects. The viewing starts from 9am to 5pm.