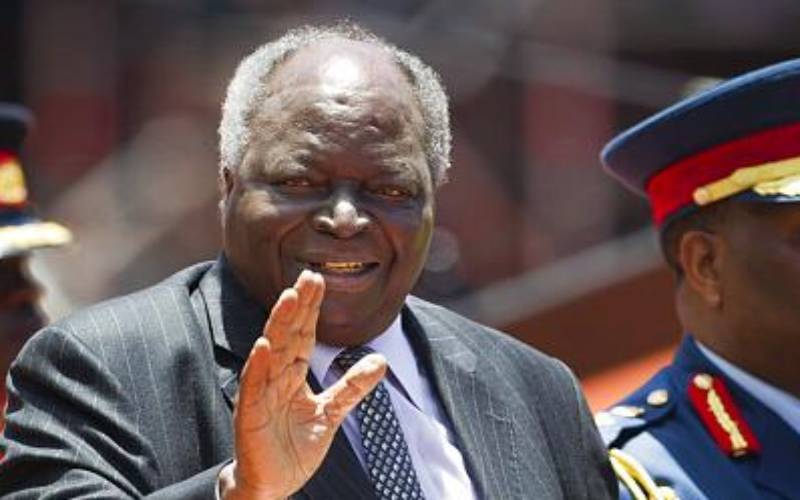 Former President Mwai Kibaki will be buried on Saturday, April 30 in Othaya, Nyeri County.
The Funeral Steering Committee, led by Interior Cabinet Secretary Fred Matiang'i, said Kibaki's body will lie in State in the National Assembly between Monday, April 25 and Wednesday, April 27.
Kibaki's funeral service will be held at the Nyayo National Stadium in Nairobi on Friday, April 29, Matiang'i said.
The minister addressed journalists on Saturday, April 23 on the steps of Harambee House in Nairobi.
Diplomats and senior members of the public who may wish to visit the ex-Head of State's family to offer their condolences have been advised to visit Kibaki's Nyari Estate home in Nairobi between Tuesday, April 26 and Wednesday, April 27.
Matiang'i said that a facility will be set up at the Othaya CDF Office for leaders and Nyeri residents to visit and sign a condolence book.
The National Assembly, Senate, Ministries and Harambee House and other Government offices will have condolence books for signing from Monday afternoon, April 25.
Diplomats are expected to sign the condolence book at the Ministry of Foreign Affairs.
Matiang'i said that by Tuesday, April 26, condolence books will be available to County and Regional headquarters for signing by leaders and members of the public all over the country.
A detailed statement on the burial plans will be issued on Sunday, April 24.
Kibaki, who served as Kenya's third President between 2003 and 2013, died on Friday, April 22 aged 90 after a long illness.
He died while receiving treatment at the Nairobi Hospital.