A lorry transporting ballot material to Embu ahead of UDA's nationwide primaries on Thursday, April 14 was ransacked and the ballot boxes burnt.
Some aspirants are accusing a senior politician from the region of planning to rig the primaries in favour of her allies.
Rowdy youth tracked the lorry from Mbeere South – a distance of 15 kilometres to Izaak Walton Hotel, where they ransacked the vehicle and set the ballot material alight.
That happened one kilometre from Kangaru Boys' High School at around 4:30pm on Wednesday, April 13.
The lorry was, however, undamaged as the driver managed to speed off.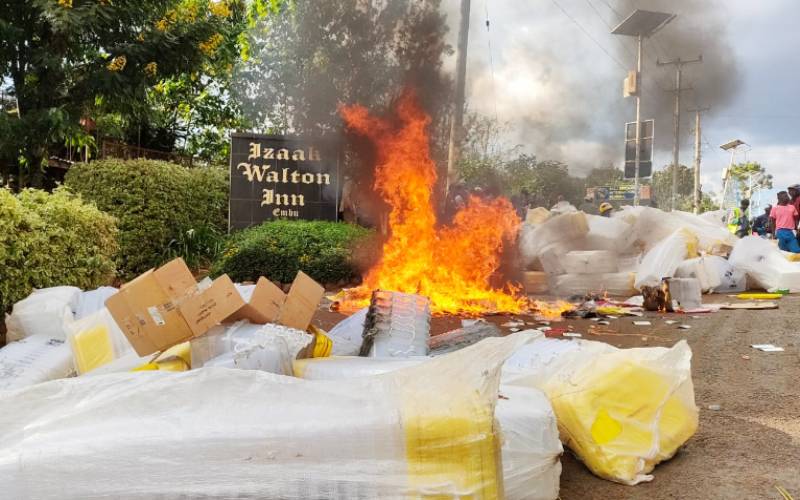 Eyewitnesses told The Standard that at least 50 youth took part in the chaos.
Police, however, rushed to the scene and dispersed the rowdy crowd.
The value of the material that was damaged during the melee remains unknown, police said. No casualty was reported.
Delay of the release of ballot material and confusion marked the eve of the UDA party primaries in Embu County.
Several people claiming to be presiding officers and clerks showed up to pick the ballot material at the Jeremiah Nyagah Technical Institute, the tallying centre for Mbeere South Sub-County.
Two factions clashed over who had the right to collect the ballot material.
Police had a difficult time breaking up the rivaling groups, with each faction accusing the other of planning to rig the polls.
Some leaders alleged that the national government was keen on the UDA party primaries, and wanted to impose candidates who are "system sympathisers".
Speaking at the Embu County tallying centre at Kangaru Boys' High School, Mbeere South MP Geoffrey King'ang'i said he didn't understand why "deputy county commissioners, as well as members of the National Intelligence Service (NIS), were escorting UDA aspirants to campaigns".
There were reports that the Embu County Returning Officer Vincent Munyaka had resigned. When The Standard reached him on phone, he said he had been swapped with his Laikipia counterpart.
He, however, pledged to preside over free and fair nominations.
The United Democratic Alliance (UDA) Party will hold its nationwide primaries on Thursday, as it seeks to field candidates for all the elective seats, minus that of the president, which is reserved for Deputy President William Ruto.