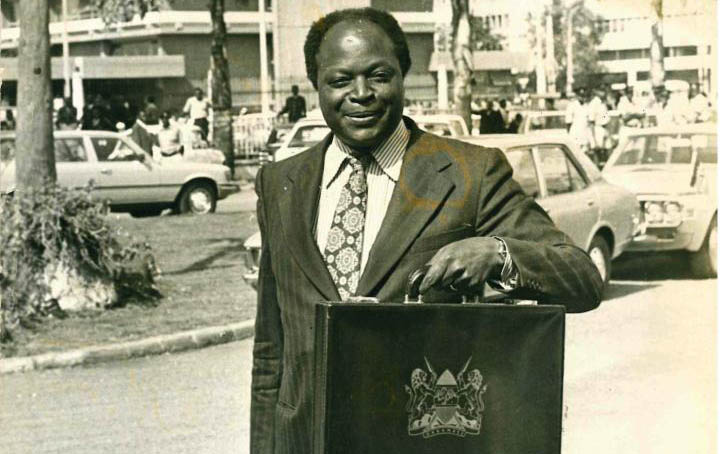 Long queues of desperate motorists looking for fuel have become the norm.
Family heads have become experts at knocking off items they consider non-essential from the budget. The cost of living has shot through the roof and Kenyans are waiting to see whether today's Budget speech will offer reprieve.
As Kenyans wonder what President Uhuru Kenyatta's parting gift will be before he proceeds into retirement, a trip to the past brings memories of his father Jomo Kenyatta's last present in his final Budget presented by Finance Minister Mwai Kibaki on July 15, 1978.
If all goes according to plan, Mr Kenyatta will be out of State House on August 21. His father's last day in Mombasa State House was on August 22, when he passed on just a month after his last Budget was submitted to Parliament.
In his last Budget, Mzee Kenyatta, just like his son, had to battle inflation and the high cost of living, which in Mr Kibaki's own words had been occasioned by an economic boom resulting in too much money chasing too few goods. This in effect had led to a shortage of essential commodities amidst skyrocketing prices.
To cushion Kenyans, Mzee Kenyatta lowered taxation on vegetables, juices, sauces extracts and jellies from 50 to 25 per cent. At the same time, duty on soaps, candles, film rolls, polishes and creams were also lowered by 30 per cent.
Mr Kibaki had at the same time raised the import duty for a bottle of wine by 85 per cent while bulk importers had to pay duty at 75 per cent. It was during this same budget that the price of Embassy and Sportsman cigarettes was raised by 50 cents while the more expensive brands, such as 555, were raised by a shilling.
Mr Kibaki then justified his rising of beer prices, saying at the time they were among the lowest in the world and that the Exchequer had to maintain its share of the total retail price. Consequently, he increased the price of Tusker and Whitecap by 40 cents.
Forty-four years ago, Jomo's key concern was to tame the rising cost of living and end the confusion in government borrowing which at the time was scattered in 27 pieces of "borrowing Acts".
It was Jomo's dying wish to harmonise laws on borrowing by creating the External Loans and Credit Act, which was to exclusively deal with foreign borrowing. Internal loans, Kibaki proposed, were to be covered by another Act whose main objective was to be centered around long-term and short-term domestic debts.
Then, Kenya's recurrent expenditure for all the ministries was 373 million pounds (Sh7.46 billion) while 197 million pounds (Sh3.94 billion) was set aside for development. This year, President Uhuru's last Budget will be dominated by measures to tame huge unpaid bills, runaway expenditure on contractors and futuristic policies, to ring-fence his legacy projects.