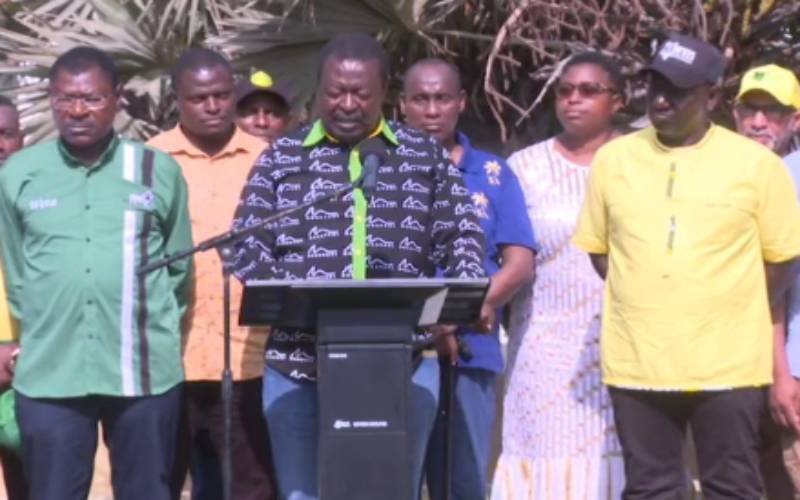 The Kenya Kwanza coalition says it will mobilise its MPs in both Houses of Parliament to compel the Auditor-General Nancy Gathungu to conduct a forensic audit of funds used in the BBI.
In a statement to the press on Friday, April 1, the DP William Ruto-led outfit said: "Article 201 (d) of the Constitution on the principles of public finances requires that 'public money shall be used in a prudent and responsible way. While the Supreme Court has decisively dealt with the unconstitutionality of the BBI circus, the determination of prudence in the use of public funds in the illegality is placed under the ambit of the Auditor-General as per Article 229 (5) of the Constitution.
"Section 37 of the Public Audit Act 2015, the Auditor-General, upon request by Parliament is required to conduct forensic audits to establish fraud, corruption, or other financial improprieties. Our Members at the National Assembly are moving a motion compelling the Auditor-General to undertake a forensic audit on all public funds spent in the illegal process from inception to date."
Dr Ruto is on the record saying at least Sh20 billion was used in the BBI, claims which he is yet to provide any proof.
The Supreme Court on Thursday, March 31, threw out the BBI reforms, saying President Uhuru Kenyatta picked a wrong route – the popular initiative – to initiate changes to the 2010 Constitution.
The court also ruled that the quest to add 70 new constituencies, without the input of the IEBC, was unconstitutional.
"We in Kenya Kwanza Alliance, reiterate our commitment to stand with the Judiciary. We salute the brave women and men who braved the odds of the day and delivered a judgement well coined within the law and more specifically for standing with Kenyans. It is important to note, that BBI as crafted would have cost Kenyans an upward of an additional Sh565 billion annually to implement," Kenya Kwanza said in their Friday statement.
Download the BBI Judgement by all seven Judges - Civil Appeal No. E291 of 2021