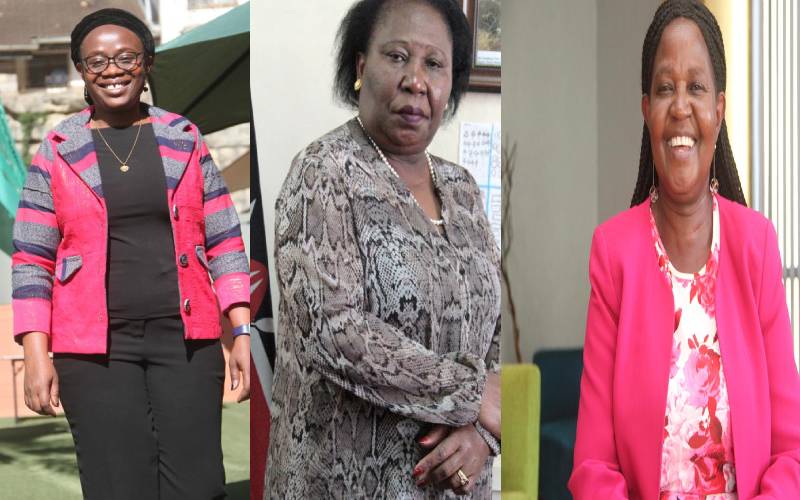 The 2022 General election has seen more women vying for major political seats compared to the previous years. Women have boldly announced that they will vie for the Governor position being the second most powerful political office.
Since the implementation of devolved governments in 2013, only three women have occupied the seat after being elected in the second 5-year term after the implementation.
Today being International Women's Day, the road to achieving this has not been rosy. Conferences have been held to discuss the grievances that have been aired by women for years.
United Nations has organised four world women conferences. The first one took place in 1975 in Mexico City, then 5 years later in 1980 in Copenhagen, Nairobi in 1985 and Beijing in 1995.
The latter was widely recognised and it has been followed by a series of five-year reviews. However, even 27 years later, people still think of the UN and NGO Conferences on Women in Beijing when they think about women gathering together to tackle the issues that affect them.
The main issues discussed were women and environment, violence against women, the girl child, women and the economy, institutional mechanism, women and armed conflict, human rights of women, education and training of women, women and poverty, women in power and decision-making, women and health women and media.
Mrs Rahab Mwikali Muiu, the Chairperson of Maendeleo ya Wanawake, says that the Beijing conference played a very big role in airing the grievances women endured. The Kenyan women were led by Nyiva Mwendwa, Kenya's first woman to serve as a Cabinet Minister.
"It was such a (significant) global story. Wherever you were, you would hear about it. There were 12 critical areas. However, Maendeleo was very keen on the girl child, women and poverty, women and health, women and water and human rights for women," Muiu says adding that much still needs to be done when it comes to women and poverty, a vice that has largely contributed to teen pregnancies.
"Here we are talking about babies. When you are 10 years old, you are still a child. Even the body has not formed. This poverty has become a vicious cycle because if you become a mother at 10 years, you might become a grandmother at 20 and the cycle continues," she says.
She adds that the revolution the organisation is hoping to achieve is partnering with the next government to cut the poverty cycle.
Adelina Mwau, the Deputy Governor of Makueni County was among the delegates who attended the Beijing conference. She says it was a great feeling seeing all women being together for a common cause.
She adds that there are several laws that have been put in place, for example, the Sexual Offences Act of 2006, the Children's Act 2001, the female genital eradication and prohibition of female genital mutilation Act 2011, the Marriage Act 2014, the victim protection Act of 2014 and the protection against domestic Act of 2015.
"The power relationship between men and women and the status of girls and women remain unequal to a very large extent," she says.
However, Mwau says there are other issues that have not been resolved for example the two-thirds gender rule and the fact that women and girls are still experiencing sexual violence.
Another woman who was at the Beijing conference is Professor Jacqueline Oduol. A nominated MP and academic, she? talks about the sisterhood that was also achieved while in Beijing.
"We were united in ensuring that we break this barrier that was really uncalled for that was making capable girls and women not to rise and fulfill their dreams," says Prof Oduol.
She adds that as much as there has been progress, the sense of sisterhood is lost.
"As we have made progress, we've tended to be a little more individualistic and therefore losing solidarity and sisterhood. I feel we have kind of lost that organising ability as women, I hope we can come through as a force," she adds.
Prof Oduol adds that when they came from Beijing there were a lot of obstacles that hindered their progress.
"Beijing was translated as a foreign concept set to destroy families. We had to find ways of educating people and getting them to see what it was about," she says.
She adds that in her village, she had to find a better way to explain to her people what the conference was all about.
"In Dholuo, 'jing' means strength or someone with muscles. So I told them we went to Beijing to empower women so that they can empower themselves and improve their lives and the community, and they understood," she adds.
Prof Oduol's sentiments were echoed by Adelina Mwau who adds that the execution of what was agreed had so many stumbling blocks.
"I think men felt challenged that we were together as women of the world raising these issues, it wasn't very well received," she says.
For the young women who were born years after the Beijing Conference and do not know much about it Prof Oduol says that Beijing was about their dignity.
"Beijing was about ensuring that we celebrate humanity. Society made girls feel that they were less than what they were. The conference recognised that they are not less important and they need to be proud of being girls," she says.
"Young girls need to get in touch with themselves and love and listen to themselves then know that they are capable," Prof Oduol.
However, some months shy of 27 years since the Beijing Conference, data shows that women are underrepresented at levels of decision-making worldwide, and achieving gender parity, especially in the political world, is far off.
According to data from UN Women, in Kenya, women's political representation is still below the constitutional threshold of 30 per cent and further below the Sustainable Development Goals target (SDG) of 50 per cent.
Kenya is the only country in East Africa that has yet to achieve a minimum gender quota in its political leadership.
"Whilst Kenya is currently at 22 per cent, its neighbors: Rwanda, Tanzania, Uganda, Ethiopia and Burundi have achieved the 30 per cent threshold, more needs to be done," says UN Women's Rukaya Mohammed.