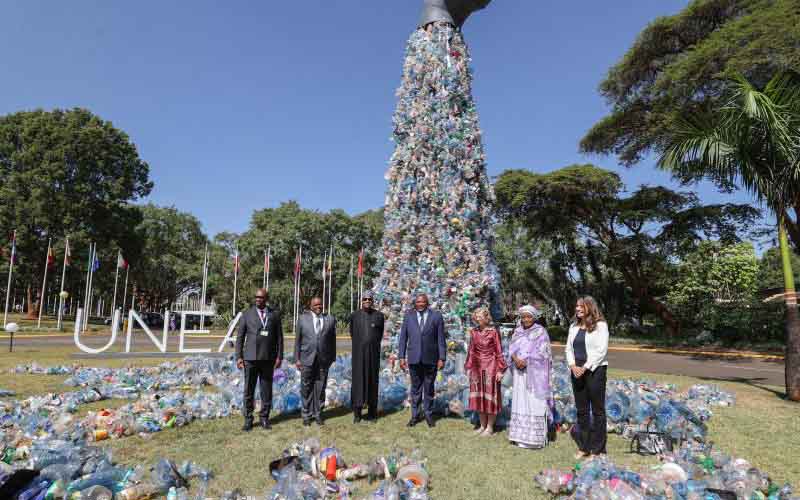 The United Nations staff working in Kenya will be exempted from paying taxes, besides other benefits, as part of Kenya's commitment to supporting the agency.
To enhance efficiency in the administration of diplomatic privileges, the country has developed an integrated protocol management information system that creates an automated one-stop shop for tax exemptions, staff registration and issuance of diplomatic ID card.
President Uhuru Kenyatta made the announcement yesterday when he led UN member states in the commemoration of 50 years since the inception of UNEP, headquartered in Gigiri, Nairobi. He spoke during the opening ceremony of the first special session during the commemoration of the 50th anniversary of the establishment of UNep.
Uhuru acclaimed the achievement made by the agency while acknowledging its efforts in helping the world to understand the centrality of environment in human existence, to recognise the increased threats to the environment and also the existential threat that exists to our planet.
He announced measures to enhance the relationship with UN while protecting Kenya's identity as the only country that hosts the only UN headquarter in the global south. "We have worked closely with UNep to provide support and facilities to the UN agencies based in Kenya so they can achieve their mandate.
"We'll provide land for development and humanitarian logistics hubs in Naivasha, Nairobi and Mombasa. We have also provided land for the creation of diplomatic enclave adjacent to the UN office at UN Nairobi complex," he said.
The government also announced the first of its kind global award that will recognise persons or institutions championing environmental sustainability and peace.
Uhuru said the government would be sponsoring the Amani and Mazingira biannual global award. "The award will be accompanied by a monetary award of $20,000," he announced.
He said the first awardee would be announced on June 1 during Madaraka Day. "UNep has also helped us galvanise collective global action to protect our environment. The journey has not been easy," he said.
The Stockholm Conference of 1972 led to the establishment of UNep. Uhuru noted that UNep had transformed into a formidable ecological consciousness for the world, as it boldly champions the environment agenda.
He said UNep had overcome turbulent times to provide technical, diplomatic, and political leadership in development of co-concept of sustainable development and build ownership of the concepts at national level.
This, he said, had enabled the global body to establish a credible platform for countries to come together and act boldly to advance the global environment agenda. Uhuru was proud following the successful hosting of UN Environment Assembly that witnessed the adoption of ending plastic pollution resolution and others culminating in ministerial declarations.
"I know this was not easy and it is for that reason that I want to commend and congratulate all member states for the dedication and diligence you have shown towards prioritising this real issue that affects our planet," he said.
The President recognised two individuals who championed the formation of an environmental organisation and the hosting of UNep in Nairobi, the late ambassador Joseph Gordon Odero-Jowi and the late Nobel laureate Wangari Maathai.
Odero-Jowi served at the time in New York as Kenya's permanent representative to UN Security Council and was 43-year-old then.
Wangari was recognised for her role in protection of the environment. "I want to urge all stakeholders to enhance, mobilise and prioritise support for UNep as it has demonstrated its critical role in ensuring the sustainable planet by tackling crosscutting issues such as climate change, biodiversity loss, and plastic pollution," he said.
He urged states to commit to support UNep to steer the environmental discussions towards tangible and sustainable solutions. "Kenya remains committed to environmental sustainability, as we have firmly anchored the environment pillar in our economic blue print, Kenya Vision 2030," he said.
Speaking at the event, Presidents Mokgweetsi Masisi (Botswana) and Muhammadu Buhari (Nigeria) commended Kenya for providing exemplary leadership in environmental conservation and combating climate change.
Other speakers included Morocco's Energy Transition and Sustainable Development Minister Leila Benali, who is also the incoming President of UNEA 6, and UNep Executive Director Inger Andersen.
Masisi applauded UNep's current and former leadership and the agency's impact on environmental agenda, which remains a global authority on environmental matters. "We welcome the commemoration as a moment to reflect on past achievement and ponder on current challenges in order to chart a way forward," Masisi said.
He said the commemoration comes when the world is facing challenges that threaten achievements of sustainable development and protection of our planet.
In effort towards environment sustainability, Masisi said Botswana had updated and enacted new legislation and policy instruments to respond to ever evolving global challenge to address climate change.
He said 40 per cent of Botswana's land was under protected area status.
The country also prides itself in having integrated environmental management into a national development planning processes and in national Vision 2030.
Masisi appealed to the international community to prioritise incentivising success in conservation.
He reaffirmed Botswana's commitment to the interest of global community as outlined in sustainable development goals.
Nigeria's Buhari said no country could address climate crisis alone and that each had a role to play to end wildfires and reduce greenhouse gases emission.
He applauded UNep's efforts in addressing climate change, biodiversity loss, rise in levels of pollution; major crises threatening the planet.
"We partner with UNep in collective struggle against climate change," Buhari said.