Court stops prosecution of bank director in Jimi Wanjigi land case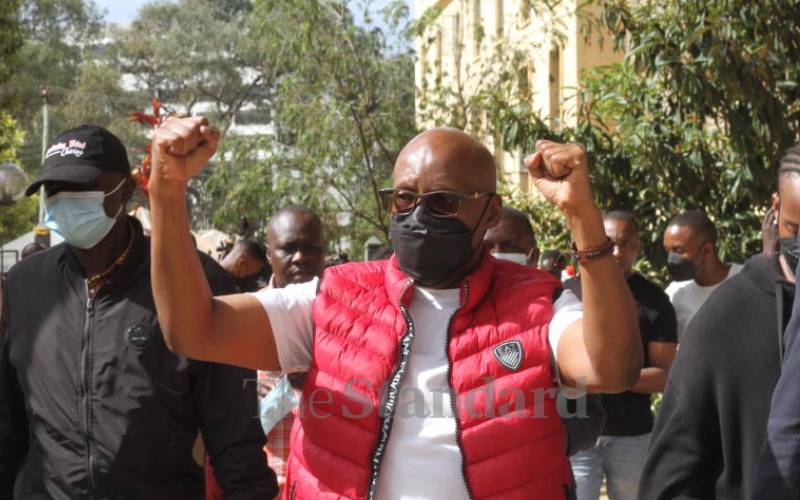 A senior lawyer and accountant embroiled in land controversy with businessman Jimi Wanjigi got a reprieve after the High Court stopped his prosecution on Friday.
Kairo Thuo, a director at NCBA bank and Kenya Power and Lighting Company, claims that the proposed charges are only intended to embarrass and humiliate him since he fell out with Wanjigi and has nothing to do with the controversial land transfer.
Justice Anthony Mrima issued the order stopping the Director of Public Prosecutions and the Director of Criminal Investigations from charging Thuo pending determination of his suit over the land in Westlands they are alleged to have faked its title.
"An order is hereby issued stopping the respondents from instituting, arresting, preferring or registering any criminal charges against the petitioner in reference to the parcel of land in Westlands pending hearing of the petition," ruled Mrima.
Thuo was scheduled to be charged on Monday with four counts of fraudulent acquisition of a land title. It is alleged that he conspired with Wanjigi and his wife Irene Nzisa to forge the registration of the land's title.
But Thuo, in his petition filed through senior counsel Fred Ngatia, sought to set the record straight over the disputed one-acre land by detailing accounts of what happened leading to a complaint being filed at the DCI over a plot to defraud the land's title.
According to Thuo, Wanjigi nominated him as a shareholder to his company Horizon Hills Limited in March 2010 but the agreement was terminated in 2018 after which he relinquished his shares in the company.
"Sometime in 2019, he was invited by DCI to record a statement in relation to his role as a nominee shareholder of Horizon Hills Ltd which had since changed to Aureum Ltd. This was in regard to a complaint made by Wanjigi over fraud relating to the land registered in his company," said Ngatia.
He argued that the matter was never mentioned again until Wednesday when Wanjigi was arrested and he saw a charge sheet circulating in which he was a co-accused in the alleged fraud.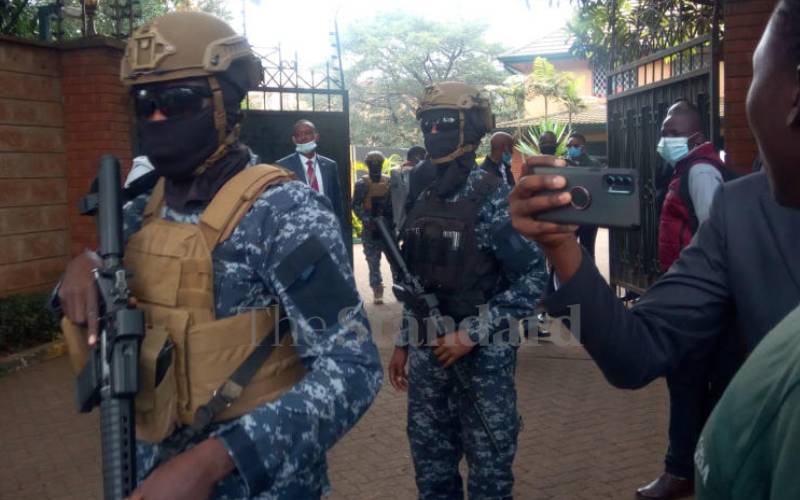 Ngatia submitted that it was surprising that Wanjigi who had made the complaint over the land's purported transfer in 2019 had been turned into an accused person and that Thuo who had no hand in purchasing the land had been dragged into the criminal case.
"The rush to charge him is only intended to affect his professional standing and service as Director for NCBA Bank, director for ICEA Lion Insurance, Director of Kenya Power and Director of Special Economic Zones Authority which requires him to be of good conduct," said Ngatia.
He added that the intended criminal charges, when he is not involved in Wanjigi's companies, are unreasonable and abuse of power which are calculated to achieve ulterior motive.
Wanjigi was dramatically arrested on Tuesday after an 18-hour siege at his office at Westlands before being taken to court on Wednesday where he was scheduled to plead to the charges of forgery.
He, however, did not take plea and was released after the High Court issued an order stopping his prosecution in relation to the disputed land.