New twist in Anglican Bishop's suspension, replacement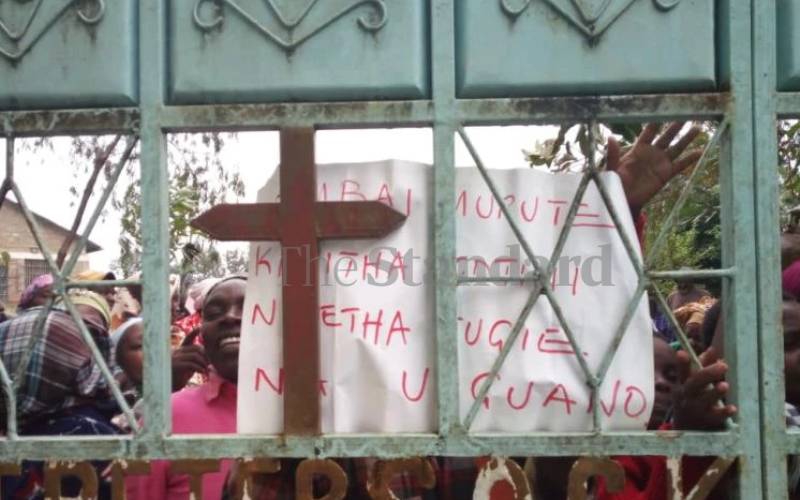 A three-year protracted legal battle pitting Mt Kenya West Anglican Bishop Joseph Kagunda and Archdeacon John Njogu Gachau has taken a new twist.
This is after a new priest deployed by Kagunda to replace Gachau, who was on December 21 suspended from pastoral work by the Bishop, was blocked from accessing the precincts of the church on Sunday, January 16, 2022.
Led by James Wachira, the faithful took issue with Bishop Kagunda's directive saying they still recognised Gachau as the parish priest and vowed not to channel their contributions to the diocese.
According to Wachira, who questioned the veracity and motives of Bishop Kagunda, the replacement, Rev Peter Karimi Gathuku, was in a battle with Gachau on who to be Bishop in Mt Kenya West diocese race.
"The two were candidates for the Bishop post and we believe this is personal and for that reason, we rejected the new priest. We don't want to be dragged on personal issues," said Wachira. "We will retain our contributions, and will implore ways and means of facilitating Gachau, who we acknowledge as our priest."
In a letter to the diocese revealing Rev Gathuku was to take over on January 1, Bishop Kagunda indicated that the decision was in line with the church's ecclesiastical law.
"As is the requirement of every priest as per our Constitution article (vi) subsection 5 (j) every priest is expected to fashion the lives of himself or herself and of the members of his family in such a fashion that they may adorn the gospel of our Lord and saviour and may serve a profitable example to the lay membership of the fellowship," the letter read in part.
Gachau was sacked in 2015 over alleged homosexuality but reinstated to his pastoral duties by a Nyeri court in 2018 after he successfully challenged his suspension and sued for defamation.
The Employment and Labour Relations court found Kagunda guilty of contempt and awarded the archdeacon, and two other clerics, Sh6.8 million in damages.
Bishop Kagunda is set for retirement later in the year.