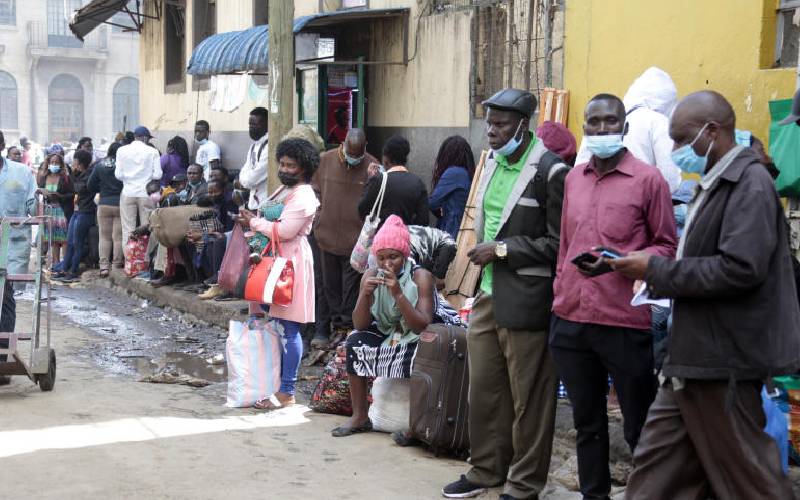 Fully booked passenger service vehicles, crowded bus stations and raised fares marked the scramble by city workers seeking to travel upcountry for the Christmas holiday.
The passengers were not required to produce vaccination certificates as most transport companies were not ready to implement the new measures announced earlier in the week by the Health ministry.
However, the drive to vaccinate more Kenyans continued with Nairobi Metropolitan Services (NMS) setting up four active sites.
"We have two stations at Kencom bus stage, National Archives entrance, Green Park Terminus and Penda Medical Clinic along Kimathi Street," said Lilian Mutua, head of health promotions at NMS.
Ms Mutua asked those travelling to get vaccinated to avoid being disappointed when the measures come into effect.
''We will consider extending to more days here as days go by depending on the number of people coming for vaccination,'' said Ms Mutua.
KICC chief executive officer Nana Gecaga said the management of the centre has been asking for certificates of vaccination because they receive about 5,000 visitors per day.
"However, if someone does not show the certificate, they are still being allowed into the building. We are also telling those who have no certificates that next time you have to carry it,'' said Ms Gecaga.?
Various activities were recorded at various transport pick-up and drop off stations in the city.
Many Kenyans were stranded at various bus and matatu stations in the city as most of the buses and shuttles were fully booked. And in some cases, travellers could not afford the high fares as bus owners doubled ticket prices to cash in on the peak travel season.
The most affected were those travelling for long distances such as the Western and Nyanza routes.
However, the Covid-19 impact for the second year in a row that led to job losses and collapse of businesses did not prevent them from travelling to their rural homes to celebrate with their loved ones despite the hiccups.
"I left Voi in Taita Taveta County at about 10:30pm where I work to come to Nairobi. I reached the city at 3am and up to now, 1pm, I am still here," said Geoffrey Moseti, whom we found at Afya Centre waiting for means to get home.
He said he had been promised a slot by the bus station manager and was willing to wait until he got one.
Scenes of passengers who had made earlier bookings scrambling to board shuttles were common.
Robert Ombati, an operations manager at Transline Classic, said they had not raised fares from the Sh1,000. Along Mfangano Lane, more passengers were stranded as Blueline and North Rift shuttles were fully booked.
Aggrey Lugano and his sister Alice Mwanaisha waited pensively for an opportunity to travel.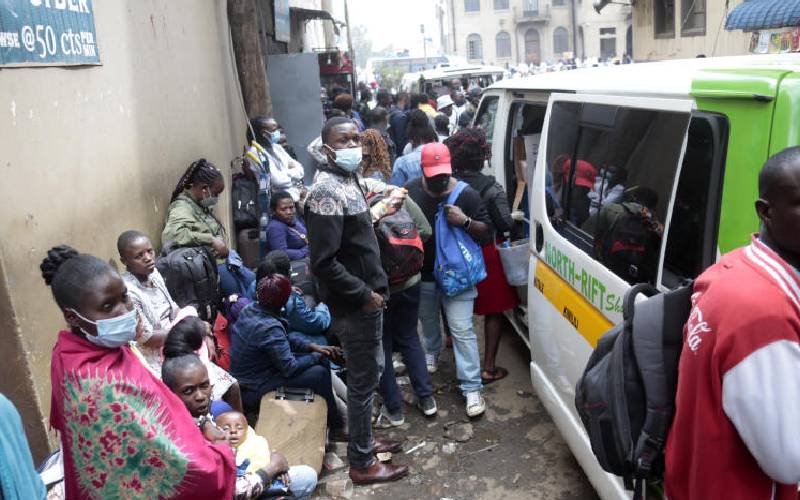 "We were here since 6am and we even did not take breakfast and neither have we had lunch. We have been told vehicles are coming but it's now 1pm and we don't see a vehicle and when it comes, its after three hours,'' said Lugano. He said they were scheduled to travel to Kitale in Trans Nzoia County.
"We had already booked and we cannot look for another company. Fares have increased to Sh1,700 from normal Sh1,000,'' he lamented.
North Rift Shuttle was charging Sh1,400 to Eldoret and Sh1,700 to Bungoma. Blueline was charging from Sh1,500 to Sh1,600 for a ticket to Kakamega, Kisumu while one for Mumias ranged from Sh1,100 to Sh1,500.
For Great Rift shuttles, fares had also increased from Sh1,000 to Sh1,200 before Jamuhuri Day to between Sh1,500 and Sh1,800 depending on whether one was travelling to Bungoma, Kitale, Malaba or Eldoret.
For Easy Coach, they are charging constant fares of between Sh1,600 to Bungoma, Sh1,800 to Busia and Mumias and Sh1,750 to Bondo Usenge and Sh1,600 to Kitale.
However, the vehicles were fully booked up to December 27.
A spot-check at the famous Machakos Country bus station revealed some bus companies were charging between Sh2,000 to Sh2,800 to western and Nyanza routes.
Mount Kenya and Eastern shuttle companies were charging an extra of about Sh200 to Sh300.
But even as travelling of Kenyans to rural areas continues, implementation of the new Covid-19 measures were yet to kick off
Passengers were seen entering vehicles without being required to produce vaccination certificates. According to Blueline operations manager Elphas Kipruto, they are waiting for their sector leaders to tell them to effect the directive.
''Few are coming with certificates but we do not care whether they come with them or not. We are waiting to hear from our bosses on the way forward,'' said Kipruto.
Matatu Owners Association (MOA) bosses had recently defied the order by the government, which had set December 21 to be the deadline.
The directive required them to ensure that all their crew are vaccinated and demand certificate from their passengers.
Restaurants and supermarkets, which are considered public places were yet to roll out the measures.
Most institutions and public businesses served customers without requiring the vaccination certificates.
The festive season comes even as the weatherman predicted heavy rainfall in various parts of the country.
Kenya Metrological Department said rainfall is likely to continue over few to several places in its seven days prediction from December 21 to 27.
"These include in the Highlands East of the Rift Valley, the South-eastern lowlands, the Coast, the Highlands West of the Rift Valley, Lake Victoria Basin, Central and South Rift Valley, North-eastern and parts of North-western Kenya,'' the weatherman said.
''Occasional isolated storms are likely over parts of the Highlands East of the Rift Valley, South-eastern lowlands, North-eastern and the Coastal strip,'' the weather report noted in what could be a Christmas damper.