DP Ruto's spokesman Itumbi threatens to sue IG Mutyambai over failure to arrest DCI boss Kinoti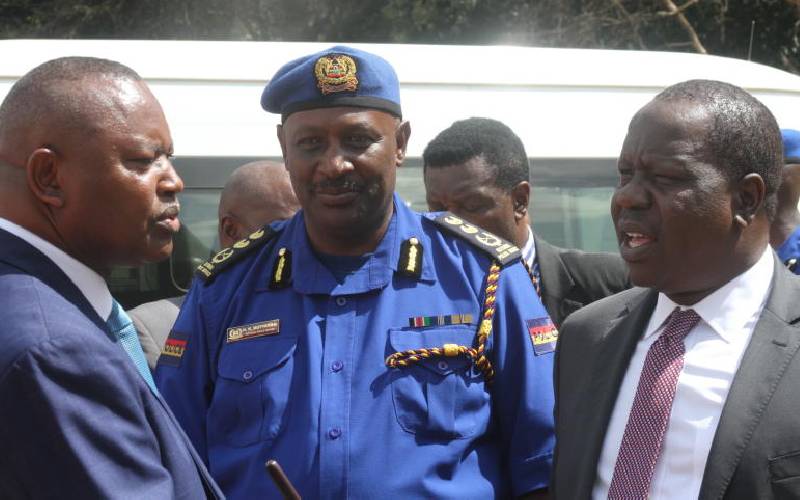 DP Ruto's spokesman Dennis Itumbi has threatened to sue the Inspector-General of Police Hillary Mutyambai for failure to arrest DCI boss George Kinoti.
Itumbi, in a statement seen by Standard Digital and dated December 10, said he had given Mutyambai three days to arrest Kinoti failure to which he will explore available legal remedies.
"From the foregoing, the spirit of the Constitution demands that you immediately arrest the Director Directorate of Criminal Investigations, Mr George Maingi Kinoti, withdraw any bodyguards assigned to him and order the forfeiture of any firearm he might possess in his capacity as the Director Directorate of Criminal Investigations," said Itumbi.
"By a copy of this letter I am therefore giving you a three-day notice that you forthwith obey the orders issued on November 18, 2021, by Honourable Justice Mrima to effect the warrant of arrest against Mr George Maingi Kinoti failure to which I will pursue the legal remedies available to me without further reference to you," he added.
Kinoti was last month sentenced to four months in prison for contempt of court after failing to surrender guns belonging to businessman Jimi Wanjigi to him.
The guns were seized from Wanjigi following a raid on his Muthaiga home in Nairobi in 2017.
The businessman moved to court seeking orders compelling the DCI boss to return his guns, orders that were granted by Justice Chacha Mwita on June 21, 2019, when he directed Kinoti to return a Smith and Wesson pistol, a Glock Pistol, a Mini Acher, and M4CQ assault rifles to Wanjigi.
Kinoti's efforts to have the sentence set aside bore no fruits when the High Court declined the application by Attorney General Paul Kihara.
In a virtual court session, Justice Anthony Mrima said that the previous orders subjecting the investigators boss to a four-month jail term should remain in force.
Kinoti, through Attorney General Paul Kihara, had applied for the jail order to be set aside, arguing the court had jailed the wrong person.
But Justice Mrima said in his ruling that Kinoti has remained defiant even after being directed to return the firearms.
Consequently, Mrima ordered Kinoti to surrender himself to the officer in charge of Kamiti Maximum Security Prison within seven days to start serving his sentence. Should he fail to do so, the Inspector General of Police, Hillary Mutyambai, should carry out the orders of the court.
And in the event Mutyambai fails to arrest his junior, Mrima ruled, Kinoti should be arrested immediately the day he will leave or retire from DCI.
Itumbi, in his letter to Mutyambai, says Kenya's constitution is still in its infancy and for a state officer like Kinoti to violate it at this stage in his view amounts to defiling the supreme law of the land and that cannot be tolerated by any Court of law.
"The Court would particularly be less sympathetic to persons who swear to protect and defend the Constitution and thereafter violate the same with impunity," he said quoting a past court ruling.