Agnes Wanjiru's killing tests relationships between residents and UK army staff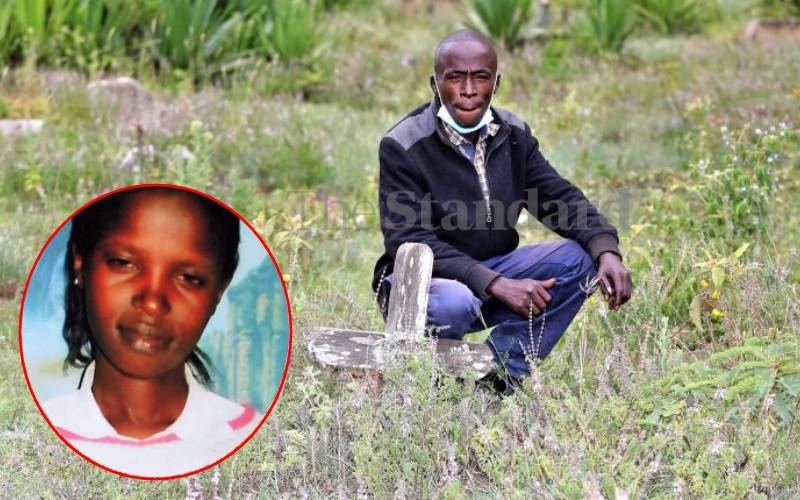 Two hundred kilometres from Nairobi, a death that took place nine years ago has forced a community to re-examine its relationship with an enterprise that has brought both pain and gain for those living around it.
Heartache and joy exist side by side in the story of Kenya's relationship with the British Army Training Unit, Kenya (Batuk).
On one hand, the lingering stink of death, a history of abuse and unaddressed grievances threaten to sink a relationship that goes back more than a century.
On the other, economic dependence that has for years been the bedrock of the local Nanyuki economy and has persuaded many to brush aside these concerns for the promise of something better.
Something that Agnes Wanjiru thought would come her way one night in March 2012 when she left a pub in the arms of a British soldier.
By the end of the night, she was dead.
Her body was found in a septic tank at the Lions Court Inn Hotel months after she went missing.
All the while, her family was searching for her, as she had left behind a five-month-old daughter.
Now, the ghosts of her death have called out others in a wail for justice over a raft of alleged atrocities attributed to the British military training camp in Nanyuki.
And peace and tolerance that has for years existed between the people of Nanyuki and the military training camp is being put to the test.
The canteen within the camp is a mixture of outdoor furniture, an open bar, and a lounge with sinking couches.
On its walls are paintings or printout of paintings capturing key moments in the life and times of the Her Majesty's Army around the world.
One of the pictures is a reprint of Irish Guards in prayer before battle. The original drawing was by R Caton Woodville and it dates back to 1914, a period of British conquest, expansion and great heartache.
The painting depicts a company of Irish soldiers. The entire first and second row are on bended knees with bayonets on their sides. Those on the third row are upright. Eyes closed as if in worlds of their own.
The company commander stands alone at the front. Three other soldiers are a few steps behind him. Around them, anarchy.
Artillery falls from various directions, but the army unit remains focused on their duty. True definition of calmness at a time of chaos.
Calmness that has over the years surrounded BATUK in the face of grievances from its neighbours. Even with the news of a death suspected to have been caused by one of their own, this characteristic calmness remains. Unbowed. But for how long?
Anne Murigu says soon, something will have to give. "They operate as a law unto themselves," she says.
For close to 10 years, she worked as a casual worker in the camp.
"There were a lot of things going on there. Women were always sexually harassed but we couldn't say or do anything," she says. "As a woman, most of us could not get employed without sleeping with someone."
The setting of the interview is a hotel in the middle of Nanyuki town.
"You would be working and a BATUK employee would fondle you or grab you. None of us could do anything."
Many of the women she worked with had gone through the same thing.
"Any attempts at speaking up were crushed. Our supervisors failed us," she says. "The saddest thing about it is that those who mistreated us were not just white. We had Kenyans who watched and even did worse."
Sometime in 2017 though, she had had enough. "A British dignitary was coming to the camp and we were asked to talk about our experiences. I stood up and talked about what women were going through."
She says many more women came forward on that day and reported what they were going through. The camp quarter masters listened and said action would be taken.
The perpetrator was sacked. But unknown to Anne, the complaints she had made had somehow unnerved the establishment.
Less than a year later, she was sacked. Arrested at a licensed demonstration advocating for employee rights and dismissed without benefits.
"It's like they are in their own country," she says. "If they can kill someone outside the camp, imagine what they do inside. I will not be shocked to hear of other deaths."
In late October, Kenya's National Assembly Defence Committee claimed that Wanjiru's death was just one of many and that the influence that the British Army officers have has ensured that the victims never get justice.
British Minister for the Armed Forces James Heappey, standing a few metres from the painting of the praying Irish soldiers, said that the allegations are of concern.
"I have made it absolutely clear to everybody who works at the British Ministry of Defence and the British Armed Forces that if further allegations come to light, absolutely no stone will be left unturned in making sure that we provide all the information necessary for the Kenyan authorities to investigate those claims," the minister said. "The UK has nothing to hide here."
But locals say BATUK has a history.
A history of keeping things in-house, in spite of a Defence Cooperation Agreement (DCA) between Kenya and the United Kingdom that gives Kenya jurisdiction over any member of the British Army in Kenya believed to have committed a criminal offence.
"The relevant authorities of the host nation shall have jurisdiction over any member of the visiting forces, the civilian component or dependants for any criminal offence committed in contravention of any law of the host nation, customary international law, treaty or any agreement to which the host nation's government is a party, save for instances where under this agreement such jurisdiction is expressly conferred on the Service Authorities of the Sending Nation," Article 6 of the DCA signed on February 9, 2015 states.
The DCA also states that in cases where the authorities of the host nation have the right to exercise jurisdiction over members of the visiting forces, that jurisdiction shall be exercised within the ordinary criminal justice system applicable to civilians and shall not be exercised within the criminal justice system applicable only to members of the armed forces of the host nation.
The British government, however, remains non-committal on the possibilities of an extradition, particularly with regard to the murder of Wanjiru.
"I have to be honest with you and say I'm not immediately clear right now on the extradition arrangements between the UK and Kenya. These are legal matters that will need to be considered in time but absolutely everybody in the UK government is aware of how Agnes' case has affected the Kenyan public. And we want you to know that we take that very seriously. We want justice to be done for her," the minister said.
Outside the camp, some think that a lot is being hidden. And a lot more is being done to make sure those with complaints against the military do not talk about their experiences.
On the day Heappey arrived in Nanyuki, a demonstration had been planned in the town. A peaceful procession by those who knew Wanjiru was to begin at 2pm from where she lived in Majengo and make its way through the town and end up at the gates of BATUK at 4pm.
Heappey was expected at the camp at 5pm. The organisers of the demonstration had planned everything, complete with a 12-foot-wide banner of Wanjiru.
They said it was to keep her memory alive.
The command centre for organising the procession was at a popular hotel in the town. But other meetings too were going on. Meetings by other equally popular community mobilisers to achieve something different - make sure the demos were unsuccessful.
As phone calls were being made to Majengo to get protestors out of their houses, others were being made to get them back inside.
The canteen at the Nyati Barracks has other paintings on the walls. For instance, there is a set of images, each just slightly larger than a postage stamp showing members of the different British forces around the world.
The Burma Rifles. The KAR Somaliland Brigade. The Nigeria Regiment. The KAR Somaliland Camel Corps. The images depict the different regiments in their colonial army fatigues. Most of them in knee length khaki pants, rifles, pulled up socks and an accompanying fez.
Majengo Estate, the preferred starting point for the peaceful march has got quite some history behind it too. Legend has it that the tin roofs of some of the structures therein were 10-litre fuel containers from the Second World War.
But a history more recent than the wars was to bind Kenya and the United Kingdom. The death of a mother.
"This is where Wanjiru was picked up from the night she died," a lady who identifies herself as Sabina says. "She was one of us."
The protestors are mostly drawn from sex workers in the town. The banner bearing Wanjiru's face and several hashtags including #JusticeForShiru lie unfurled. They said the protest was being hijacked by people with political interests.
"We will not allow it," Sabina says. "We have no problem with the barracks. We just want to remember Wanjiru in our own way."
As she finishes her statement, a group of girls blow whistles and scream. Interviews are almost impossible to conduct.
Journalists, expecting a march and a protest are left alone. When the skies open for the second time that day, everyone disperses and the planned march aborts.
The organisers say that they hoped the march would compel the visiting minister to at least meet the family of Wanjiru.
"If I had the time in my programme, I think I would. I think that it is perfectly possible. In fact, I think it's important for the UK Government to show our solidarity with Agnes' family, our belief that she has a right to justice, a daughter has a right to justice," the British minister said at a press conference later that day.
"And I think it's perfectly possible that we can meet without prejudicing the case and without admitting culpability. And I'd like the team here on the British Mission to look at how you might do that in the very near future,"
Its not just death that is hurting residents. Life too is a cause of pain for others who look towards relationships with soldiers within BATUK or workers in the camp as a point of redemption.
In 2016, Fardusa Jibril met a British man who worked off the barracks at a supermarket in Nanyuki town. Soon, a relationship developed between them and in a matter of months, they lived together as a couple in a hotel less than a kilometre from Nyati Camp.
Records from the hotel show that the British man hailed from Suffolk. He got Fardusa a passport with the promise of marriage. He even got her a silver ring and a marching necklace. A staunch Liverpool fan, he also gave her a Liverpool themed iPhone.
"But he went with my heart," she says. "And left me with a son. Her experience is not isolated. I know many other women who have gone through what I am going through. We just want help to trace the children's fathers."
She has written to the UK High Commission for assistance but with little success. Now, she keeps trying the man's UK number, email and Skype to no avail. "He just went silent," she says.
A day after he arrived in Nanyuki, UK's Minister of Defense left as he had arrived, quietly.
His pacification tour affording him time to meet the town's business community and journalists. Wanjiru's family and local leadership were not lucky.
Nanyuki sits still, at least for now, amid the undercurrents that define it.