Climate change: The unforgiving monster threatening livelihoods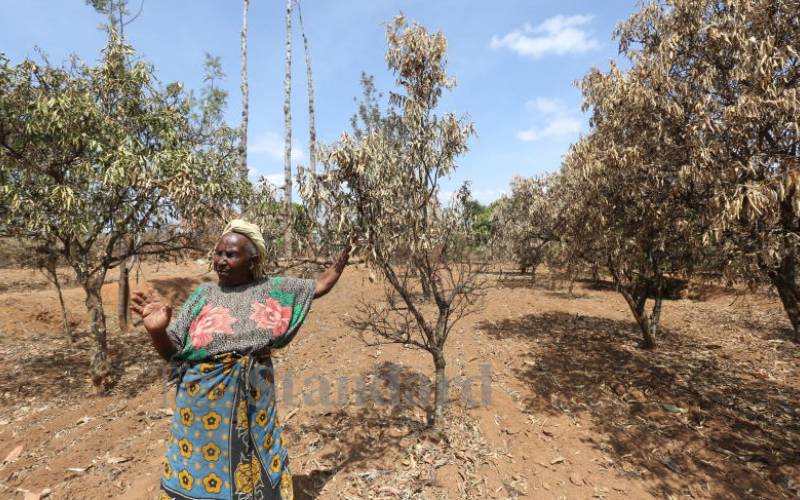 Puddles of water pool intermittently across the wide bed of Kaiti River in Makueni County, which ushers you into Wote town.
A stream at the centre of the river bed gives no indication that it is flowing. Yet it is, subtly, as it cuts across the Machakos-Wote Road.
It is seven in the morning on Wednesday. The puddles will linger on for five more hours. They only gather when the sun gives way to darkness.
The morning clouds keep the puddles around until the sun pierces through, unleashing its sweltering fury.
Wet patches of sand will replace the pools briefly before they, too, are sucked dry by the scorching sun. Boulders at the river banks show how wide it can be at full-flow. The bridge above knows how high it can rise.
But neither the bridge, nor the boulders, have tasted any water recently, and they will heat up in the afternoon to unimaginable temperatures.
The ground surrounding the river, which causes devastation when it floods, is thirsty. And so is any other patch of ground across the vast Makueni county, that is host to this year's 7th Annual Devolution Conference.
Only the mango trees hanging low from the weight of their maturing fruit don't seem to mind the heat or the dryness of the soil. Less resilient orange trees do. And across many parts, they seem to be withering en masse.
The orange apocalypse has not spared Beatrice Ndunge's farm in Ukoa Kamunyolo village, three kilometres away from Wote Town.
She stares in distraught at trees she will soon cut into firewood. Trees that once assured the 73-year-old of a steady livelihood.
Hanging from them are oranges that look like brown balls stripped of moisture. Ndunge planted the trees 10 years ago and had been reaping big returns in harvest season.
"Machungwa ilikuwa inajaza lori mbili (Oranges used to fill up two lorries), she says. But that was four years ago when the weather was more consistent. It has been blowing hot and cold of late.
Ndunge struggles to walk barefoot around her one-acre farm because of the heat below. The heat above keeps her indoors on most days. There is nothing outside for her.
She says the maize and bean grains she scattered on her farm a month ago have not yet sprouted. They won't any time soon. There is no rain. It wasn't always like this.
"Nikiwa msichana kulikuwa na mvua na chakula (When I was younger, there was plenty of rainfall and food.)," she says, holding the palm of her hand over her mouth.
At Makueni Boys High School, the 7th Annual Devolution Conference 2021 is underway.
"You are feeling the heat," Makueni Senator Mutula Kilonzo Jr started his speech at the conference, "It won't get any better. It will get worse," he said, offering little consolation for the delegates eager to venture out of the main tent to sight-see.
The Senator said he could tell there would be drought in his county.
Climate change is the perfect conversation starter at this year's conference, which is themed around stepping up climate action.
Makueni County, classified as arid and semi-arid land, is the perfect venue. The county has long faced the wrath of drought and famine.
It fits the bill of what every speaker has talked about - counties that receive little or no rainfall, threatening food security, as well as rivers drying up as a result of global warming.
Climate change has also been blamed for its devastating impact on various facets of life, including the conflict in Laikipia County, perennial strife in Northern Kenya, urban displacement, food insecurity and adverse impact on the health sector.
There are not many trees in much of Makueni County. Swathes of land are filled by brittle brown grass and shrubs. From a distance, the shrubs huddled together give the illusion of consistent vegetation. A closer view confirms the county's reputation as semi-arid.
The climate action message is not lost on Ndunge. She has heeded her governor's call to plant trees. But she does so intending to cut the trees for firewood when they are matured. She wants to plant trees as a means of conserving the environment.
"Maji itoke wapi? (But where is the water?)" she poses. "Mbona tupee miti na tuna kiu? (Why use it on trees when we are thirsty?)."
Ndunge's daughter-in-law, Rhoda Mung'ata, knows about the conference going on in her county. She believes this year's discussion on climate change is overdue.
"They shouldn't just talk about it. We should see some action," says the 49-year-old, who does not remember when the skies opened in her village last.
Action to Mung'ata means measures towards improving their situation, making their county more food secure.
It is not that far off from the kind of action Kilonzo Jr said should be proposed by yesterday, when the conference ended - action that will punish those who blatantly pollute the environment.