Governor Ndiritu Muriithi says no to Batuk remembrance service parade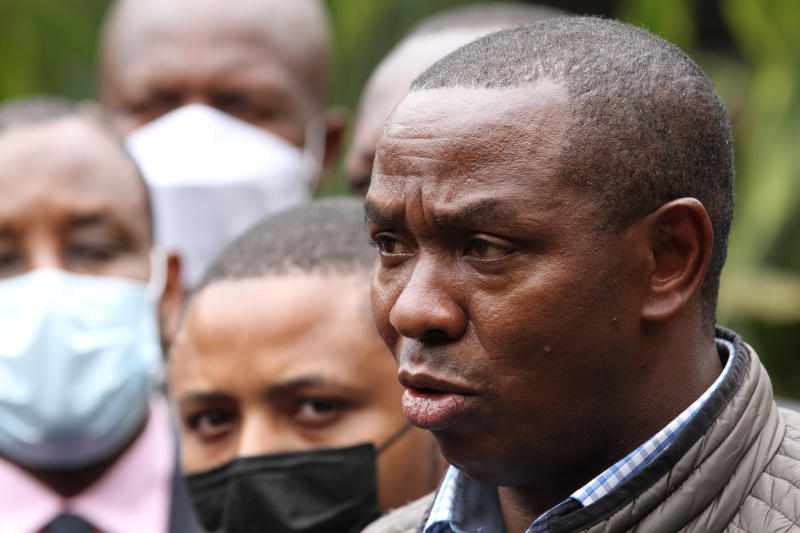 Laikipia Governor Ndiritu Muriithi has for the third time declined to meet British Army Training Unit in Kenya (Batuk) after being invited for the remembrance service parade on Sunday this week at Nyati barracks.
In an email response to the invitation done by Ms Caroline Gachoki-Kagiri, the PA to Commander of Batuk, the Laikipia governor declined the invite until they provided clarity on the murder investigation relating to Ms Agnes Wanjiru believed to have been killed by a British soldier in 2013.
"Thank you for the invitation, but I am afraid I have to decline. Until we have clarity on the murder investigation relating to the murder of Ms. Agnes Wanjiru, official contact will be at a minimum," Muriithi responded.
Muriithi who has termed as unfortunate the circumstances that led to the death of Wanjiru, said it did not take it kindly that the Batuk had abused the hospitality granted by Kenya to perpetuate abuse against locals including killing innocent souls such as the deceased.
"For many years, Laikipia and specifically Nanyuki has hosted Batuk in Kenya.
For one of those soldiers to murder a young mother and run away with it for nine years is quite unthinkable and contemptuous of our hospitality."
The county said this was unacceptable coming from a country that has for years championed itself as a bastion for democracy and human rights.
The county said no amount of economic benefits derived from the defence pact between the two countries could surpass the value of one lost human life.
This is the third time the governor is declining to meet the Batuk.
Last week, the governor was a no-show at Nyati barracks where UK Minister for the Armed Forces, James Heappey met with community leaders before addressing the press to reiterating the UK government's commitment to cooperate fully in the investigations in the murder of Wanjiru.
Heappey described as embarrassing and a blot to their image the murder and subsequent cover-up since Wanjiru was killed in a rave with Batuk soldiers at a hotel in Nanyuki.
But the Minister would not commit extradition of the two soldiers being investigated over the incident and instead promised to hasten of negotiations towards protecting the family of the deceased and give them closure after nine long years.