Ian Mzee Ngunga: 15-year-old Kenyan to present global youth report at COP26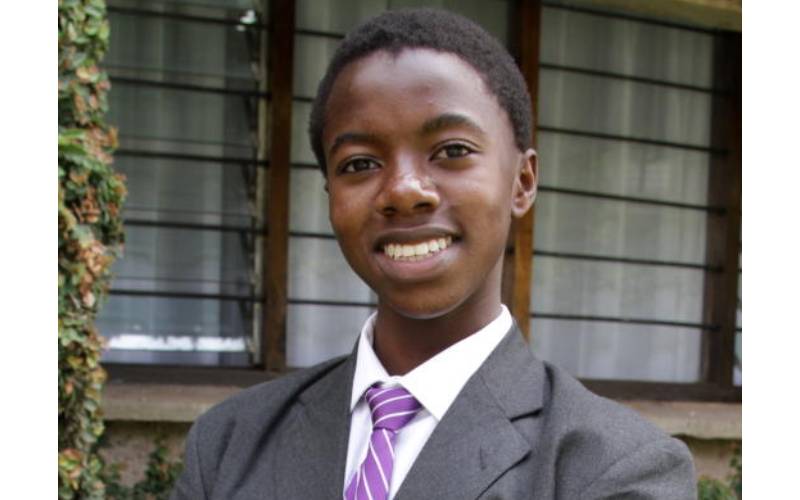 For Ian Mzee Ngunga, it is time for young people to contribute towards measures that will help mitigate challenges of climate change.
"The future belongs to young people. But the same future is on the verge of being destroyed by climate change. It means there will be no future for us. Young people must now rise to occasion make a better tomorrow," begins Ngunga during the interview at their school.
Ngunga, 15 and student at St. Austin's Academy, Nairobi was busy preparing for the journey to Scotland, where he's set to present voices of young people at the United Nations Climate Change conference, COP26.
He is the only one in Kenya, and Africa officially certified to present the #Decarbonize: Global Youth Manifesto on behalf of 35,000 youth from 54 countries.
The #Decarbonize: Global Youth Manifesto is the world's largest synthesis of education and action focused on climate change by children under the age of eighteen. Under the moral patronage of UNESCO, TakingITGlobal and the Centre for Global Education (CGE) coordinate the #Decarbonize Global Youth Project.
Ngunga, one of the six Continental Lead students, is elated to present young people report in the 'Blue-Zone,' an even restricted to official conference delegates such as presidents, world leaders, and official representatives from multinational NGO's and industry.
A passionate of environment conservation and climate change, Ngunga wasn't expecting to be picked to participate, "It is one of the rare opportunities that comes your way. Although l have worked hard, done my homework well, l didn't expect to be the one from Kenya and Africa."
He however reveals in 2018, after joining the project, he got a nomination to attend a similar conference, then held in Poland but he couldn't travel since he was underage.
Ngunga felt bad to miss the opportunity, but convinced himself that as long as he was till passionate about climate change issues, his time will come.
Yet, until four years ago, Ngunga new nothing about climate change. He explains, "The little l knew was a bit of environment conservation we just learn in class without the threats that l now understand."
He says in 2017, a teacher, Mary Kulo International Projects at St. Austin's Academy, introduced him to the club. Initially, he was afraid especially because members were older students, and hadn't any idea how he would relate.
"My teacher however encouraged me and with time l started developing passion on issues of environment conservation and climate change," he says, adding, he loved sciences and later found environment is about science.
Since then he never looked back and has been involved in various environmental conservation activities such as planting of trees both in the school and outside, organized cleanups, initiated the use and installation of solar power to warm water instead of using electricity, among other activities.
The first born, of the three siblings says high on his list of career has been a doctor, but it is becoming clear every day that environment conservation and climate change is set to influence his career path.
At the COP26, Ngunga is optimistic the suggestion in report of the young people will be heard and taken seriously. He expects governments to use them to enact laws.
Part of his presentation, Ngunga believes it is time countries shift to renewable energy and be serious with activities that reduces greenhouse gas emissions.
He says despite loving the program, it has its share of challenges. First, to participate, you must have a laptop and place well connected with internet. For this, he praises his parents who have been very supportive, providing everything that he required.
"These are some of the initiatives we do outside our normal classwork. So you must learn to create own time and also balance with the project," he says.
At times, they have virtual engagements with other students across the world on different time zones, who while its daytime here in Kenya, the other will night hours.
If he was introduced to environment conservation and climate and loved it, Ngunga believes other young people can readily accept to learn and start protecting the environment.
"But the government and other stakeholders has huge role to come up with such strategies and policies for the young people," he says.
Mary Kulo, International Projects Lead at St. Austin's Academy, lauds Ngunga to have been selected to represent the voices of young people in Kenya and Africa.
"My student and other five, across the world will be meeting with global leaders, heads of multi-national corporations, visiting local schools, being featured by various global non-profits, and hosting a LIVE and interactive video series, connecting 1000's of schools and young people directly to events taking place within the restricted COP26 Blue Zone," she explains.
She lauds the programmes saying though it can change the mindset of young people to learn the impacts of climate change and take necessary actions towards mitigating their effects, on the other hand it is quite involving and expensive for learners from poor background.
"For a student to participate, he or she must own a laptop and stable internet connection, for virtual meetings. For those who do not have these items, even if they have passion for this program, they will not manage," she regrets.
Mary adds that it is also involving for students have to create time outside their normal classwork. She says, "We have had some students dropping out of the program after losing interest while others lacked time."
However, she lauds the program saying it is fun, students travel, get exposure, meet others including various communities and collaborate to mitigate climate change.
Agnes Ogoma, Head teacher, Junior School lauds the opportunity for her school to represent African continent on climate change matters.
"For our student to be picked to represent the African continent is a plus for our school. It is a rare opportunity," she says.
She promised to start programme that will empower all teachers in the school on climate change who will in turn teach other students to be aware of climate change.
She says, "When children start learning these issues early in their lives, it becomes easier for them to follow in their future lives."