Kenya, Malawi sign 8 bilateral agreements to strenghthen ties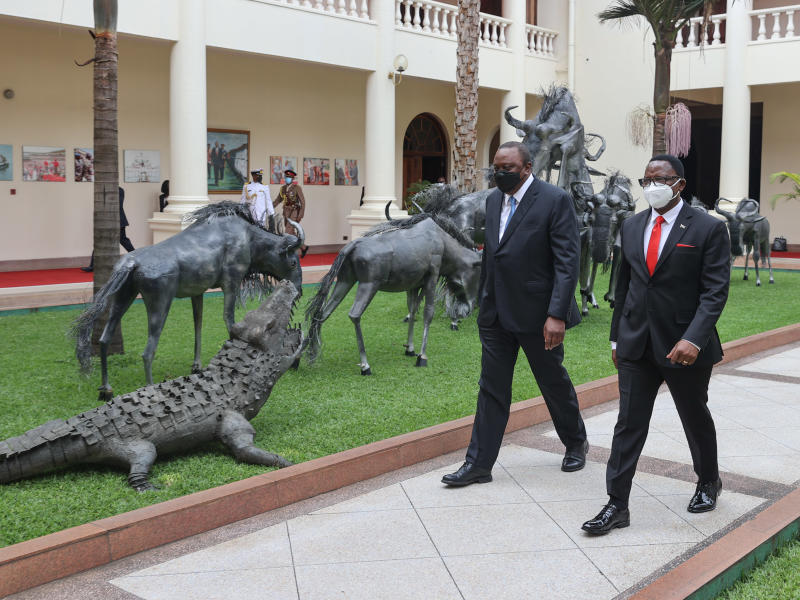 Kenya and Malawi have signed eight new agreements to strengthen socio-economic and diplomatic ties.
President Uhuru Kenyatta and his Malawian counterpart Lazarus Chakwera witnessed the signing of the agreements after bilateral talks between the Kenyan and Malawian delegations.
The agreements cover politics, diplomacy, defence, fisheries and aquaculture as well as cooperatives development. Others are technical cooperation in health and tourism.
Earlier, President Chakwera, who was accompanied by First Lady Monica Chakwera, were received at State House, Nairobi, by their hosts President Kenyatta and First Lady Margaret Kenyatta in an elaborate State reception ceremony that included a guard of honour mounted by a detachment of the Kenya Army and a 21-gun salute.
In a joint press address, President Kenyatta said collaboration and consolidation of ties between the two countries would guarantee socioeconomic growth of their citizens and Africa as a whole and called for effective implementation of the newly-signed agreements.
He said that the founding fathers of the two countries envisioned a truly free Africa.
"Your Excellency, our Founding Fathers were visionaries. In their foresight, they prophesised a totally liberated Africa, supported liberation movements across the continent, and midwifed the establishment of the Organisation of African Unity," Kenyatta said.
"Kenya believes that these arrangements, if well implemented, hold the answers to our continent's African Solutions to African Problems doctrine. Through these multilateral platforms, Kenya, Malawi and other African countries have an excellent opportunity to explore tangible approaches to build strong and resilient African economies, post Covid-19," he said.
The deals hammered during the bilateral talks between Malawian and Kenyan delegations included that signed on behalf of Nairobi by Defence Cabinet Secretary Eugene Wamalwa on the holding of political and diplomatic consultations.
This means the two countries will conduct regular political and diplomatic consultations in order to exchange views on bilateral, regional and international matters of mutual interest.
The two countries also deliberated on diplomatic training.
The agreement seeks to establish a framework for the development and cooperation in activities related to foreign policy research and analysis as well as training of diplomatic personnel and exchange of information and publications.
"The aim of the agreement is to enhance cooperation by identifying a framework for the enhancement of the experience and knowledge for the use and mutual benefit of the parties," said the agreement.
The two countries also agreed on industrial cooperation in defence, related research, development and the procurement of equipment and other military items.
"They will develop and implement service law and military jurisprudence, and other areas of mutual interest, which may be decided upon by the parties," said the MoU.
On tourism, the two countries seek to create and set out an agreed general framework for the development and enhancement of tourism relations.
New dawn
"What we have witnessed today heralds a new dawn in the Kenya-Malawi bilateral relations that will, without doubt, be dominated by years of success and progress," said Kenyatta.
On his part, President Chakwera regretted that the strong historical ties between Nairobi and Lilongwe had been dormant for a long time and expressed confidence that the signing of the eight agreements would help reignite mutually beneficial relations.
"Although the Kenya-Malawi Joint Permanent Commission for Cooperation (JPC) had not met for many years, the speed at which this has been revived is a testament of the chemistry and special bond of kinship that has always existed between our countries since their founding," he said.
"I personally felt that bond of kinship when Your Excellency and I met on the sidelines of the Global Education Summit in London of which Your Excellency was a great co-host. I also felt the same bond of kinship when I interacted with Your Excellency and other Kenyan officials at various forums," Chakwera said.
Kenyatta also tasked government officials to accelerate the conclusion of negotiations for remaining MoUs and agreements that will allow cooperation in forestry managemen, information communication technology, police service, Investment Protection and Promotion Agreement (IPPA), lands, physical planning and urban development, customs, gender equality and women empowerment and youth development.
"I believe that these agreements are a sign that the best days of our kinship are yet to come," said Chakwera.
"Through the years, Kenya and Malawi, have maintained a strong bond of friendship that has seen our two countries collaborate in initiatives aimed at securing the prosperity of our people," said Kenyatta.
With Kenya having assumed the presidency of the United Nations Security Council for this month, Kenyatta promised to use the position to foster unity and security on the continent and the Caribbean.
The two countries will use domestic and international law to cooperate in defence and security, the statement said.
Areas targeted include developing and implementing a defence policy, procedures for military cooperation between the defence forces, training military personnel through exchange of trainees, instructors and observers.
"Kenya is concerned with the current situation in Mozambique. Kenya commends and supports the steps taken by Southern African Development Community (SADC), under your (President Chakwera's) able chairmanship, of working with Mozambique in neutralising the terrorist threats in that country. As friends of Mozambique, we stand ready to support your efforts," said Kenyatta.
He said that a strong Kenya-Malawi partnership would enhance competitiveness of the two nations, adding that Nairobi was committed to working with the Southern African nation to ensure that the EAC-Comesa-SADC Free Trade Areas and the Africa Continental Free Trade (AfCFTA) arrangements succeed. Chakwera thanked Kenyatta for the warm reception and guard of honour at State House.
The Malawi leader, who is on a 12-day international tour, ended his three-day tour of Kenya yesterday.
Judges: Uhuru suffers another blow
President Kenyatta suffered another blow after the High Court declared that he is in violation of the Constitution by refusing to appoint six judges.