Heroic girl who rowed pregnant mother to hospital feted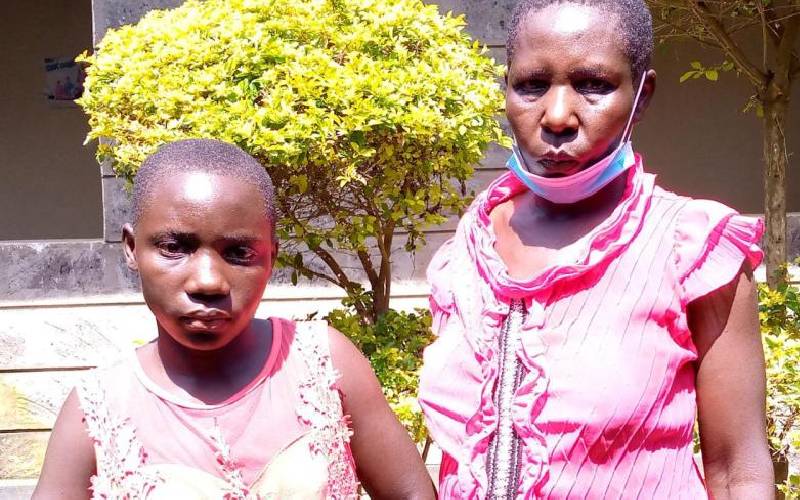 The heroic girl who rowed pregnant mother to the hospital in May this year has been feted by president Uhuru Kenyatta.
Virginia Aoko was among other heroes and heroines who were conferred the President's honor during the Mashujaa Day celebrations at Wang'uru stadium in Kirinyaga County.
The 13-year-old hit the headlines after steering the boat alone to Rukala Health Centre across a swollen River Nzoia in darkness.
The happenings of May 19 remain fresh in the mind of the Standard Eight pupil. Her mother, Judith Anyango Akala, who was in labour, woke her up at 3.00 am.
Groans from her mother meant she was in pain and needed to be rushed to hospital, but Virginia could not tell how and by who. Her father, who could have helped, was miles away on a routine fishing mission in Lake Victoria.
Without a second thought, the pupil of Budala Primary school helped her mother to get on to the boat, which she courageously rowed in the dark to Rukala Health Centre about seven kilometres away.
The young girl said she did not have experience rowing boats and that her brother, who is living with a disability, taught her the basics.
Earlier, Anyango said she had no one else but her daughter.
"I was not sure whether it was wise for her to row the boat across a swollen river in the dark, but it was the only option left," she said.
Felix Pampula, the Nursing Officer at Rukala Model Health Centre, believes it was a miracle for the woman to have arrived at the hospital in good time.
"She had complications that could have led to the death of the baby in case she failed to arrive at the hospital early enough. The umbilical cord was short and had rolled around the neck of the baby," said Pampula.
Virginia's courage and willpower made her the talk of the town. Her action evoked emotions and joy among villagers, some of whom could not believe it.
Her story also touched many other Kenyans, including President Uhuru Kenyatta's orderlies.
And her action saw several organisations visit flood-prone Rukala village in Budalang'i, where Virginia, her parents and other locals live in tents after their homes were submerged.
Well-wishers also bought her school uniform, books, and some pledged to help sponsor her education up to university.
Her teachers said they are proud of the girl because her action brought their school into the limelight.
Covid-19 curfew lifted
President Uhuru Kenyatta said it had been established that surge in infections had fallen below two per cent in the last two weeks.