Lawyer Evans Monari saxed his way into the night of death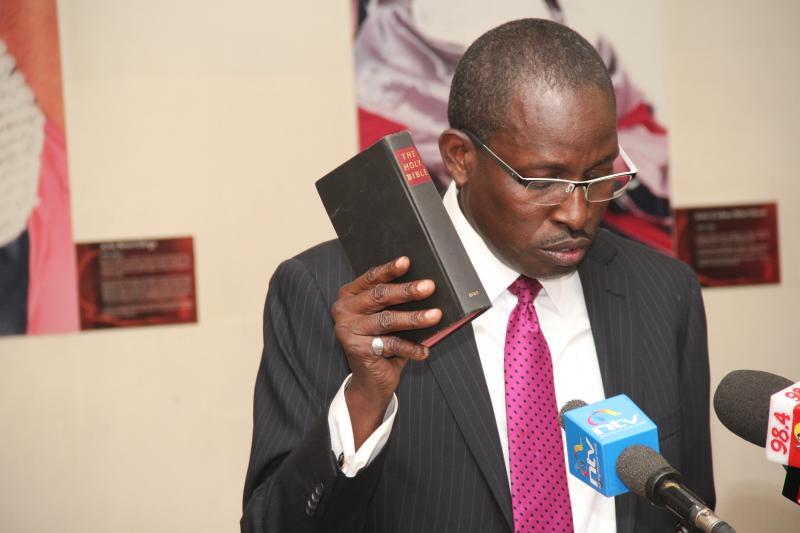 In a Nairobi city hotel, senior lawyer Evans Monari took a saxophone breathed into it for a tune of an 1980s soul classic give me the night by George Benson, which played in the background.
Clad in a dark suit, cuff linked white shirt, a dotted tie, and his chef-d'oeuvre (masterpiece) watch on his left hand; he blew a bunch of fast notes into the gold-coated instrument, bent to squeeze another high, and raised it high in the air when he needed a low key.
When he was playing the melody, inflection, dynamics, vibrato, and attacks, he painted a musical story for revelers to remember sax legend, American jazz tenor saxophonist Joe Henderson. That was his happier times, full of health and bubbly.
But when the night finally came it was ironic for a man who breathed life to a golden saxophone but depleted by an invisible monster that ate at his body, finances and his happiness.
Call for help
A week or so, a Facebook post by lawyer Jaqueline Manani that he was ill, fighting for life in an Intensive Care Unit (ICU) spread like a bushfire. According to the post, his insurance had just walked away from him at the hour of need; it allegedly refused to foot a Sh16 million bill. She was appealing for funds to ease the bill for his family.
The legal giant exited the stage not with a flourish but a victim of a healthcare system that exposes even the most prepared in society. Monari was among a small group of topnotch Kenyan lawyers who appeared before the International Criminal Court (ICC), and he represented President Uhuru Kenyatta and former police commissioner Hussein Ali.
In 2013, he gave an interview to a local newspaper dubbed how to be a good man. Then, at 50, he was a litigation partner Daly & Figgis Advocates. He opined that in life, there comes a time when money and niceties that follow it are not more important than a character built over time.
At that time, he had been in the legal profession for 27 years and learned golden lessons as he navigated life savouring the fine things it could offer. Although he had money, which could afford him a Mercedes GL500 and a ticket to Karen Club, he thought to be a good man, one had to look beyond money, build a character and make doors when opportunities failed to knock.
"Some ironies of life. As you age, you will be able to afford fancy cars you can't drive. At 50, I am not a good driver. I cannot drive over 75kms/hr. My reflexes are not as quick as they once were. I might own a fancy car but there isn't any pleasure in driving it because I have so much in my head, so many responsibilities that causing an accident is not something I'm keen to add to that list," he said.
The lawyer who was until his death on Monday on October 4 was a senior dispute & arbitration partner at Coulson Harney Advocates (Bowmans). He leaves to his friends relatives and those who interacted with him with memories.
"I am the author of my life but unfortunately, I am writing in ink and so cannot erase my mistakes," he continued.
President Uhuru eulogised him for his stellar legal practice, including serving the public in the 2016 Independent Electoral and Boundaries Commission selection panel.
"It is regrettable that we've lost Evans to the cruel hand of death after a long illness. He was one of the country's leading lawyers who distinguished himself as a dependable resource as seen from his successes," Uhuru said.
Monari was Chief Justice Martha Koome's classmate at the University of Nairobi 38 years ago. " He had a deep sense of humor that thawed every situation and broke all barriers," Koome narrated adding that the last time they interacted, July this year, he had prepared a feast for judges who were promoted to various positions. Koome and Monari were in the 87 law class.
"Counsel Monari, who we lost early today was a man with a brilliant mind, a generous heart and lively spirit,"eulogised former Prime minister, Raila Odinga said.
Deputy President William said Monari was a far sighted visionary lawyer and a gentleman. Interior Cabinet Secretary, Fred Matiangí in his condolence message said he is pained by the death. "I am deeply saddened and pained by the demise of Evans Monari. Death has robbed the country of an active and vibrant lawyer who distinguished himself in an impressive career spanning many years," he said.
Leader and guide
Monari once shared a little office with Open Society Initiative for East Africa Executive Director George Kegoro. The former Kenya Human Rights Commission boss remembered Monari bringing a judge to their office to discuss his maiden newspaper article.
He also taught senior lawyer Ahmednasir Abdullahi how to argue his cases when he was a greenhorn in the industry.
"Fresh from law school, Evans Monari took me under his wings and introduced me to legal practice 101. Many … Will miss great soul, a great human being…one of my best friends," mourned Ahmednasir.
Former Attorney General Githu Muigai also poured his praise to Monari, saying he was one of great lawyers in the country. Siaya Senator James Orengo said that the country has lost an illustrious and dedicated professional.
Law Society of Kenya president Nelson Havi chose to sing Monari the same song he saxed to eulogize him.
"The night has come, the day has gone… Sing on with George Benson," he wrote.
Donald Kipkorir remembered Monari as a man. " In heavens, he joins other deities. Kenya is poorer for not having recognised and used his talents," wrote Kipkorir.