Making of a Rio scandal: How convicted duo rode roughshod over athletes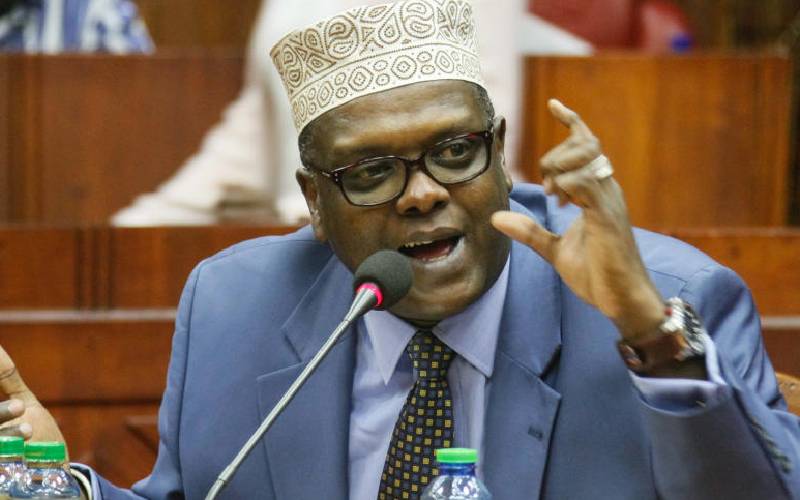 Images of a disheveled, distraught and seemingly dehydrated Kenya sprints greats John Anzrah being ushered out of the Jomo Kenyatta Airport before the 2016 Rio Olympics had ended, disturbed the conscience of a nation.
His crime? The old man, one of Team Kenya's coaches at the time, had accessed the Athletes' Village in Rio de Janeiro to eat using athlete's (Ferguson Rotich) badge.
Anzrah, then aged 62, was put on the next flight to Nairobi, leaving behind the eating chiefs to finish a well-orchestrated plan to siphon off whatever could be cleared from the government kitty of Sh544 million for the games.
The despicable treatment of the Kenya great was part of the chaos that saw a huge number of joy-riders take up accreditation slots that would have catered for Anzrah's meals and accommodation as one of Team Kenya coaches.
The other coaches, who had to make own arrangements awaiting accommodation once the joyriders had had enough of the famous Copacabana sand and sunshine, were marathon great Catherine Ndereba (assistant team manager), Joseph Mosonik (javelin coach), Nahashon Koech and Mark Baraton.
Unfortunately, they had no voice.
However, the pungent smell oozing from the Sports Ministry offices at Kencom House and the National Olympic Committee at Plaza 2000 along Mombasa Road just refused to go away.
And just as there is no perfect crime, the eating chiefs led by then the all-powerful Chef de Mission Stephen Soi and his accomplice, then Sports Cabinet Secretary Dr Hassan Wario Arero, forgot that the team captain Wesley Korir was a sitting MP for Cherang'any Constituency.
There was also the immovable javelin great Julius Yego, who laid bare the travel chaos and poor accommodation for athletes after they left the Olympic Village.
During a meeting of athletes, NOCK officials and Wario at KipKeino Training Centre, Eldoret, prior to their departure to Rio, Korir had laid bare the frustrations of the athletes ranging from ill-fitting training kit, shoes and uniforms — for those lucky enough to get them — to unpaid local allowances.
In Rio, Korir recounted to Standard Sports on August 27, 2016 – six days after the Olympics, how Soi ran the show.
"We were sent out of the Olympic Village at 10am, but since Soi was not there, we were put in a bus and we sat there until 4pm without a meal — just waiting for Soi because nobody else knows anything except this one man.
"If you asked anybody else they said they didn't know. And if you told them to go ask Soi, everybody was afraid of him," Korir said.
He added: "They thought I had already left, but I changed my flight and decided to stay until the last day. So when Soi came in and was told that the athletes have refused to get out of the bus, he asked who was there only to be told it's Wesley. He said 'Kwani hii kamtu bado kako.' That shows if I wasn't there, things would have been different and nobody would have complained."
Korir's claims were backed by boxer Rayton Okwiri.
"We went through a lot of suffering after the closure of the Olympic Village. We were taken to an insecure and mosquito infested town. It was just like a ghetto place, not befitting our status. Gunshots is the order of the night there."
At the end of the Games, Kenya had amassed a total of six gold medals, six silver and a bronze – the country's best ever outing.
Medal haul, however, would not put of the putrid stench coming out of the two offices of NOCK and the Sports Ministry.
On August 25, 2016, the now disgraced Wario called the press to the boardroom of Sports ministry headquarters to announce measures that would slay the dragon of the Rio 2016 fiasco.
"I do hereby disband the National Olympic Committee of Kenya (NOCK) with immediate effect and transfer their responsibilities to Sports Kenya as the interim custodian, who will ensure the adoption of a new constitution and setting of the election calendar," he said.
The move only came on the back of reports President Uhuru Kenyatta, was livid after he was briefed of shocking details of impunity as officials, mostly joy-riders went about their business in Brazil and officials living large while athletes and technical staff shared rooms.
In one case, they were housed in a dangerous slum after the Olympic Village closed.
During the press conference, Wario paraded himself as a victim of the excesses, not an architect or facilitator of the scam.
Wario's announcement only emboldened Cherang'any MP Korir, who shot back. "I think the first thing is for Wario, himself, to resign.
"I was expecting when he called the press conference he was going to step down for mismanagement under his leadership. That's the first thing I was expecting, so for him to blame other people for his own failures, is uncalled for."
What followed was a fireball hurtling towards NOCK and the Sports ministry offices.
Four months and 23 days later on January 17, 2017, the Director of Public Prosecutions (DPP), Keriako Tobiko recommended Wario's and Soi's prosecution over the scandal.
Tobiko also asked the Directorate of Criminal Investigation to open legal proceedings against Sports Principal Secretary, Dr Richard Ekai and Director of Administration, Haron Koech.
Others were Patrick Kimathi Nkabu (former finance officer Ministry of Sports), Kipchoge Keino (former NOCK president) and Francis Kinyili Paul (former NOCK secretary general).
Athletics great Kipchoge Keino, 81, however did not face trial as it became apparent he was just a pawn in a high stakes chess game captained by the untouchable Soi.
Soi, a former GSU officer admitted back in 2016 that he carried Sh25 million in cash to Rio de Janeiro to cater for medication and accommodation.
Behind the scenes investigations would trail the skunk to the doorstep of Wario and Soi when the DPP Noordin Haji paved way for their prosecution on January 12, 2017.
"Upon independent review and consideration of the evidence contained in the inquiry file, I am satisfied that there is sufficient evidence to charge the above named suspects for misappropriation of over Sh55million," the DPP wrote.
The DPP listed the counts as follows: (a) Six counts of Abuse of Office contrary to section 46 as read with section 48(1) of the Anti-Corruption and Economic Crimes Act No 3 of 2003. (b) Four counts of wilful failure to comply with the law relating to the management of public funds, contrary to section 45(2) (b) as read with section 48 of the Anti-Corruption and Economic Crimes Act No 3 of 2003.
The DPP accused the officials of embezzling Sh22, 540,800, purchasing air-tickets which were not utilised for Sh16,872,497, overpaying allowances amounting to Sh15,907,500 and incurring expenditure on unauthorised persons amounting to Sh6,590,286.
It was a matter of when, not if, the suspects were to be brought to book. On Wednesday, September 15, the court held the prosecution had proven Wario had a role in the embezzlement of Sh55 million allocated to the National Olympic Committee of Kenya.
A report compiled by an investigation team led by Dean of Students at Strathmore University, Paul Ochieng in 2016, revealed that at least Sh88.6 million was embezzled. The money had been earmarked for buying air tickets for team members but was instead taken by unidentified ministry officials.
Yesterday, Wario was sentenced to a six-year jail term or a fine of Sh3.6 million over his involvement in the 2016 Rio Olympics scandal. His co-accused Soi, was sentenced to a 10-year jail term or a fine of Sh103 million over misuse of public funds.
Although they were given 14 days to appeal the decision, Dr Wario duly paid the Sh3.6million and walked out of the Anti-Corruption Court at Milimani, Nairobi, a free man.
As for Soi, his lawyer Joel Bosek, maintained his client was not acting alone when making approvals for the allowances to attend the Rio Olympics.