Report shows thousands of NGOs bypass NGO board accountability check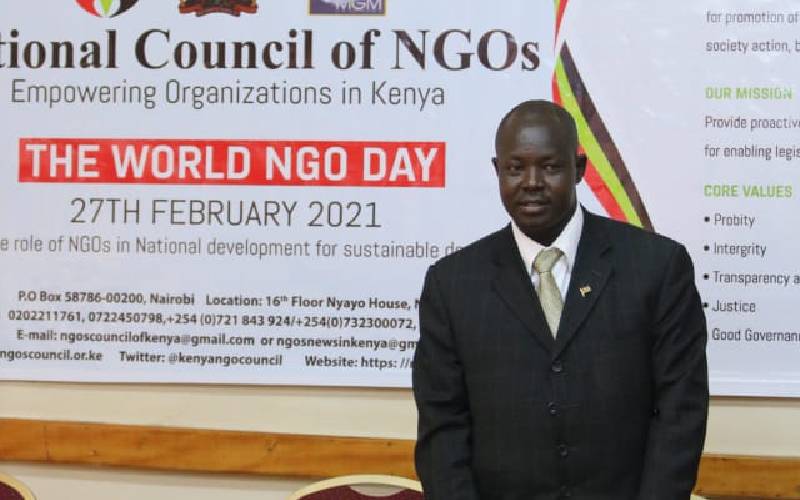 Thousands of Non-Government Organisations (NGOs) are on the radar of the NGOs Co-ordination Board after a report in the Senate revealed only a handful disclose how they spend billions of shillings pumped in by donors.
In the financial year 2019/2020, only 2,816 (23.8 per cent) of the 11,807 registered NGOs filed their annual reports with the board.
The board's report states that NGOs failure to submit their financial books shields them from oversight and provides fertile ground for misappropriation of funds and poor execution of projects.
Appearing before the Senate committee on national cohesion, NGO board Executive Director Mutuma Nkanata said the board lacks critical manpower to follow up on all 11,807 organisations scattered across the country.
"We are working to ensure that Treasury increases our funding. We don't have personnel across the country and this prevents us from assessing the financial statements of all NGOs," said Nkanata.
According to the NGOs Co-ordination Act, organisations not accountable in the execution of their duties risk disciplinary action.
"The ministry is working on a plan to ensure the board is well resourced to effectively perform its monitoring function and ensure compliance among all registered NGOs," said Nkanata.
In the financial year 2019/2020, NGOs that filed their financial statements reported Sh63.7 billion invested in projects related to the Big Four Agenda.
The board bears the constitutional mandate of regulating and enabling the NGO sector through maintaining a registry of national and international NGOs operating here.
Nkanata told the committee that "all is not lost" because donors also carry out accountability programmes on the NGOs. The board also lauded NGOs for "promotion of equity" through supporting the needy and vulnerable in resource allocation and policy change.
On the same note, Interior Cabinet Secretary Fred Matiang'i has recognised the key role NGOs play in establishing early warning systems, for stakeholders to take appropriate action.
In his report, he noted that some 115 NGOs have peace building programmes in 46 counties.
"Some of these NGOs have programmes have in more than one county," said Dr Matiang'i.
He said counties with the highest number of NGOs include Nairobi with 59, Mombasa and Garissa 27 each, Kisumu 21, Wajir 19, Nakuru 18, Marsabit, Kilifi, Turkana and Isiolo 17 each, Baringo, Mandera and Tana River 16 each, Kajiado 15, Kwale 14, Uasin Gishu 13, Samburu 12, Lamu 11 and others below ten.
He, however, took issue with failure by some NGOs to be accountable.
"NGOs which are not accountable in the execution of their duties risk disciplinary action in line with the NGOs Co-ordination Act," he warned.
He noted that the challenge is the board does not get adequate resources to monitor the NGOs in the field to ensure strict compliance to laid down public participation polices.
He disclosed that the board is completing its automation process to avail information to the public.
"All the 11,827 registered NGOs by the board complement government development efforts in one way or the other in education, health, agriculture, environmental conservation, provision of water among others," said the CS.
In the 2019/2020 financial year, for instance, some 2,816 NGOs which filed their annual reports indicated received Sh158.7 billion.
"They spent Sh164.3 billion on projects (with the variant being money used to run projects that went beyond one year)," said Matiang'i.
He added: "The board has continuously played its role of advising NGOs to align their programmes or projects to the country's development priorities, including the Big Four Agenda, Kenya Vision 2030 and the Sustainable Development Goals (SDGs)."