Bring it on! A day with Amboseli's women game rangers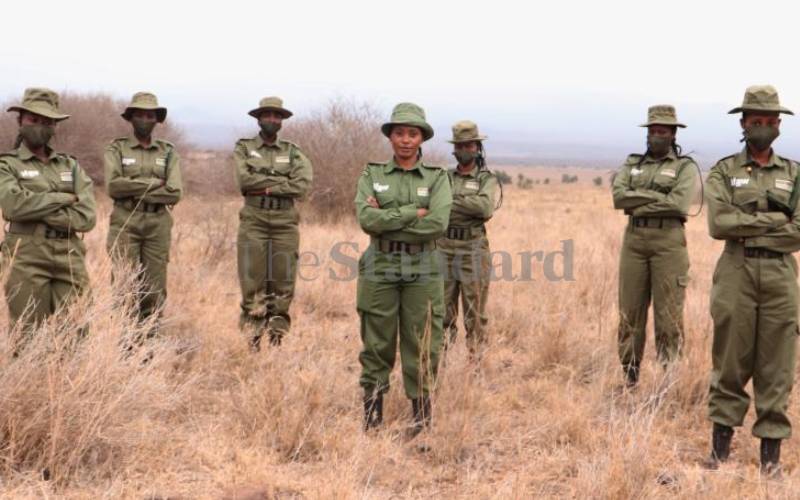 A large buffalo charges at a group of rangers in Amboseli National Park to protect its territory, forcing them to scamper for safety.
But Anastacia Sein, who has just been recruited as a ranger, lies still on the ground and plays dead in an attempt to ward off the animal.
She hears footsteps from a distance and prays that the animal does not get any closer.
"It was a day to remember. Kenya Wildlife Services (KWS) rangers passing by saw the commotion and managed to scare away the wild animal," says Sein, who is now a veteran ranger.
"I was lucky to have survived the ordeal and my colleagues who had taken refuge at a tented camp not very far from where the buffalo had charged were relieved when we reunited."
Sein says the skills acquired in their training coupled with traditional practice and knowledge on how to behave when you encounter a dangerous wild animal have continued to make their work easier.
"It is a dangerous task, considering the fact that we are not armed. But the thorough training we have undergone and the knowledge we have on the terrain around us help us," she says.
She is among a group of Maasai women rangers who take turns day and night to protect wildlife in the Amboseli ecosystem.
Operating at Kitenden Conservancy, right on the edge of Amboseli National Park and not far from the common border with Tanzania within the Olgulului-Ololarashi Group Ranch (OOGR), the rangers' number is growing day by day.
Clad in matching uniforms, berets, and black boots, they stand in a straight line formation as they await the arrival of a chief guest.
It is yet another momentous occasion for eight young Maasai women to join a group of eight others to form Kenya's formidable all-women ranger unit – IFAW (International Fund for Animal Welfare) Team Lioness.
This team is tasked with protecting animals and people in the vast community land of Kenya's Amboseli ecosystem.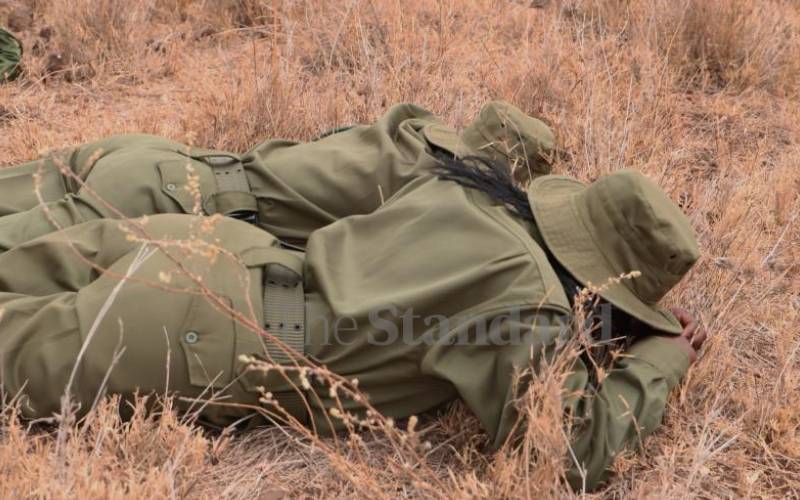 Sein, who was among the pioneer recruits when the unit was established in 2019, is all smiles as she urges on the new recruits.
"It is not a job for the faint-hearted though. We do foot patrols in areas bedevilled with wildlife and all sorts of hazards associated with the jungle," she says.
The eight new rangers will be fully funded for the next two years by the German foundation, 'Margarete-Breuer-Stiftung'.
The unit patrols the community land of the OOGR, ensuring safety of both people and wildlife.
For Catherine Soine, 21, the thought of serving her community in this capacity gives her joy.
"I had seen my peers getting enlisted into this unit and since I am a Maasai girl and our culture revolves around wildlife, I grabbed the opportunity and presented myself for recruitment," she says.
The former Namelok Mixed Secondary School student is looking forward to challenging times in her new role of protecting wildlife and minimising human-wildlife conflict.
Her agemate, Faith Resiato Kasaine, is happy to have landed her dream job.
"While still growing up and tending to my family's herd of livestock, we would come into contact with KWS rangers in their resplendent camouflage jungle uniforms and this made me like the work they were doing. My joining the unit is one step from realising my dream," she says.
Purity Lakara, 24, is another proud ranger.
"We operate under strict instructions from our superiors. A day for us entails early morning runs around several base camps within the conservancies before we retreat and plan for the day's patrols that are either on foot or by vehicles at our disposal," says Lakara.
She says they follow instructions to the letter to ensure each of the team members of patrol duty is well versed with what is expected of them.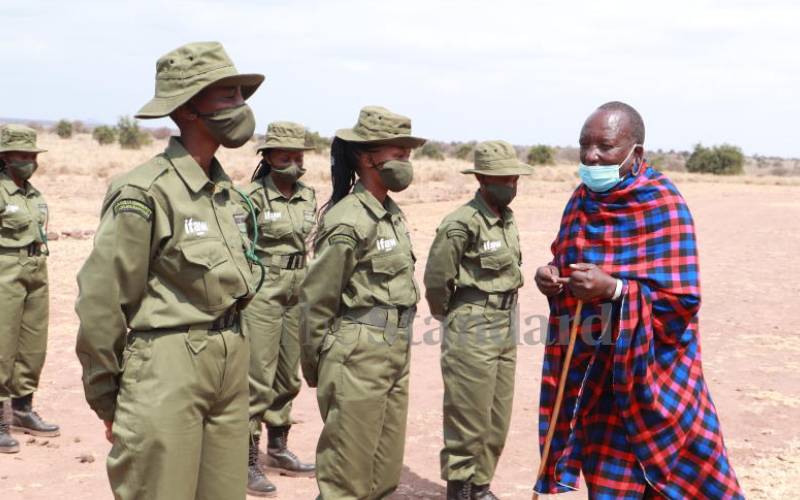 The rangers' job is more challenging now that the number of tourists visiting Amboseli has reduced due to Covid-19 pandemic. Poachers feared attacking animals due to the huge number of tourists that flocked the area.
Foot patrols
The rangers have had now to increase patrols in the area, especially on foot, with some going up to 50km a day.
Beatrice Sailepo, a member of Team Lioness, says the establishment of the all-female unit has given more say to the Maasai women who in the past had very minimal roles.
"This is a new awakening for us all. We hope to climb up the ladder in the service and even become unit commanders. Everything is possible," says Sailepo.
Azzedine Downes, president and CEO of the International Fund for Animals Welfare (IFAW), who is behind the formation of the women ranger unit, jetted in from his US base to commission the new recruits.
"Through the MBS Foundation, we are privileged and honoured to support an additional eight remarkable women to join the pioneer group, which was recruited two years ago. The rapid growth of Team Lioness is a testament to the need for gender equity in conservation and the community's acceptance and willingness to support this initiative," said Downes.
Patrick Papatiti, Director of Operations for the Olgulului Community Wildlife Rangers (OCWR), said the eight additional rangers underwent a highly competitive process.
In total, there are 85 OCWR rangers who are all supported by IFAW by way of logistic support like payment of salaries and provision of food rations, medical insurance cover, equipment, uniforms, vehicles, digital radios, data collection tools.
"The 18 shortlisted candidates were assessed based on completion of high school, fitness levels and an interest in wildlife conservation. The eight successful recruits aged between 18 and 24 years underwent their induction training and are today being integrated into Team Lioness," Papatiti said.
He said during the induction training, the eight women demonstrated their commitment, discipline and fortitude to joining Team Lioness.
Challenging
"The work of a ranger is challenging and we applaud you for making the decision to join this noble profession, which will require commitment, resilience, mental and physical fortitude," said James Isiche, Regional Director IFAW East Africa.
Isiche told the new recruits that their work as members of Team Lioness and OCWR will require long hours under difficult conditions as well as sacrifice of social life.
"As OOGR surrounds Amboseli, you will serve as first responders in enhancing harmonious human-wildlife coexistence and also secure the landscape from potential incidences of insecurity to wildlife, more so now with the increase of human-wildlife conflict and loss of wildlife habitat," he said.
IFAW also provides operational support through compilation and sharing of information to assist in patrols, mentoring and capacity building for the rangers. With wildlife spending more than 70 per cent of their time outside the protected Amboseli National Park, the OCWR patrol the 147,000-hectare community lands to safeguard wildlife and mitigate human-wildlife conflict.