Keep off Law Society of Kenya affairs, court orders police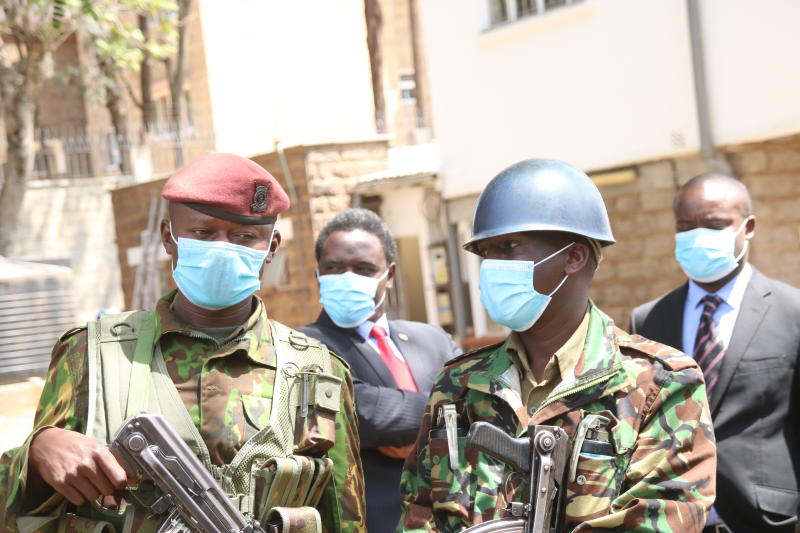 The High Court has barred the police from interfering with the affairs of the Law Society of Kenya (LSK) or access to its Gitanga Road offices save for investigations and maintaining law and order.
Justice Antony Mrima, in his directions yesterday, also allowed splinter council members, President of the LSK Nelson Havi and his deputy Carolyne Kamende to have unfettered access to the office after a chaotic session witnessed two weeks ago.
"The second, third and fourth respondents are hereby restrained from entering or interfering with affairs of LSK. However, the respondents shall have unhindered access when circumstances require restoration of order," he ruled.
Havi sued the police saying he had been instructed by LSK to act for it. In an escalation of the circus, Wambugu/Chege advocates filed a note of appointment, replacing Havi by the same lobby and sought to withdraw the case.
Owing to the two, Havi and Wambugu, asserting that they represent the society, the judge directed that they file their side of story for consideration. According to the judge, he could not terminate the case, saying it was filed out of public interest.
"I am aware that the parties are yet to file their submissions and Wambugu/Chege advocates to replace Nelson Havi and to withdraw the petitioner. Withdrawing a constitution petition is not a walk in the park," said Justice Mrima.
However, the judge was of the view that Havi cannot represent the society. This is a sentiment he ruled on in yet another case on LSK wars filed by Boniface Akusala and Collins Odhiambo. The two sued LSK, Havi, Kamende, Herine Akoth, Esther Ang'awa. Bernhard Ngetich, Aluso Aileen, George Omwansa, Beth Michoma, Faith Odhiambo, Carolyne Muthiani, Damaric Ndinda and Linda Riziki.
In the case, LSK again had two groups arguing that they were representing it. Havi, Kamende, Herine Akoth and Ang'awa were in one group while Allamano and Associates were in the other. The judge struck out the notices presented by Havi and Allamano and Company advocates and ordered that the chairpersons of LSK branches in Kenya to appoint advocates to represent the society.
He was of the view that neither the president nor Allamano had produced a resolution from a properly convened council. At the same time, he said the society's CEO Mercy Wambua cannot make the appointment as she is also at the heart of the wrangles.
The judge ruled that Nairobi branch LSK chairperson would be the one to convene a meeting to discuss the appointment within 21 days.
Yesterday, the judge said he still holds similar sentiments.
Saccos help to fuel investments
Dr Catherine Ngahu is a major believer in SACCOS. "This is because I was educated through the old cooperative movement, a precur