Don't be choosy, PS cautions as 800,000 Moderna jabs arrive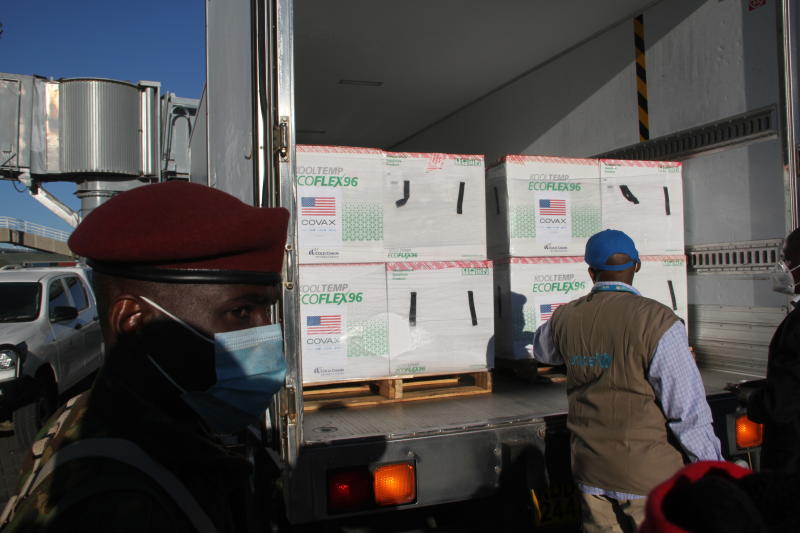 Kenya received 880,460 doses of the Moderna vaccine, the first such batch from the US government yesterday.
Health Permanent Secretary, Susan Mochache, who received the vaccines at JKIA said Kenya has received a total of 3.6 million vaccines so far and the Moderna will go a long way in boosting the vaccination campaign "now open to all people over the age of 18" and vaccination posts will be increased to 3000 facilities. "We will map out areas with high population densities to prioritise vaccination there," said Mochache.
Fatality, she said, has reduced from 2.1 to 2 per cent, attributing this to increased uptake of vaccines, with 780,000 Kenyans fully vaccinated so far. By yesterday, 4,497 deaths from Covid -19 had been recorded with data showing that over 50-year-olds are the most affected.
For better storage, Kenya is acquiring ultra-cold chain storage facilities from the UK government and an American firm for new vaccines requiring less than 70 degrees besides supplementing existing storage. About 15 freezers will be arriving soon in readiness for the Pfizer vaccine expected to be fully approved today by the US FDA and "our Ministry is ready for Pfizer which will be received soon," said Mochache clarifying that some stores will be exclusive to Pfizer.
"I urge Kenyans not to choose the vaccines that are available because all are important and are effective especially against the deadly Delta variant," advised Mochache insisting all vaccines have been approved by the World Health Organisations.
Eric Kneedler, the Interim US envoy to Kenya, said this batch was part of 1.76 million vaccines which will be donated by the US with more expected in September this year as part of "the United States partnership with the government of Kenya in response to COVID-19."
UNICEF is supporting the Ministry of Health in procuring, transporting, storing, and distributing the vaccines. UNICEF representative to Kenya Maniza Zaman assured Kenyans that all the vaccines are safe and effective and "Globally, no one is safe until everyone is safe."
Her WHO counterpart, Dr Mona Almudhwahi, also asked Kenyans not to be choosy and take up vaccines that are available and not to let their guard down.
Meanwhile, Pfizer Covid-19 vaccine which will be available in Kenya from next month, has been fully approved by the US Food and Drug Administration (FDA).
Pfizer's two-dose vaccine was previously under emergency use and the approval means it has met all requirements for safety and efficacy. Though Pfizer requires a third booster dose after 18 months, the approval means herd immunity can be boosted through mandatory vaccinations that come with regulatory nods. Kenya, which will receive over one million Pfizer vaccines from the US government, has in the past experienced vaccine hesitancy which has been hampering vaccination campaigns.