Tribute: Victor Prengei fought for rights of minority groups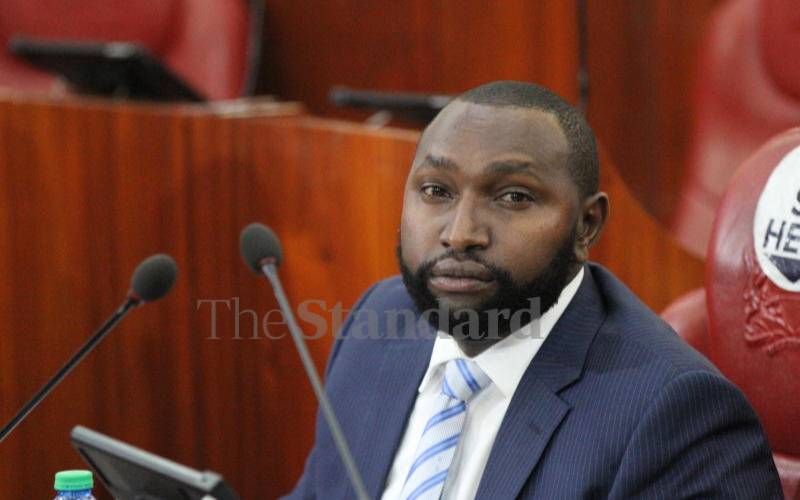 The minority Ogiek community has been hard hit by the death of nominated senator Victor Prengei who has been eulogised as a visionary leader.
For the first time in history, members of Ogieki who live in parts of Molo and Njoro sub-counties in Nakuru, got representation in Parliament, thanks to Jubilee Party's nomination of Prengei.
The fallen senator will be best remembered for his efforts to fight for the rights of minority groups, especially their land rights.
Before he died in a road accident along Kabarak-Nakuru road on Monday night, the senator had lined up issues he wanted to be resolved. Most of the issues, which touched the Ogiek community he represented in the senate, included enhancing the protection of their rights. And to realise this, the father of three had drafted the Protection of Minorities and Marginalized Groups Rights Bill 2021 to implement Article 56 of the Constitution.
The bill, if passed by Senate, would protect the economic, social and cultural rights of minority communities.
It is also seeking to boost the fight by minority groups for their ancestral land. It seeks conclusive demarcation of ancestral land of minority and marginalised groups. The proposed law is also seeking to ensure these groups access economic opportunities just like any other.
Prengei who was central in Ogiek community's fight for its land rights, in his draft bill, was also seeking the establishment of a tribunal to protect minority and marginalised groups from those out to infringe on their rights.
The tribunal would have representation from minority and marginalized groups and would have offices in counties where these groups live.
The senator, who practised farming, was also at the centre of the recently launched Ogiek Bio-Cultural Community Protocol that seeks to have the community benefit from sharing its traditional knowledge and resources with the government, research institutions and pharmaceutical companies.
However, Prengei's tenure in parliament also faced turbulence, coming at a time Jubilee Party's top leadership had been split in the middle, resulting in two factions, Kieleweke associated with President Uhuru Kenyatta and Tangatanga of his deputy William Ruto.
In May 2020, Prengei who was an ardent supporter of Ruto, was among Jubilee lawmakers who defied the party and snubbed its parliamentary group meeting chaired by Uhuru at State House, Nairobi.
Jubilee would later move to punish the errant MPs who failed to attend the meeting without apologies. Senators Millicent Omanga, Falhada Dekow Iman, Naomi Jillo Waqo, Mary Seneta and Isaac Mwaura, were also on the list as Prengei.
Prengei would appear before the party's disciplinary committee two weeks later, told the team he was not in Nairobi at that time.
"I come from East Mau forest. I had taken my children to the village. Unfortunately, the village has poor network coverage. Roads are also bad. My village does not also have electricity," Prengei said.
On Tuesday, Prengei was eulogized as a visionary leader who tirelessly advocated for the rights of minority and marginalised groups.
DP Ruto described him as a visionary leader who was committed to the course of those he represented.
"Our country has lost a great gentleman. Senator Victor Prengei was modest yet a distinguished public servant with a firm commitment to the advancement of the minority's cause. He was progressive and full of ground-breaking thoughts that transformed the lives of many people," said Ruto's post on his Twitter account.
Wiper leader Kalonzo Musyoka said: "The Ogiek community, senate and the country have a lost leader who represented hope and aspiration. Senator Prengei will be greatly missed. My condolences to his family and friends."
Senate Speaker Kenneth Lusaka described Prengei as a dependable leader. "He was amiable, calm and friendly. He was shy to controversy and only contributed when necessary," Lusaka said.
Senate Majority Leader Samuel Pogishio said: "Prengei was friendly. He represented the marginalised Ogiek people of Nakuru County. The senate mourns and the country mourns a humble servant of the Ogiek. Rest in Peace my friend," Poghisio said.
Nakuru governor Lee Kinyanjui said Prengei's elevation to the senate was a major recognition of the rights of the Ogiek community and other minority groups.
The people of Marioshoni, where the late senator hailed from, have indeed lost a valuable leader, said Kinyanjui.
"He was a beacon of hope to many, a quiet and humble leader who was always conscious of the huge burden he carried. To the family and the people of Marioshoni, our hearts and prayers go out to you during this difficult time," Kinyanjui wrote on his Facebook page.
Area senator Susan Kihika said the death of Prengei, who she described as a friend, was devastating.
"He was a cheerful and humble representative of the youth and minority communities. May the Lord comfort his family," she said.
Mwaura and Omanga also condoled with Prengei's family and those he represented.
Kanyinke Sena, the director of the Indigenous Peoples of Africa Co-ordinating Committee, termed Prengei as a person who had the best interests of minority groups at heart.
"Prengei was a direct link between minority groups and the government, especially the Ogiek. He has played a key role in fighting for the rights of Ogiek community. The draft bill on marginalised communities that originated from his office is a testimony of the plans he had for minority and marginalised groups," Sena said.
Ogiek People Development Programme boss Daniel Kobey said the community had a lot of hope in the leadership of Prengei whose contribution in fighting for their land rights of his community was immense.
"His death came as a shocker. He was at a prime age and being the first senator from Ogiek community, we are saddened by his death. He was a down to earth young man with a bright future. He represented hope for the community," Kobei.
Rising from a humble background in the heart of Marioshoni in Molo, Prengei attended Mariashoni Primary School between 1991 and 1998 and later joined Moi Secondary School-Amalo in Keringet, Kuresoi North in 1999. He sat his KCSE exams in 2002.
Prengei attained a Bachelor of Arts in Economics degree from Maseno University in 2008. In 2017, he joined Jomo Kenyatta University of Agriculture And Technology for a Masters degree in Business Administration, specialising in Strategic Management.
The 37-year-old would join politics and campaign for Jubilee candidates in the region and after the August 8, 2017 elections, Jubilee nominated him to the Senate to represent the minority.
"This is truly a new dawn for the Ogiek community. I will not forget the indigenous people in Kenya. I will remain humble and serve every Kenyan with deserved respect," said Prengei after he was sworn in on August 31, 2017.
[Kennedy Gachuhi, Caroline Chebet and Bradley Sikholia]