Woman snatches AK-47 rifle from robber, rescues self and husband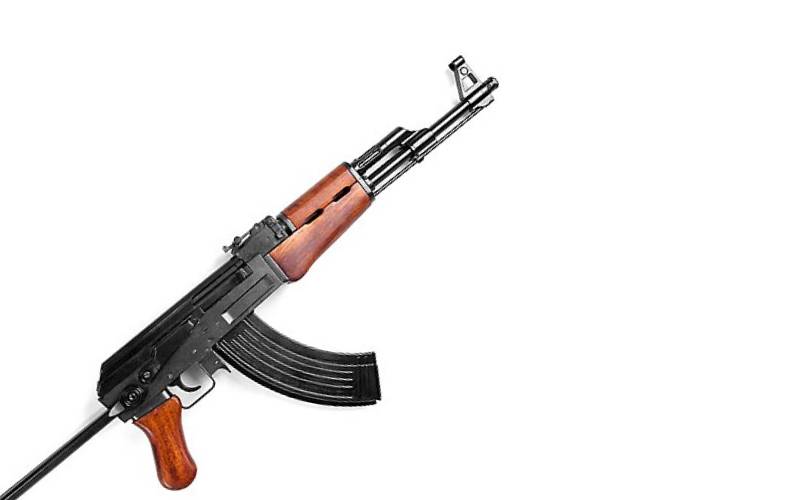 A suspected armed robber found himself in trouble on Sunday night after a couple he had gone to rob at Kaptegaa village in Endebess, Trans Nzoia, fought back.
The suspect is said to have stormed the house around 9pm as the family prepared to go to bed, brandishing an AK-47 rifle.
Everlyne Barasa said the suspect pointed the assault rifle at her forehead and demanded the proceeds of her family's recent land sale (Sh200,000).
"I was heading to the bedroom when the gunman stormed our house. He threatened to kill me, my husband and three children if we didn't give him the money. I knelt and begged the hooded man not to harm us," said the 51-year-old.
Ms Barasa said her husband Philip Nakhisa, who was lying down on the sofa unbeknownst to the gunman, was awakened by the commotion and kept still.
"While kneeling, begging him not to kill us, I saw my husband slowly stand. I knew that if I grabbed the thug by the knees, and he falls down, my husband would definitely jump in to help me," Ms Barasa narrated.
Seizing her chance, Ms Barasa grabbed and floored the gunman. They then wrestled the rifle out of his hands, pinned him to the ground and called for help.
The suspect was saved from an angry mob by a village elder, Eunice Simiyu, who called the police. "We handed his cell phone to DCI officers for further investigations," said Ms Simiyu.
The suspect later confessed that the gun belonged to a police reservist who allegedly hired him to rob the family. He also claimed that an accomplice, who was also armed, fled during the botched robbery.
Residents decried increased insecurity in the area and petitioned the government to act.
Area OCPD Salesioh Muriithi said they have launched investigations into the incident.
"Among other things, we are seeking to find out if the gun has been used in previous crimes in this area, including a recent attack on an M-Pesa shop," said Muriithi.