The tower of irony gifted to Krapf by his dying wife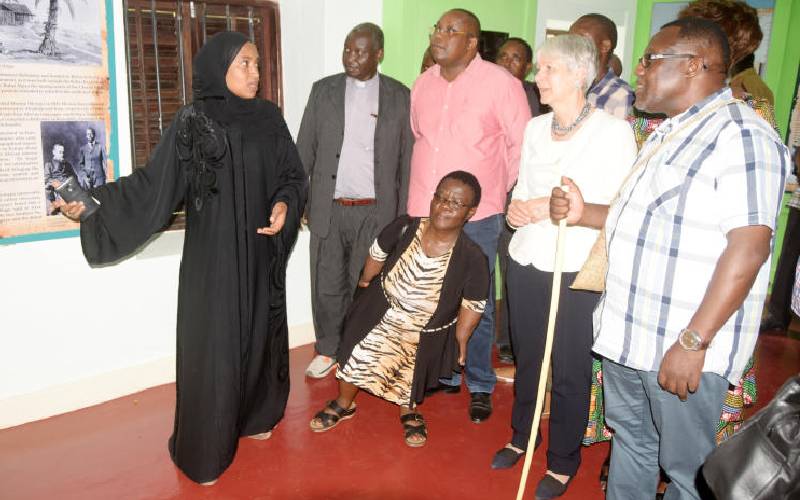 The memorable whitewashed monument towering the greenery looks like an exaggerated tombstone on whose side a sad story is inscribed. This memorial is indeed a tombstone built in memory of a missionary.
The Krapf monument located in Nyali, Mombasa, unveiled 91 years ago has a back story of an epoch when wifely duties and obedience of one's church counted more than love or one's desire.
It is also an ironic reminder of how a patriarchal world has for centuries taken for granted the role and the sacrifices made by women in advancement of human race, religion and science.
Though built in memory of a famous German explorer and missionary, Johann Krapf, it stands a few feet from where his wife, Rosine Dietretch died and was buried. This woman died trying to give the missionary a daughter. The baby too died.
Their story is the stuff that belongs to a past where means of communication was strictly limited to the written word for elites in the West and drums and smoke to Africans.
Krapf, had caused a sensation by telling Western scholars that he had sighted a snow capped mountain, Mt Kilimanjaro, in the tropics and was instantly dismissed as a religious charlatan by the Royal Geographical Society.
His peers in Basel, Germany, however took him more seriously when he wrote home requesting assistance to be provided with a woman to marry. He fired off this request while on a tour to Ethiopia (Abyssinia) in 1842. Swiftly, the Basel Missionary dispatched Rosine, who had been married to another missionary who had died.
Though the two had never met, they were married and later traveled to Mombasa where they arrived in May 1844. Two months later, Rosine gave birth to a daughter. Sensing that she would not live long, Rosine instructed her husband to bury her on the mainland so that her grave may remind all passersby of her Christian mission.
Four years after Rosine's death, Krapf made a major accomplishment when the first three chapters of the book of Genesis in the Bible, which he had worked on were published in Kiswahili.
In the same year, he stirred controversy then when he reported seeing snow on Mt Kilimanjaro. This finding became famous after it was mentioned by a famous German traveler, Alexander Von Humodldt in 1850.
Krapf died in 1881 but the echoes of his footsteps in East Africa still ring for he was a pioneer in Bible translation and writing of Kiswahili dictionary.