Peres Jepchirchir: My legs won me medals and changed our lives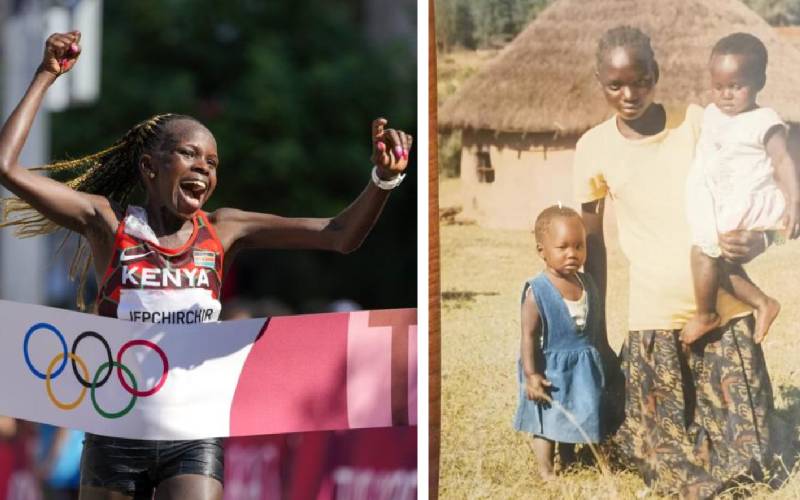 It's strange how fortunes change.
Not long ago, Peres Jepchirchir at times had to go without food since her family lacked the means.
But her story best exemplifies the 'rags to riches' tag that is so common among top Kenyan athletes.
The glittering trophies in their houses, medals hanging from the walls and autographs signed by eminent people across the globe clearly capture their sports star status.
Yesterday morning, Jepchirchir warmed Kenyans' hearts when she won the Tokyo Olympic Games women's marathon.
She beat team mate and world marathon record holder Brigid Kosgei.
Whether by design or default, the family challenges stirred Jepchirchir's talent.
The 27-year-old beat the odds to ascend to the pinnacle of world distance running.
"I lost my mother when I was two years old. My father had three wives and my mother was the second.
"We are 24 siblings and that is why I decided to work hard because we had very little resources at home. Life was not that easy. Small scale farming was the only source of income," she said.
Jepchirchir, who was later taken in by her uncle David Barno, used to walk for five kilometres to Sambut Primary School daily and that stirred her latent talent in athletics.
But she never took part in athletics as she thought good education would deliver her from the poverty she was living in. That poverty is now history thanks to sterling performances in road running.
Jepchirchir, the women-only world 21km record holder, said she has always dreamed of making it big in athletics despite having zero track records.
Unlike most athletes who start competitive athletics and then graduate to road running, Jepchirchir picked up road running from the start.
"I never expected to be a star athlete. I wanted to study and be a nurse," she said.
Her script reads like those of former world marathon record holders Dennis Kimetto, Wilson Kipsang and three-time Amsterdam Marathon winner Wilson Chebet.
It seems she chose to live by the words of legendary American author, Aaron Lauritsen, who wrote: "Life's trials will test you, shape you, but don't let them change who you are."
In May, juxtaposed photographs of their former mud-walled grass thatched house and her modern home in Kosachei village in Uasin Gishu, went viral.
"I decided to share the picture because I felt that it would inspire young and budding athletes. I urge them not to give up in all their undertakings," Jepchirchir said then. "The pictures serve as a motivation for me."
Interestingly, Jepchirchir believes in leading from the front. While at Sambut Primary School, she used to sit at the front of the class, just as she leads in races. David Barno, her uncle, said Jepchirchir developed interest in running while very young.
"She had a huge competitive spirit. Teachers were interested in her running. She used to run alongside her older school mates.
"This girl could run very fast. I could not get hold of her when I wanted to punish her for any mistakes. It was difficult. She could run very fast. I had to come up with other ways of catching her," he said.
While studying at Kosirai Girls High School in Nandi, Jepchirchir dropped out for lack of school fees.
"My uncle became sick. I was out of school for a year. Later, my father struggled to pay school fees," she said.
With no hopes to proceed, Jepchirchir took up athletics.
"This is where I met my husband Davis Ng'eno. I underwent hardships. Davis approached a friend of his to accommodate me. I lived in Kapsabet for one year while training," she said.
In the Tokyo Olympics marathon, Jepchirchir teamed up with Kenyans Ruth Chepngétich and Brigid Kosgei.