R.I.P comical former Imenti Central MP haunted by pyramid schemes, rape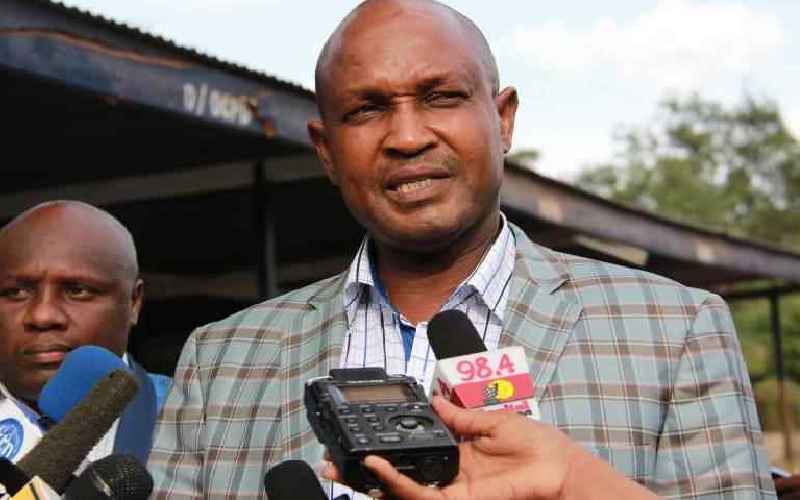 Former Central Imenti MP Gideon Mwiti Irea died yesterday at the age of 57, while waiting for treatment at a clinic in Nairobi.
His eldest son Mutethia Mwiti said the one term MP popularly known as 'Livondo' died at a clinic run by a specialist who was managing his condition.
"He had been taken there at 2am from one of his widow's house in South B, but he succumbed around 4am as he waited for the doctor to get to the hospital," said Mutethia.
A humorous politician known for his comics and politically provocative speeches, Mwiti was elected the MP for Central Imenti on an Alliance Party of Kenya (APK) ticket in 2013. He beat among others former MPs Gitobu Imanyara, former minister Kirugi M'Mukindia and current MP Kirima Nguchine in a closely fought race in a constituency that has a reputation of giving single term mandates.
Mwiti was known in his constituency as a generous leader who spared no expense to help needy causes, a 'Mr Moneybags' of sorts, hence the nickname Livondo.
Tony Mworia, who was his constituency press liaison officer, said the politician's generosity was beyond borders.
Mwiti is remembered for offering his main campaigners well maintained second hand personal vehicles. But those would be charged to some financial institution, and would most comically be repossessed after a few months.
When he was broke, he would surprise his supporters after meeting them if they asked for handouts.
"Let us reverse this generosity cycle today," he would say, without battling an eyelid, and leave.
Mwiti's political career was, however, dogged by personal scandals including his involvement in numerous pyramid schemes which collapsed with billions of deposits belonging to innocent Kenyans.
In 2013, Mwiti was acquitted of criminal charges by a Nairobi magistrate's court.
Magistrate Elena Nderitu blamed shoddy investigations which undermined the prosecution's case in the matter that involved fraud in the collapsed pyramid scheme in which Kenyans lost over Sh780 million.
"The prosecution has failed to prove its case against the accused person as investigators clearly left loose ends in their probe," Ms Nderitu said.
The court ruled that none of the monies was paid to Mwiti, nor was there any documentary exhibit connecting him to the offence.
He had been accused of inducing members to deposit money with the defunct Kenya Business Community Sacco which the government shut down in 2009.
The prosecution had alleged that he had tricked 12 members of the sacco to part with Sh13 million under the guise that the savings would earn them a 16 per cent interest per month.
Ms Nderitu said the sacco was a legal entity, with a list of officials that did not include Mr Mwiti.
The MP had told the court that his role had been "purely that of external consultant" and he had not participated in the sacco's day-to-day affairs.
A civil suit to reclaim the monies belonging to the collapsed scheme was later launched.
On May 5, 2012, Justice Alfred Mabeya ordered CBK to pay the micro-finance firm Sh1 billion after the court found that it had acted arbitrarily in closing down the business.
Even after being redeemed from the pyramid scheme matter, scandal seemed to follow Mwiti as flies do to garbage, with a rape case slapped against him in March 2015.
He had been accused by a former business contact of asking for a nocturnal meeting in his office, forcing her to undergo a HIV test, then raping her. The MP went to the High Court to challenge the legality of his prosecution alongside the doctor who had carried out the HIV test. The matter is still pending.
Ever the comical one, months later Mwiti would announce that he had closed down his beer distribution business and Havana Club, which he ran in the city, as a way of fighting alcoholism.
But it was in Meru where Mwiti's political comedy and scandalous life was ever present. He had exhausted his credit facilities in almost all the top notch hotels in the county headquarter town and would promptly move on to the next.
At least one of the hotels filed charges against him over the unpaid bill, then negotiated an out-of-court settlement.
His former parliamentary colleagues remember him for speaking his mind on any issue.
"He was sometimes controversial but very accommodative. He would speak his mind without caring what the others thought," North Imenti MP Rahim Dawood said yesterday.
"We woke up to the shock of 'Livondo's' death, especially because he had spent a whole afternoon with friends in Nairobi," said Meru Deputy Governor Titus Ntuciu.
Mwiti is survived by his two widows, Esther Igoji and Faith Muguna, a son, five daughters and several grand children.
His body is at Kenyatta University Hospital Mortuary.